The Roasted Potato Recipe That Broke The Internet
There may be plenty of ways to make magic with just four ingredients (five, if you count two types of salt). But rarely does a recipe made with potatoes, vegetable oil, salt, and parsley break the internet the way it did when Ina Garten posted a photo of Emily Blunt's family recipe for roast potatoes — a classic English side dish which the actress says is a staple in her household (via Food Network).
As part of a sneak peek into her new book, Modern Comfort Food, the Barefoot Contessa shared a photo of a dish she simply called, '"Emily's Roast Potatoes." The dish made its first appearance when Blunt and Lin-Manuel Miranda appeared on Garten's Food Network show as part of a tour promoting Mary Poppins Returns in 2018. It appears fans may have been waiting a while for the recipe, because as soon as it was posted on Garten's website, the Barefoot Contessa's site crashed, and fans rushed back to Instagram to let Garten know the link she had posted was not working. 
Ina Garten was quick to get the recipe working again
Garten did let fans know she was on top of things — she wrote (via Insider), "So sorry!! So many people wanted the recipe that the site crashed. We're fixing it now. Try again soon. They're worth it!! Xxxx."
And they definitely sound worth the wait. Blunt's simple way of roasting potatoes calls for them to be parboiled with salt for eight minutes before they are drained. The actress says her mother then takes the drained spuds and then puts them back into the pot for what she calls a workout, where she shakes the contents vigorously for five seconds. "This is the workout part," Blunt told Garten during their 2018 segment on the Food Network. "If you rough up the edges, once you roast them it just gives a really nice, sort of crispy, crunch."
Emily Blunt has hacks that elevate the traditional British roast potato dish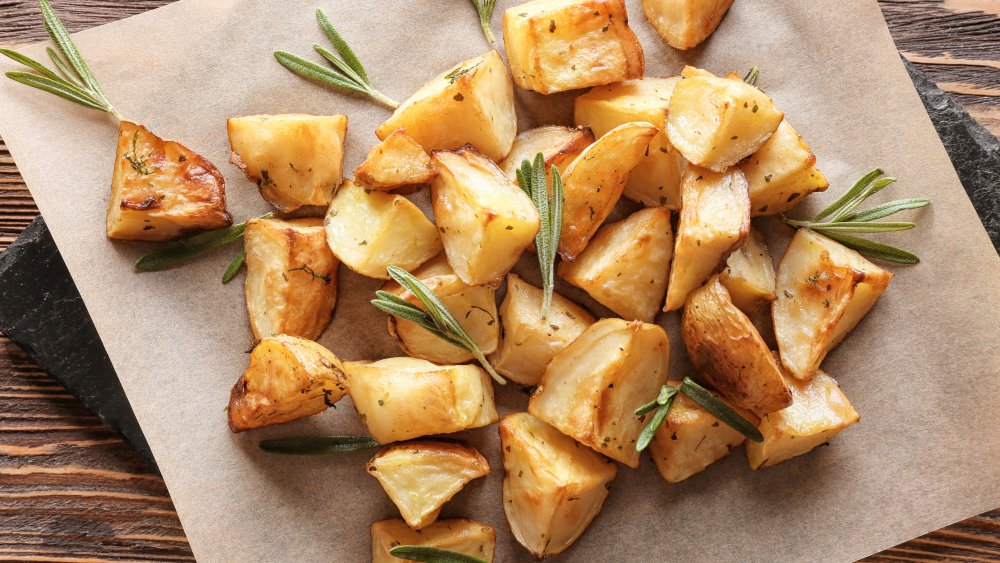 Shutterstock
This is where Blunt goes off-script from her mother's recipe, but she promises it's the right thing to do: She lays the potatoes out on a rack to dry for 15 minutes, which is a hack that Blunt says horrifies her mum. "This is my addition that made my mother a bit concerned at Christmas," Blunt says. "Cause her whole thing is like, just shake them up and bung them in the oil — don't overthink it!"
Blunt continued, "But I said: 'Mom, this is a really good trick. You put them on the wire rack and you get all the moisture out of them and then it just forms such a fantastic crust on the outside." The potatoes are then laid out in a roasting pan with a thin layer of hot oil, and after 45 minutes (and several turns), they are removed. The result: roasted potatoes that, as Garten says, are creamy inside and crispy on the outside.