The Untold Truth Of Banana Milk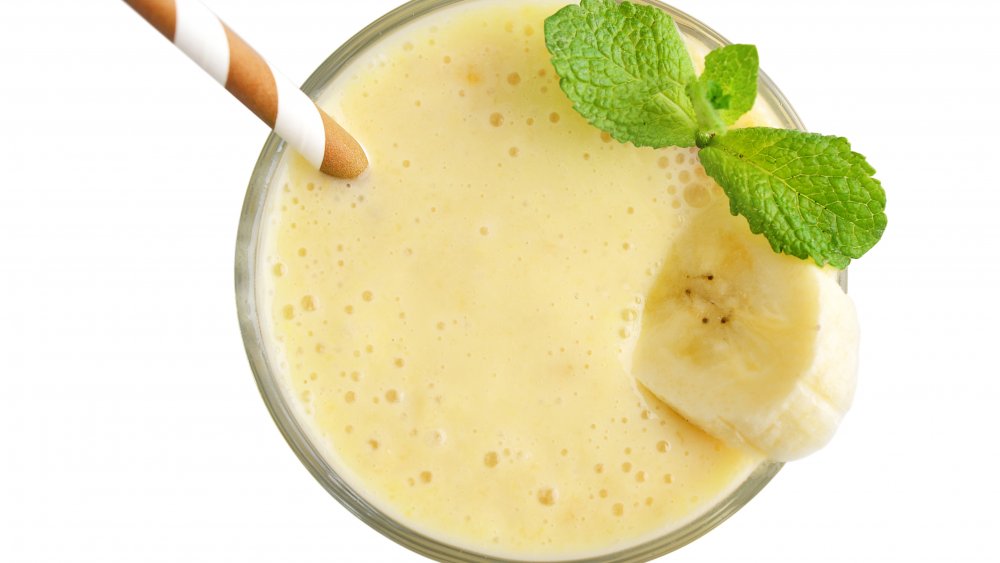 Shutterstock
We may receive a commission on purchases made from links.
If you are lactose intolerant, not fond of dairy, allergic to it, or simply just don't like milk, there are plenty of non-dairy milk alternatives to meet your taste and needs. In fact, according to a press release issued by Report Buyer, the global non-dairy milk market is projected to reach revenues of more than $38 billion by 2024, with nearly 49 percent of people scaling back on their carnivorous ways as they embrace healthier lifestyles and fill their refrigerators with milk alternatives (via PR Newswire). 
Today, there are lots of non-dairy options. Almond, soy, oat, and coconut milks line the shelves of grocery stores as established (as well as new-to-the-market) brands take advantage of this growth. There's also cashew, rice, hazelnut, and flax-based milk. But one of the newest non-dairy milks trending may surprise you. It is banana milk. What's so appealing about this non-dairy alternative (via Nurtition.org)?
Banana milk certainly has its merits. First, we know it will taste great with your cereal, and a single cup of the fruity and creamy beverage averages between 60 and 150 calories and between 2 and 5 grams of fat. But what really makes banana milk a great choice for those who eschew dairy is that it is naturally sweetened, and, generally speaking, it doesn't contain allergy-triggering ingredients like gluten, soy, and nuts. But just to be on the safe side, you should always read the labels just to confirm (via Food Network).
Go bananas for banana milk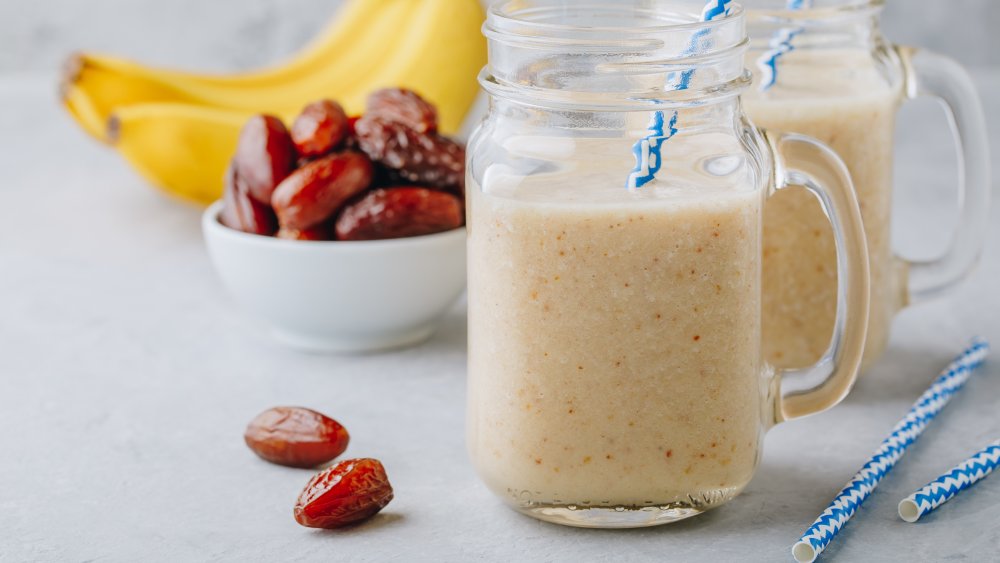 Shutterstock
Non-dairy milks tend to not only have fewer calories and less fat, they also tend to have more water which helps with hydration. Banana milk is no different. Its one drawback lies in the fact that it does not contain calcium, and unfortunately, most of the store-bought versions are not fortified with the bone-building mineral either. However, banana milk offers other benefits. It is a great source of potassium, folate, and magnesium. 
And the really incredible thing about banana milk that might make you a believer: You can make your own if you want to bypass the ready-made products. It's a pretty easy recipe. Banana milk contains bananas and water. Crush it up in the blender so it's nice and smooth and that's it. Of course, you can certainly customize it to your taste and add salt, cinnamon, or even a dash of vanilla or a bit of chocolate for added taste (via Food Network). 
Banana milk is best served cold, and if you are making your own, drink it right away or the ingredients will separate. One banana and 1 cup of water makes approximately 1 1/2 cups of banana milk (via Tasting Table). 
Also, drinking banana milk could help lower blood pressure, contribute to minimizing your risk of getting certain forms of cancer, and keep blood sugar levels in check (via Medical News Today). 
Banana milk alternatives
Don't want to make your own banana milk? There are plenty of non-dairy brands with a banana milk option. Banana Wave not only makes its original version of the milk, but they have mango, chocolate, and strawberry banana milks. At just 80 calories a serving, Banana Wave is rich in antioxidants and also provides you with 20 percent of the daily recommended vitamin D while boasting 1200 mg of omega-3 to help keep your heart healthy (via Banana Wave).  With a rating of 4.8 out of 5 stars on Amazon, Banana Wave seems to be a great alternative to traditional dairy milk. 
Looking for something organic? Try Mooala Organic Banana Milk. Not too thick and not too watery, its consistency can be described as similar to 2 percent milk, only Mooala Organic Banana Milk is dairy-free. While there is no added sugar, this brand distinguishes its flavor with the addition of sunflower seeds and cinnamon. These seem like the perfect flavors to add to just about any bowl of your morning cereal (via Mooala).
Bottom line: Banana milk can be a great, healthy option for non-dairy drinkers. So the next time you are browsing the non-dairy milk alternatives, check out banana milk — you might just go bananas for it.