Starbucks' New Employee Leave Program Has Everyone Talking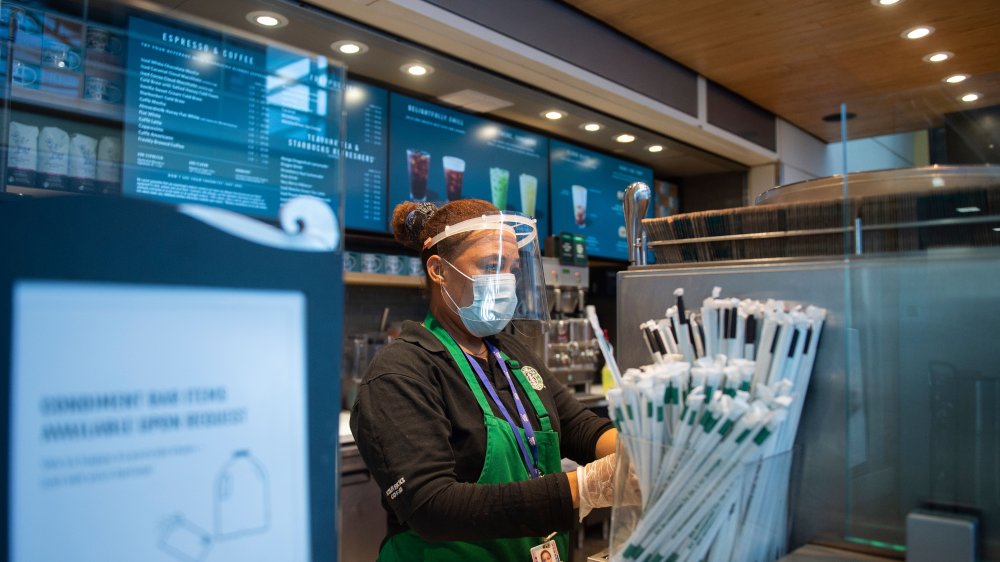 Andrew Caballero-reynolds/Getty Images
With the reopening of most states across the U.S. (via The New York Times), Starbucks plans to open more than 90 percent of its company-owned stores by early June. However, the Seattle-based coffee shop chain won't be operating the same way it did before the COVID-19 outbreaks. The company has taken note of the protocols in place at its stores in China, where almost 100 percent of its units have opened since late February. These cafes have implemented precautionary measures, such as limited seating and reduced hours, to keep customers and staff safe (via The Motley Fool).
Starbucks is shifting to only offering to-go while keeping its stores closed and removing seating. At cafes without drive-thrus, guests can pick up their orders at the door instead of going inside. In comparison to many other coffee shops and restaurant businesses, the chain is better equipped to transition into a grab-and-go model, considering its quick-service approach (via Commercial Observer). While Starbucks' return is a source of celebration for its loyal customer base who have been deprived of its coffee beverages during lockdowns, it's a different story for the chain's employees.
How Starbucks employees feel about returning to work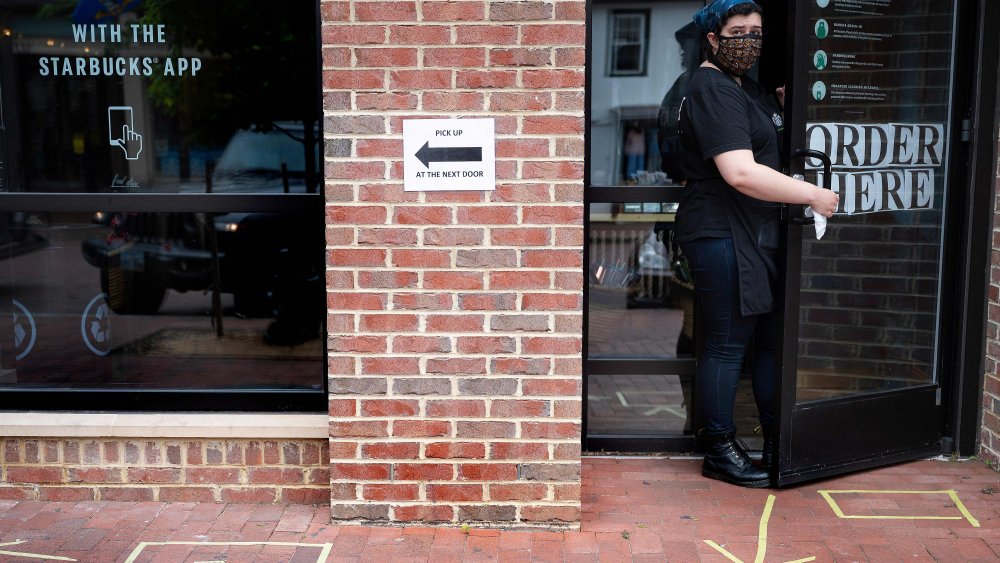 Jim Watson/Getty Images
Many managers and baristas are uneasy about going to work during an ongoing pandemic. Staff members have regular temperature and health checks and washing procedures, and are also supplied with masks and disinfectants. But these measures haven't been enough to make them feel safe, especially since it's been difficult to protect themselves from customers who don't follow social-distancing rules and mask-wearing protocols (via NBC News).
One barista in Arizona told NBC News that he has overheard guests say they don't believe in masks or that the coronavirus is "a big deal." Another barista in Arlington, Virginia, told the publication that patrons have complained about the store's social-distancing procedures. A question she has been asked the most frequently is, "Why can't I come in?"
In addition to sanitation and safety measures, Starbucks has given its employees 14 days of paid sick leave and an additional $3 in hourly pay. These benefits will be available until the end of May, according to Fox Business. 
The publication also reported that Starbucks will start implementing a leave of absence policy. Under the new program, workers who have had their work schedules reduced due to the pandemic can opt to go on unpaid leave through September 30. Those who choose this option will have their health care premiums completely covered by the company and still have access to their existing benefits.
Why some Starbucks employees are not happy with the new leave program
Ronald Martinez/Getty Images
Rossann Williams, an executive vice president at Starbucks, stated in a letter on the chain's website that employees who voluntarily take a leave of absence would be able to "explore any COVID-19 federal and state unemployment compensation." These unemployment benefits include a weekly assistance payment of $600 under the CARES Act. Starbucks plans on consulting its store managers and releasing more information about the new program next week. 
NBC News reported that Starbucks workers who take unpaid leave may not qualify for state unemployment benefits, however. A staff member at a Phoenix store told the publication that the policy felt like an ultimatum and a lose-lose situation for employees, no matter what they decide to do. More than a dozen workers for the coffee shop chain also shared that they felt obligated to choose whether to return to work or to lose income.
Some workers have also been disappointed in Starbucks' decision to end the extra $3 hourly pay. Brianna Rocha, a barista who works at a drive-thru location in Los Angeles, said that the company and others like it previously framed this raise as a sign of gratitude for their "heroic" employees, but now that the wage boost is going to be revoked, the feeling of appreciation is "not really reflecting as much anymore" (via The Los Angeles Times).