Why Everyone Is Talking About Krispy Kreme's New Dessert Donuts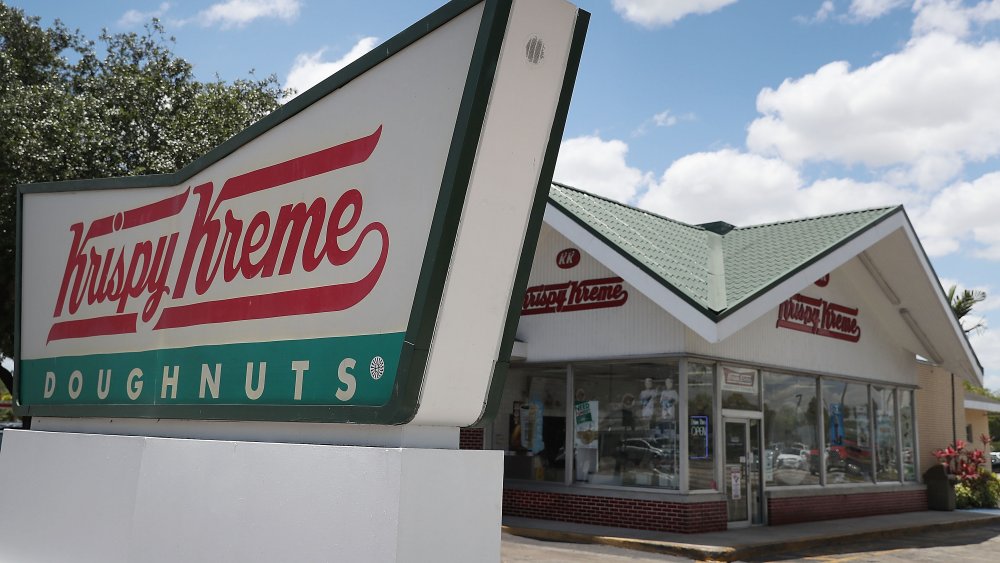 Joe Raedle/Getty Images
We would argue that donuts are one of the sweetest ways to start the day, but the latest releases from Krispy Kreme are shaking things up. Their new Dessert Donuts are inspired by some classic desserts, and are perfect any time of day you choose to eat them — whether this is breakfast or as an after-dinner treat. The new donuts look so good that they're certainly enough to get customers to abandon their go-to orders — at least for a limited time, anyway (via Best Products).
Whether you love a classic glazed donut or a chocolate- or strawberry-frosted one, these new flavors are deliciously sweet and are only available through June 24. Krispy Kreme first introduced the three new dessert-inspired flavors on June 8. That's given everyone around two weeks to discover and try all three, which includes a Banana Pudding donut, a Coconut Cake donut, and a Mississippi Mud Pie donut (via Delish). Talk about decadent.
What you need to know about the Dessert Donut flavors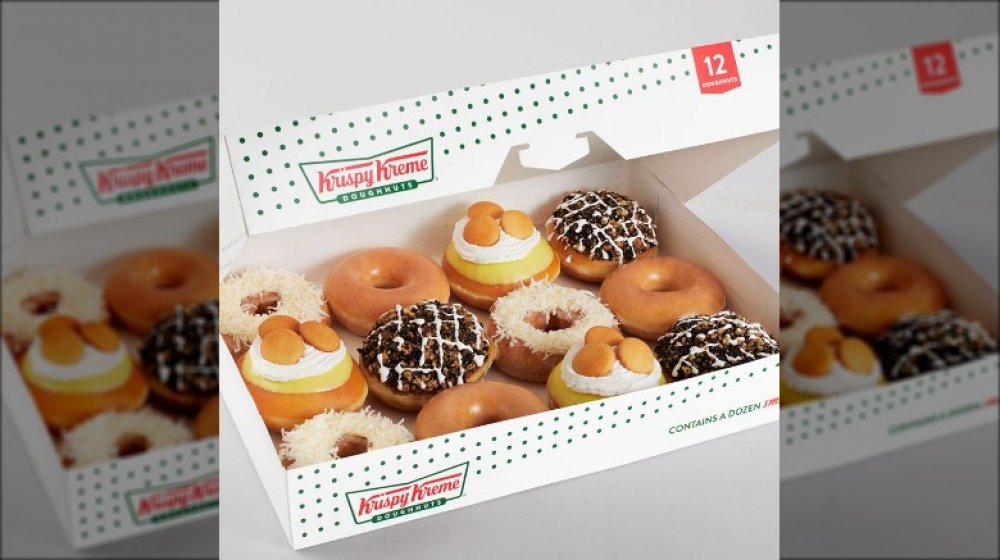 Krispy Kreme
To fill you in on the flavors, the first Dessert Donut we need to address is the Banana Pudding donut, which is inspired by a beloved classic dessert. This donut is filled to the brim with banana pudding and dipped in yellow icing. Next, the donut has a layer of Krispy Kreme's signature "Kreme" and is topped with three miniature vanilla wafer cookies.
The second of the three new flavors is Coconut Cake. This is a cake donut infused with coconut flavor, so it combines some of both a classic cake donut and the coconut flavor you expect from this dessert. Next, it's dipped in cream cheese frosting and topped with shredded coconut to tie it all together.
Finally, the last flavor is Mississippi Mud Pie. This chocolatey concoction is filled with chocolate pie Kreme and dipped in chocolate icing before it is topped. The crunchy topping of graham crackers and cookie crumbles on top with a drizzle of marshmallow is the perfect texture added to this sweet treat.
All of these donuts clearly draw from their original dessert counterparts, and we cannot wait to try them all. So, visit your local Krispy Kreme soon before these are gone.