The Reason You Might Not Be Able To Get A Bloody Mary On Your Next Flight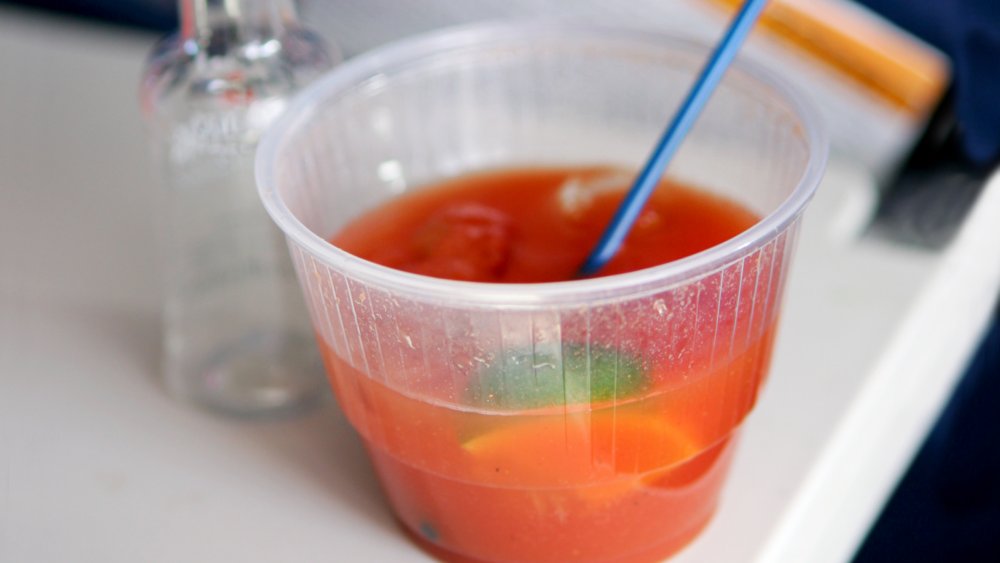 Shutterstock
The world's airlines are taking off again, after the COVID-19 crisis almost completely stalled their business (via FlightGlobal). Returning passengers may want a glass of Chablis, or a double bloody mary, to calm the usual flight jitters and ease their nerves about traveling again, especially since the CDC warns that air travel is risky because social distancing can't always be maintained. But fliers might get a tall glass of disappointment instead. Several airlines are restricting alcohol on flights or banning it altogether (via CNN).
The airlines aren't trying to make their passengers any grumpier than they already might be. Carriers around the globe, such as Delta, American Airlines, and KLM have come to this decision out of a concern for travelers' health. The restrictions are intended to limit up-close interactions between fliers and flight attendants, and airlines really want their customers to keep their face masks on to best protect themselves and others. (Someone should alert the airlines to these really cool face masks on Etsy, with holes just big enough to fit a drinking straw through.) Plus, more imbibing means more trips to the bathroom, something flight attendants are trying to closely manage.
Travelers who want booze can find it in first class on some flights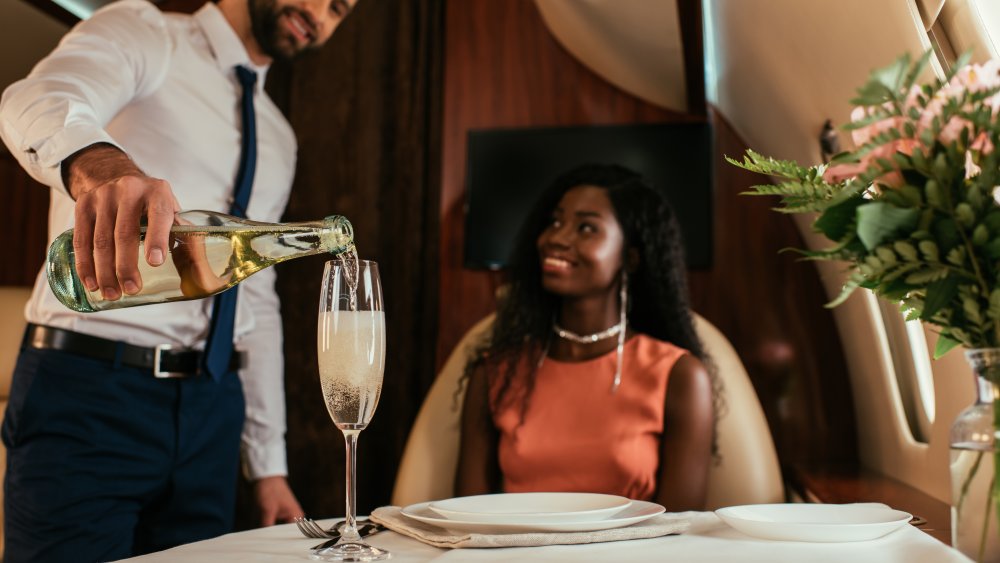 Shutterstock
Anyone who is determined to drink on their flight can upgrade to first class on some airlines — and book a ticket to somewhere far away. JetBlue has suspended alcohol service, except to its "mint" seats on cross-country flights, the airline's term for first class. American Airlines is still providing alcoholic beverages in first class, but only on "long-haul international flights" (via The Washington Post). Delta is being even more restrictive. The only liquid they offer is water, in single-serve bottles. Passengers can bring their own beverages on board, as long as they're nonalcoholic. United is still serving alcohol, but only sealed beverages, no ice.
Meanwhile, airplane food has long been a major disappointment in the best of times, but the COVID-19 pandemic has prompted restrictions that are sure to leave more stomachs growling. In other words, you won't get much to munch either.