Why Joey Chestnut Says The Indoor Hot Dog Eating Contest Might Work In His Favor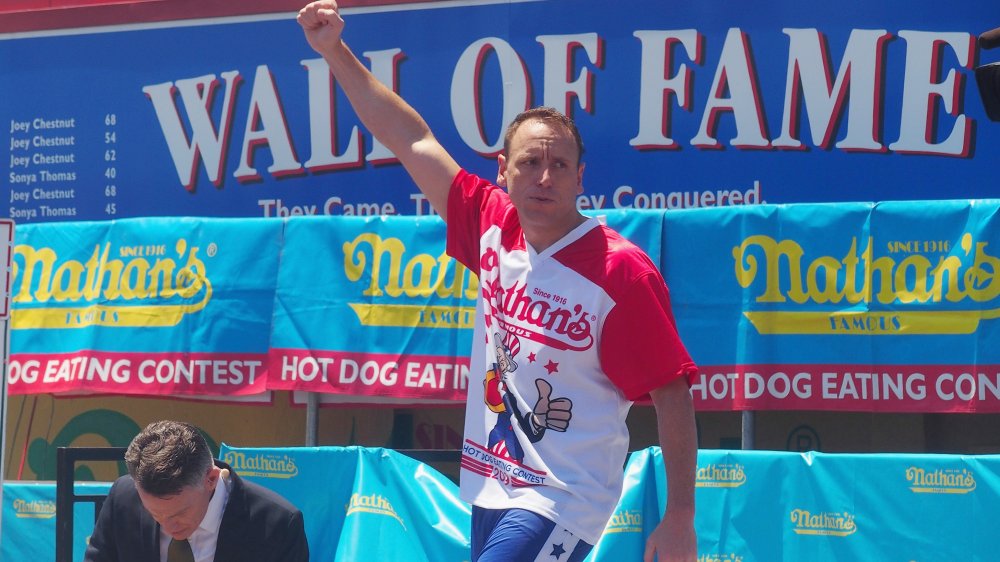 Bobby Bank/Getty Images
If you're into sports, then you know some of the greatest to ever play their games: Tiger Woods in golf, Michael Jordan in basketball, Tom Brady in football. But the biggest GOAT (greatest of all time) may be Joey "Jaws" Chestnut. His sport: hot-dog eating. Chestnut is better than Jordan and Brady because he has won 12 championships, not a mere six. Tiger Woods is amazing, but he went 11 years between wins in golf's major tournaments (via LiveAbout). Chestnut has won the Super Bowl of eating — the Nathan's Hot Dog Eating Contest — 12 of the last 13 years. He happens to hold the world record for dogs consumed in 10 minutes, with 74. That's more than 15 pounds of wieners (via Metrocosm). That's one hot dog every eight seconds.
You would think that Chestnut has reached the upper limit of human achievement when it comes to hot dog consumption. But Chestnut told TMZ he can do more, and this year's highly unusual Nathan's contest may help him set a new record. "I'm breaking the record this 4th of July!" Chestnut told the outlet. "If I'm feeling it, if I'm in the perfect rhythm, 77 is doable." He added, "There's a good chance that we might have better conditions for a world record and I'ma be pushing for it."
Chestnut will miss the cheering fans but thinks he'll break his record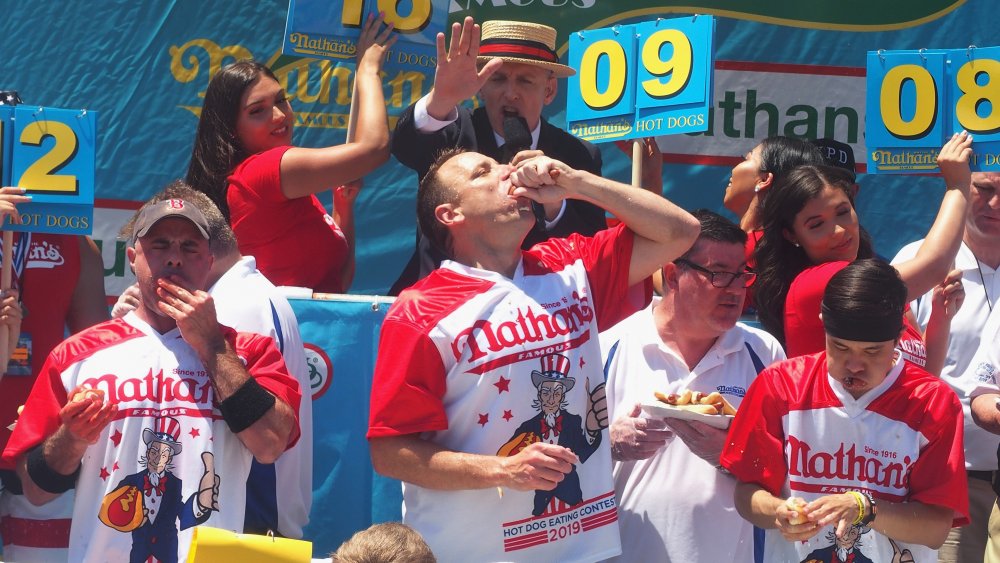 Bobby Bank/Getty Images
Major League Eating, which sanctions the Nathan's event and other eating contests, announced the crown jewel of competitive eating will take place on Coney Island again this Fourth of July. Restrictions put in place to prevent the spread of COVID-19 mean this year's event will look a lot different. Chestnut won't have the advantage of a cheering crowd, egging him on. But he likes his chances in a competition that will be held indoors, with only five competitors instead of the usual 15, to allow for social distancing (via Fox News). Since Nathan's will be cooking fewer hot dogs, they may taste better, Chestnut said. And eating in air conditioning can only be an advantage. "It won't be in that crazy Coney Island humidity, but we're going to be on Coney Island and we're going to be eating on the Fourth of July. That's what really counts," Chestnut said.
As "Jaws" chases his 13th title and a new world record, a TV-sports-starved nation can tune to ESPN to watch some of the most exciting 10 minutes in sports. One of the best female competitive eaters, Miki Sudo, also will participate (via ABC 7). Nathan's Hot Dog Eating Contest will use its platform this year to highlight the needs of food banks around the country, and to honor essential workers in New York City. Every year, Nathan's donates 100,000 hot dogs to Food Bank for New York City.