The Reason You Should Reconsider Ordering The Arby's Reuben Sandwich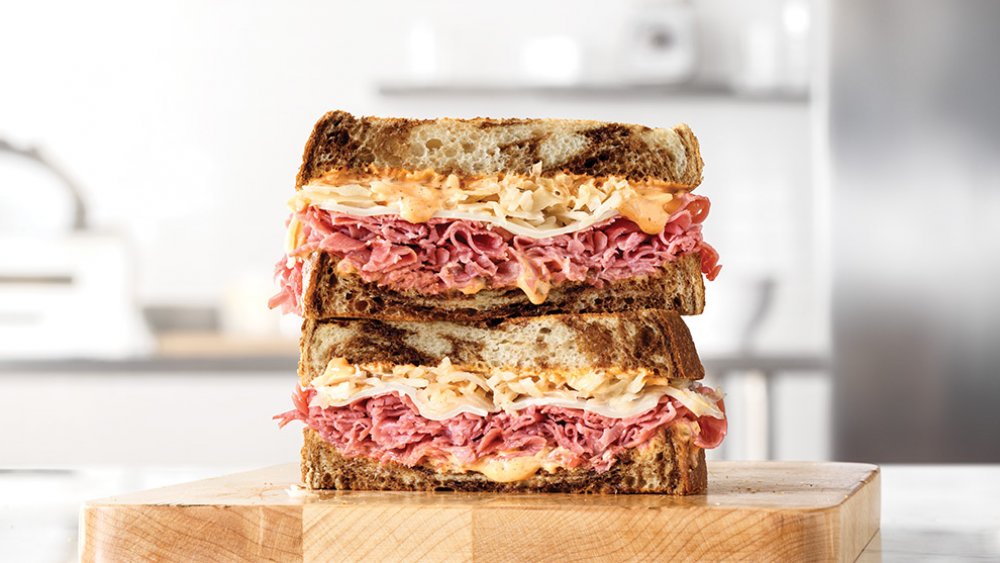 Arby's
Some food is so good, it can't be bad. You may have heard the expression, "There's no such thing as bad pizza." The Reuben should be right up there with pizza. The sandwich — corned beef, sauerkraut, Swiss cheese, and Russian dressing (or sometimes Thousand Island) on grilled rye — manages to blend complex flavors perfectly (via Element 29 Deli). The Reuben even won an Academy Award of sorts for sandwiches, taking first place in the National Sandwich Contest in 1956 (via The New York Times). It would be hard to mess up a Reuben. Arby's appears up to the challenge.
The Reuben has been on Arby's menu since it was introduced in 2005 (via Business Wire). Strangely, the fast-food chain's version of the deli classic has gotten good reviews ever since. A reviewer for the Houston Chronicle said he liked the Arby's Reuben while admitting it was not prepared the classic Reuben way. "Change is good," the reviewer said. Dude Foods said the Arby's Reuben was "pretty good" and a worthy alternative to authentic deli sandwiches, but only if you're in a hurry. Joeys World Tour, a YouTube food-review channel, gave the sandwich an 8.5 out of 10, calling it "the perfect sandwich for St. Patrick's Day." But Joseph Hernandez of "World Tour" fame pretty much admitted in the video that he'd never had a Reuben before.
Arby's Reuben has the wrong bread, wrong dressing, and wrong price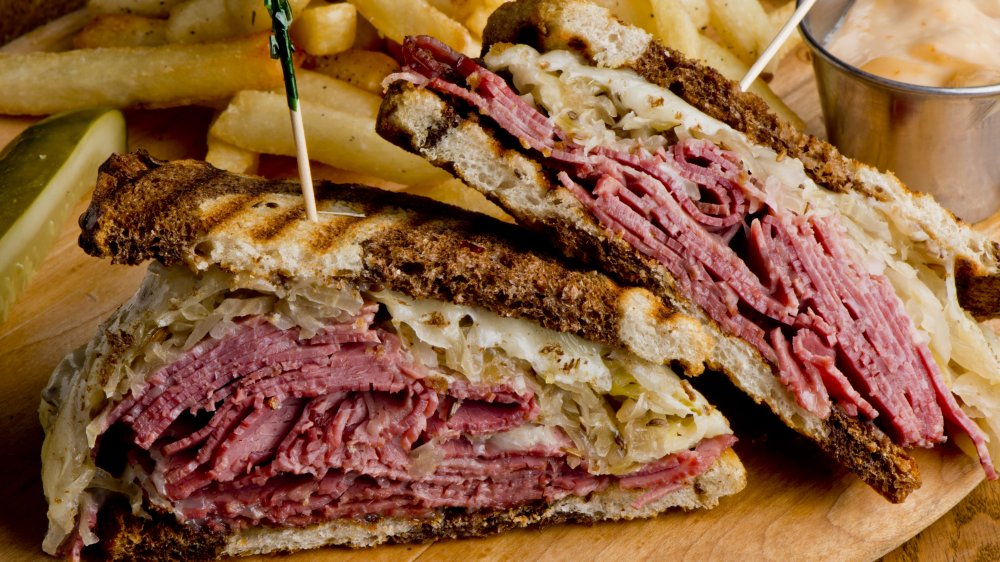 Shutterstock
Expert food critics aside, here's what Arby's gets wrong with its Reuben. First, it's not greasy enough. The marbled rye is lightly toasted when it should be grilled with mayonnaise. Ask any sandwich architect: If you're going to heap on greasy, soggy ingredients like corned beef and sauerkraut, you need to bookend them with a firm, crisp bread (via A Little and a Lot). Arby's rye is thick and airy, the opposite of what the Reuben experience is meant to be.
Another thing: An authentic Reuben requires Russian dressing, not the Thousand Island found in the Arby's version. Some respectable Reuben recipes call for Thousand Island, but the original Reuben — a direct ancestor of the one that won the big award in 1956 — was made with Russian dressing. Russian distinguishes itself from Thousand Island with horseradish and Worcestershire sauce (via Eater), which better complement corned beef.
Our final quibble is with the price. While $4.99 for a Reuben at Arby's is cheaper than what a deli would charge you, it's not fair to compare Arby's to the real thing (via Fast Food Menu Prices). Better to size up the Arby's Reuben against the chain's other offerings. The Beef 'n Cheddar won't disappoint and costs only $3.99. If you really want a Reuben, find your nearest deli or diner.