The Truth About Quarantine Vodka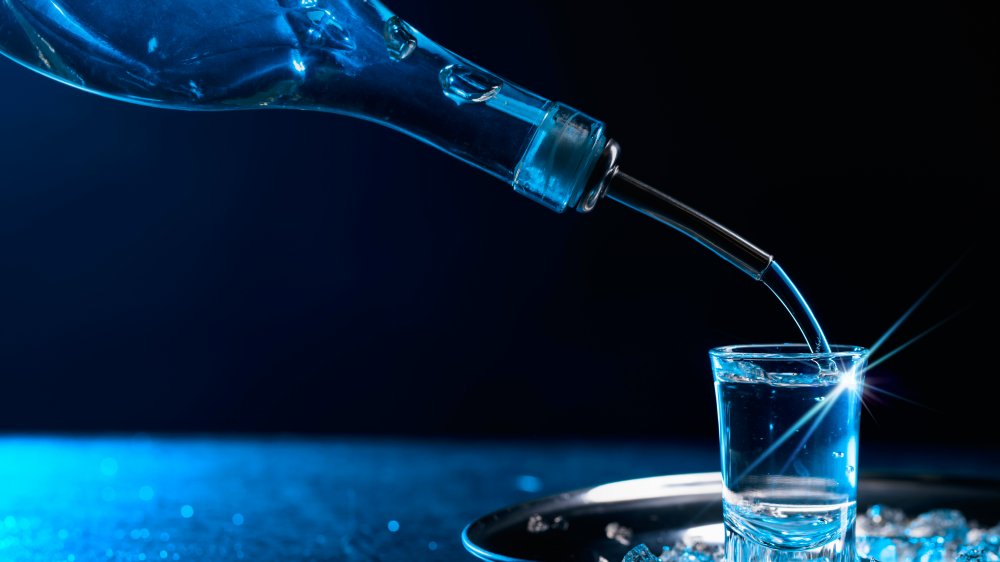 Shutterstock
Aside from making bread, raising sourdough, reinventing Depression-era desserts, and elevating instant coffee's game by whipping it, we've also been mixing cocktails in quarantine. Plenty of them. So many, a distillery company decided to take its new premium spirit and name it Quarantine Vodka, after everyone who was stuck at home and crafting enough cocktails to add "mixologist" to their resumes. The vodka is made with water from San Diego which has been distilled six times, and is described as crystal clear in appearance, with a corn aroma (via The Spirits Business). The spirit is thick on the tongue with a sweet flavor, and a clean finish (via Flaviar). 
The new drink isn't your average bottle of cheap and cheerful vodka. Priced at $29.99 per bottle, Quarantine Vodka fits comfortably in a nook just beneath Grey Goose, and is positioned as the perfect mixer for Quarantinis, a Bloody Mary, or a Moscow Mule (via Hangover Prices). 
Quarantine Vodka has received mixed reviews
Some vodka buyers who have tried Quarantine may have been drawn to its name, but drinkers gave it solid ratings for its flavor. One reviewer gave the spirit an 8 out of 10, and noted on Quarantine's Flaviar page: "Must admit that this vodka surprised me.. I purchased it more as a lark, but genuinely enjoyed its crisp clean taste. It held up to the Great Gal's blood orange cosmotini. It has a place in my home bar!" Another drinker, who gave it the same rating, said: "This was suprisingly [sic] smooth. It is now on the top of my favorites list — I will keep a bottle ready to use at all times." 
But other users weren't as generous. One unimpressed imbiber, who gave it three stars said: "I love vodka. I can choke this down. It smells like rubbing alcohol and is not nearly as smooth as you'd expect after being distilled this many times over. Save your money and get a bottle of Stoli." Similarly, another reviewer, who gave it four stars, noted that: "Its [sic] not a sipping vodka. I will use it for a mixer. Many better vodka's [sic] out there."
If there is truly one thing that makes Quarantine Vodka a true spirit of the times, it's that it promises to donate a bottle of antibacterial soap to the COVID-19 relief effort for each bottle sold.