This Is What Bobby Flay Eats For Breakfast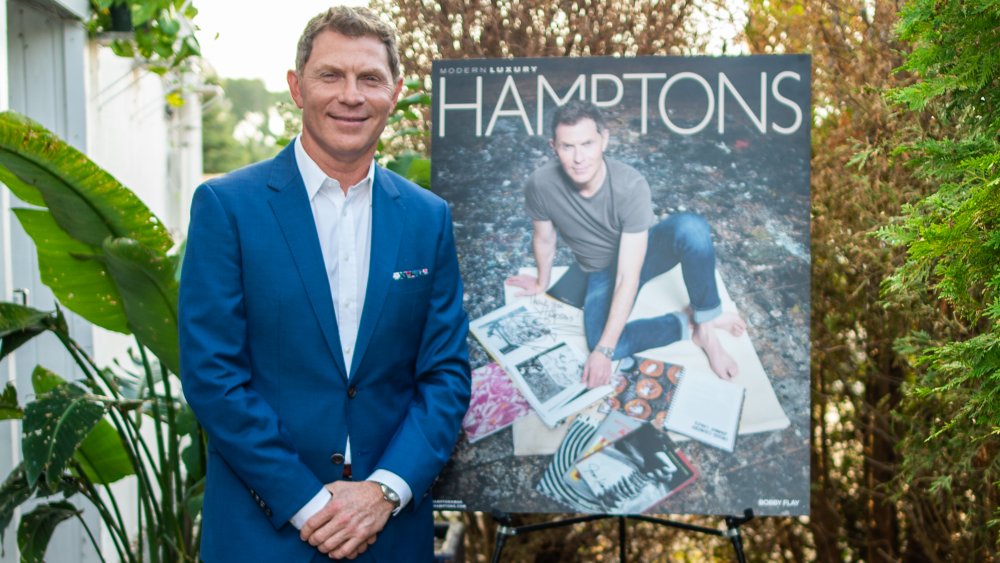 Mark Sagliocco/Getty Images
Celebrity chef, restaurateur, and cookbook author Bobby Flay is well-known for his grilling and barbecue know how. On one of the Food Network shows in which Flay gained popularity, Throwdown with Bobby Flay, Flay sought out the owner of the Louisville's Paradise Café for a breakfast challenge. Flay made some pretty impressive dishes including Scrambled Eggs Chiliquiles With Roasted Tomatillo Sauce (via Food Network). Who wouldn't want to eat this for their breakfast meal? But it turns out, when it comes to his own morning fuel, Flay keeps breakfast pretty simple.
In an interview with Bon Appetit, Flay revealed he uses this one ingredient as the foundation of what has been dubbed the most important meal of the day. Flay told the publication he tends to stick with Greek yogurt as a base for his breakfast. And while Flay has been a brand ambassador for yogurt brand Fage, it seems like more than just lip service. Flay said he likes to eat his yogurt with fresh berries and honey, pomegranate molasses, or blended as a smoothie with fresh blueberries or with a favorite Whole Foods black currant juice (via Eat This, Not That!). 
Turns out Flay's breakfast strategy is a smart one. Greek yogurt is one of the healthiest foods to start your day with. What makes it such a breakfast super food?
Greek yogurt gives you energy and curbs your appetite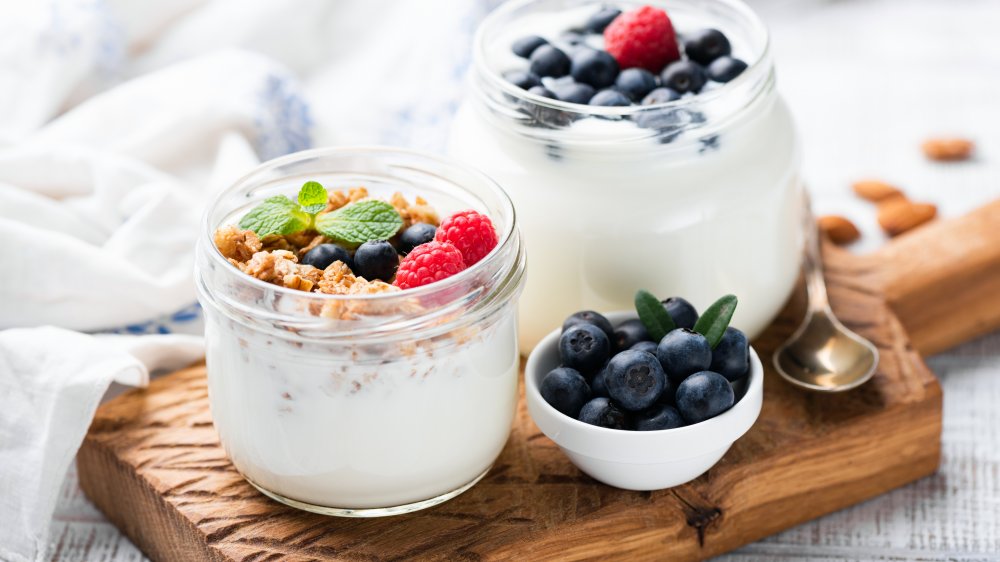 Shutterstock
Before you start emulating Flay's breakfast moves, let's look at why Greek yogurt is such ideal breakfast staple. Greek yogurt is low in sugar, which is always a plus. It also has more protein than other yogurts. Because of the manner in which Greek yogurt is strained, the end result is a creamier, denser yogurt with double the amount of protein compared to regular yogurt (via Eat This, Not That!). In fact, according to Prevention, a 6-ounce serving of Greek yogurt has as much protein in it as 3 ounces of lean meat. This means Greek yogurt will keep your body feeling fuller, longer, keeping those phantom hunger pangs at bay. It also helps raise your metabolic rate after you eat, which can help keeping your waistline trim. Additionally, Greek yogurt is a great source for probiotics which help keep your gut healthy (via Healthline).
Greek yogurt is a great way to start your morning, and if you need some inspiration for ways to use this ingredient so you don't fall into a yogurt rut, check out Flay's recipe for Yogurt Creme Brulee with Fresh Fruit and Granola, or his Mango-Agave Granola with Greek Yogurt. Both are sure to get you on the Greek yogurt for breakfast bandwagon.