The Untold Truth Of Denny's Original Grand Slam
American diner chain Denny's is known for their surprisingly-low prices and serving breakfast all day. In a press release put out by the company in 2010, the CEO and President of Denny's, Nelson Marchioli, stated that they wanted to offer an alternative to fast food for economically conscious consumers and prove that it is possible to provide a sit-down dining experience without sacrificing savings or quality. Among the deals listed on the Denny's menu are several signature plates, or "Slams" that combine multiple breakfast foods to create one large meal. On the Denny's website, the Original Grand Slam is listed as consisting of two buttermilk pancakes, two eggs, two bacon strips, and two sausage links. Ordered without any substitutions, the Original Grand Slam contains 900 calories and 2240 milligrams of sodium. Fast Food Menu Prices lists the cost of the Denny's Original Grand Slam as $7.99, but the price may vary from location to location, and depending on promotions.
The Original Grand Slam is so popular Denny's even released an animated web series titled The Grand Slams which features anthropomorphized breakfast foods named Egg, Bacon, Sausage, and Pancake getting into all sorts of hijinks. You can watch the entire series on Denny's YouTube Channel, where there are currently over 30 episodes.
Denny's Grand Slam was named to honor legendary baseball player Hank Aaron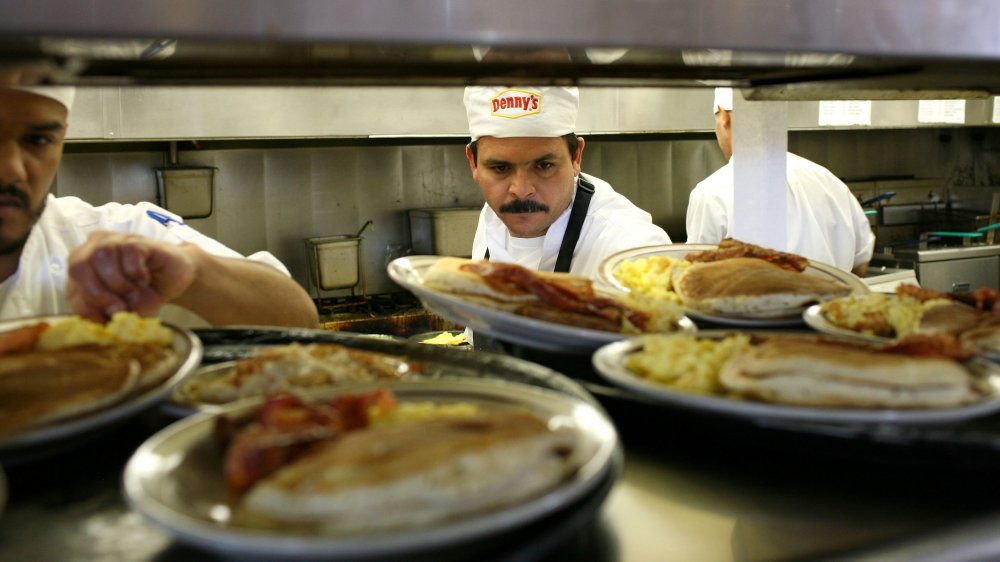 Justin Sullivan/Getty Images
Introduced in 1977, the Original Grand Slam first appeared on the menu at a Denny's location in Atlanta, Georgia to honor legendary baseball player and local hero Hank Aaron (via The New York Times). While playing for the Atlanta Braves three years earlier, Aaron broke baseball superstar Babe Ruth's record of 714 career home-runs. The National Baseball Hall of Fame says that Aaron's record-breaking 715th career home run was scored on April 8, 1974 against the Dodgers. The Atlanta-Fulton County Stadium, where the game was played, was packed with a sold-out crowd of over 53,000 fans hoping to witness Aaron's achievement.
Want to score an Original Grand Slam for free? Spoon University states the chain will give you one of the popular breakfast platters free of charge on your birthday. All you have to do is show an ID with your birth date listed on it — no need to sign up for any loyalty programs or download an app.