National Ice Cream Day 2020: Where To Get The Best Freebies And Deals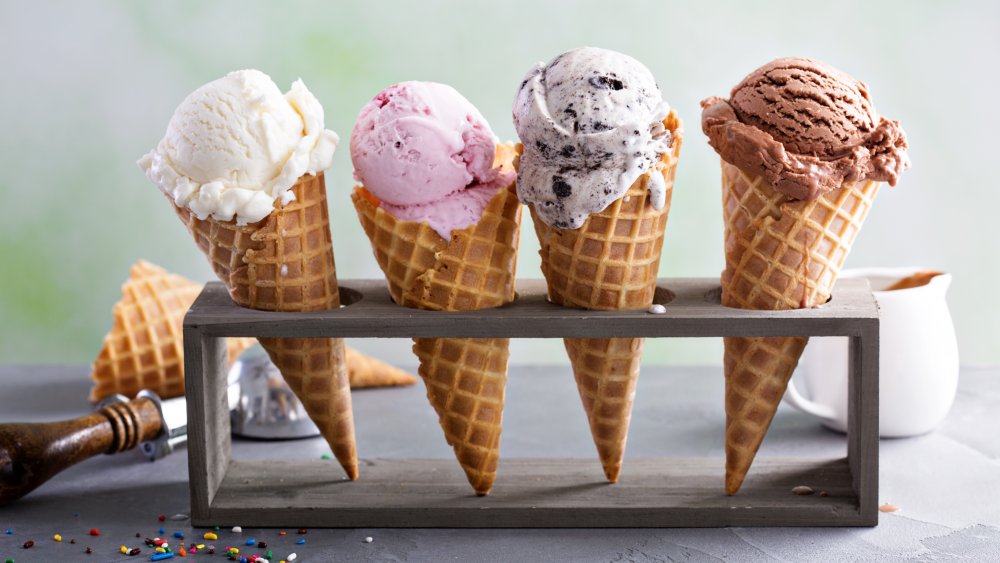 Shutterstock
As the summer heats up, the best day of the season is rounding the corner: National Ice Cream Day. The holiday for enjoying a classic hot-weather sweet treat always falls on the third Sunday of July, which is actually known as National Ice Cream Month. That means it will take place on the 19th this year (via Parade). 
If you think that National Ice Cream Day is just another made up 'day' that's an excuse to treat yourself, then you'd be wrong. This very real holiday was first declared by former President Ronald Reagan in 1984, even though he was more of a jelly bean fan (via Today). 
As Reagan stated, "ice cream is a nutritious and wholesome food, enjoyed by over 90 percent of the people in the United States." With the upcoming deals, freebies, and new flavors that creameries are churning up, it will be easy to celebrate with "appropriate ceremonies and activities," as Reagan invited us to do.
It cannot come fast enough either because there are some great frozen treats to try this year. And the deals are not only for the regular ice cream crowd either. This year there are options for dairy-free diets too.
Take advantage of these ice cream deals at your favorite chains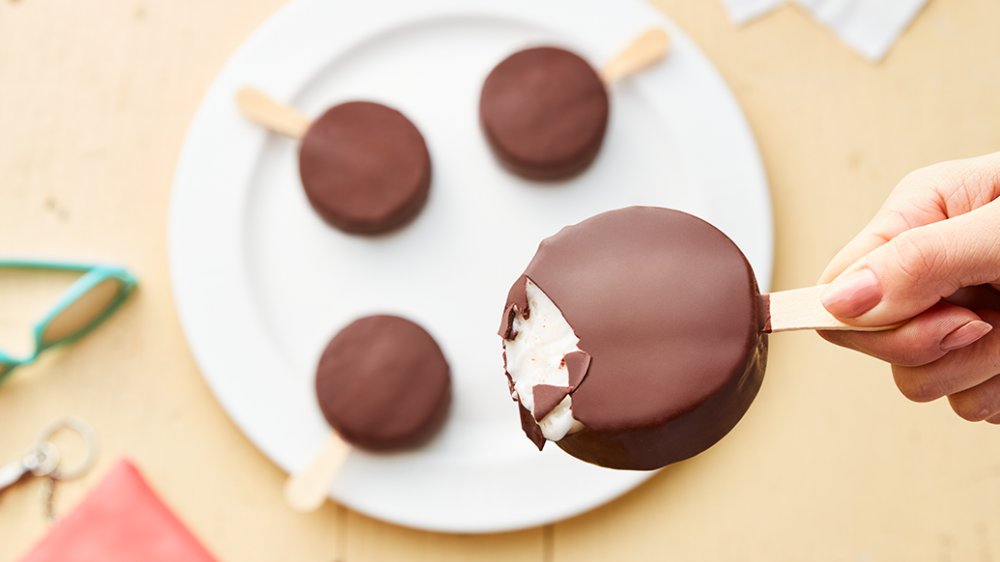 Dairy Queen
Chains both big and small are celebrating National Ice Cream Day with a wide variety of deals and freebies. With so many places to choose from, you shouldn't have a hard time finding somewhere nearby with free or cheap ice cream come the 19th. While some chains clearly state that promotions are only one per person, we think it is pretty safe to assume that about most free or discount promotions.
Dairy Queen is offering a dollar off any size dipped cone for traditionalists, but not the kiddy sized cone. The national chain is also introducing a vegan Dilly Bar made with coconut cream and a dairy-free chocolate shell. The new plant-based frozen treat and the $1 off will be available on the 19th. 
Next up, Brusters is allowing rewards customers to earn double points the entire weekend of July 19th. There will also be a limited-time flavor, S'mores with Oreo ice cream. The chain just opened three new locations in Ashburn, Virginia; Bowie, Maryland; and Polaris, Ohio, so locals there can join the Sweet Rewards program and take advantage of the weekend too.
Other ice cream chains to check out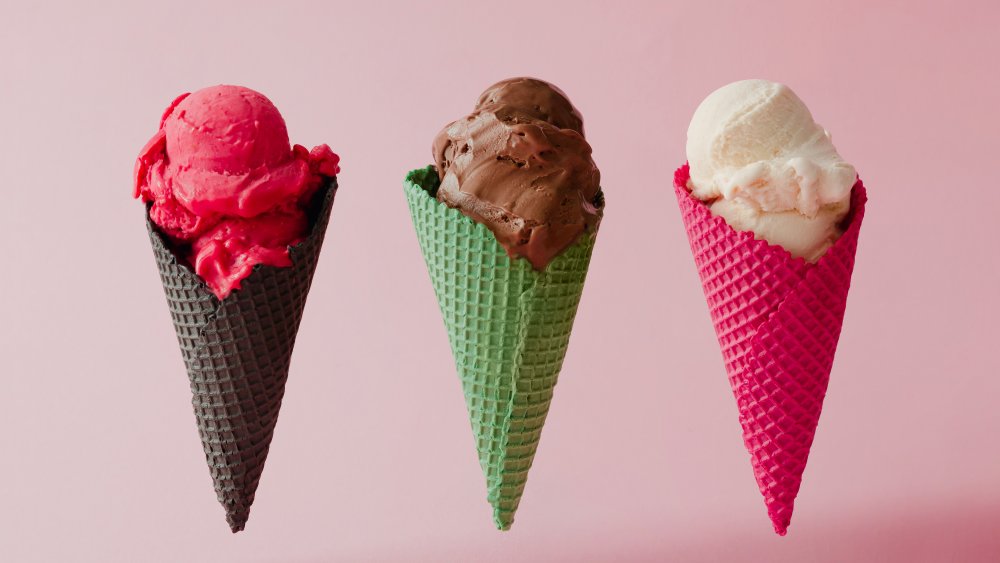 Shutterstock
You can save at Baskin-Robins in two different ways. The first is just on the 19th through DoorDash. When you order $15 worth of ice cream, you can get a regular scoop for free with the code "BASKINSCOOP." Another on-going promotion includes a free regular-size scoop as an in-app offer when you download the app for the first time.
Maggie Mo's and Marble Slab will give you a $5 reward after your first purchase when you join the rewards program (via Thrillist). This is also an ongoing promotion, but there's no better time to start than National Ice Cream Day.
Dippin' Dots is offering a chance to win a year's worth of ice cream on Facebook and Instagram. Be sure to check out the official raffle and rules on social media if you plan to participate. Some locations are also giving away free ice cream to essential workers during the novel coronavirus pandemic.
Smaller chains to visit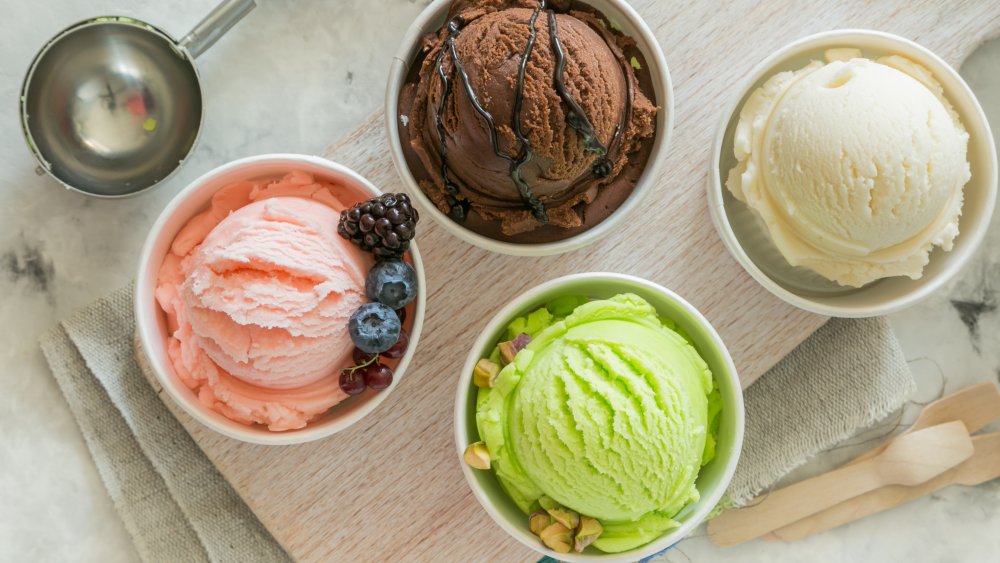 Shutterstock
Friendly's has 153 locations across the country, all of which have 22 different flavors of ice cream. This holiday is extra special too because the chain is turning 85 on July 18th. So, the entire weekend, they're selling 85-cent ice cream cones to BFF rewards members. It's free to join, so there's nothing to lose.
Sub Zero Nitrogen Ice Cream is also celebrating an anniversary on the 18th when the nationwide chain turns 15. To celebrate both events, customers can get a free cone between 2 p.m. and 4 p.m. on the 18th at all 50 locations across the country while the ice cream lasts.
Stewart's, a family-owned chain of gas stations and convenience stores across Vermont and New York, is letting customers make their own sundaes for $1.99. There are more than 335 locations, so if you're in one of the two states, this is a regional deal to drop in on.
Monkey Joe's is offering free ice cream to all customers while supplies last. Carvel is running a buy-one-get-one special on sundaes every Wednesday this year at participating locations. With more than 400 Carvel locations in 20 states, it's certainly not a deal to pass up.
Store-bought ice cream deals to look for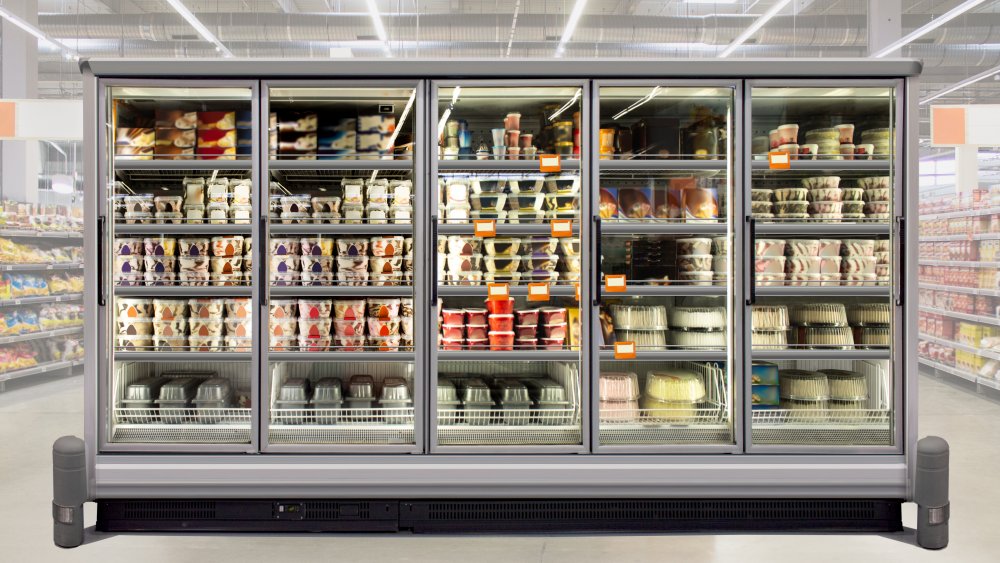 Shutterstock
If you'd rather celebrate at home on the couch, balcony, or porch, then there are plenty of store-bought ice cream options, too. For example, Whole Foods is offering 35 percent off of ice cream and frozen desserts to Prime members, who get an extra 10 percent off between July 15th and 28th.
Instacart is giving a dollar off So Delicious single-serve ice creams when you buy one, or a $1.50 off when you buy two. This will go on through September 27 as well, so there's plenty of time to take advantage of it.
Good Humor ice cream is turning 100, so they released limited editions of two favorites: Strawberry Shortcake Frozen Dessert Bars and Creamsicle Bars. Each anniversary package has a $2 coupon that can be used for any six- or four-count Good Humor boxes.
If artisanal, organic ice cream is more of your pick, then look into getting some from Alden's, Jeni's, or Churnbaby. Alden's has posted a $1 coupon that can be used at retail locations through July 28. Jeni's will give you free delivery when you order four pints or more through their website. It's an ongoing deal, but it won't work if you use a third-party delivery app like Postmates. You can also win a year's worth of ice cream from Churnbaby if you post a video of yourself screaming for ice cream on Instagram with the hashtag "iscream4icecreamCB."
Vegan ice cream and other contests to watch for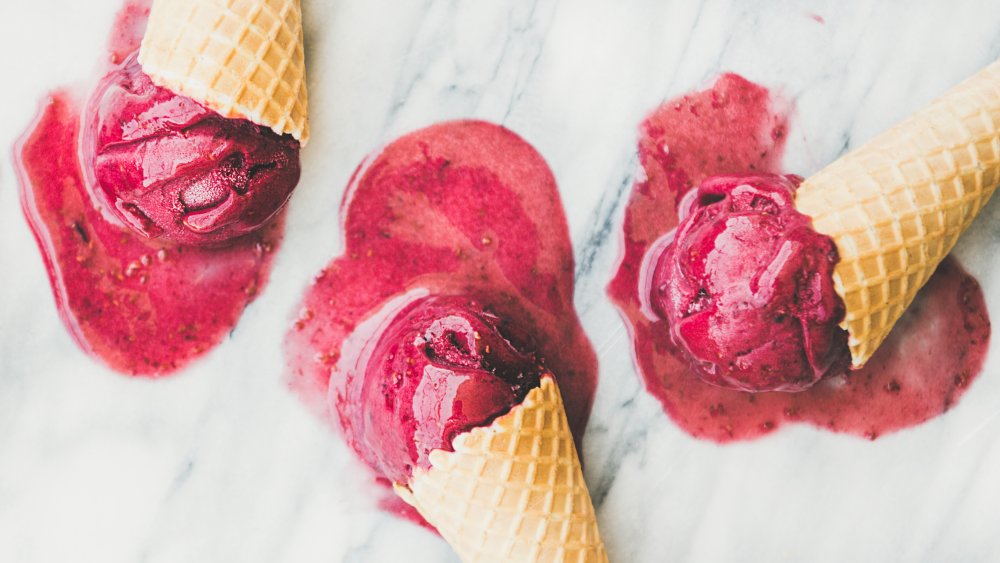 Shutterstock
Dairy-free ice creams are also widely available to take care of those with dietary restrictions. Brands like Ripple, Jolly Llama, and Coconut Bliss are sharing the love. Ripple is offering buy-one-get-one half off for any four- or six-count boxes through the end of the month. Jolly Llama is giving away a year of vegan ice cream to one person who posts an Instagram video with the hashtag "iscream4icecreamJL." Lastly, Coconut Bliss is offering 15 percent off your entire order of four or more items with code "BLISSDAY15" between July 17th and 19th. They're also running an Instagram contest and will have products on sale at retailers like Whole Foods.
In the past, there have been some unusual celebrations. For example, dogs could go to select Petsmart locations for free pup-friendly ice cream, and William-Sonoma conducted ice cream-making tutorials with free tastings afterward. However, it's unclear if these events will happen this year (via Atlanta on the Cheap).
One that is definitely happening this year is with toothpaste company Sensodyne. They're giving ice cream to some people who tweet on July 19 at noon EST. Just use hashtags "SensodyneSundae" and "giveaway" with the ice cream emoji. If you live in Chicago, Los Angeles, New York City, Philadelphia, or San Francisco and follow those directions, they'll bring you a pint of ice cream, an ice cream bowl, and sundae toppings. Naturally, they'll also give you Sensodyne toothpaste to prevent cavities after that sundae.
Go local too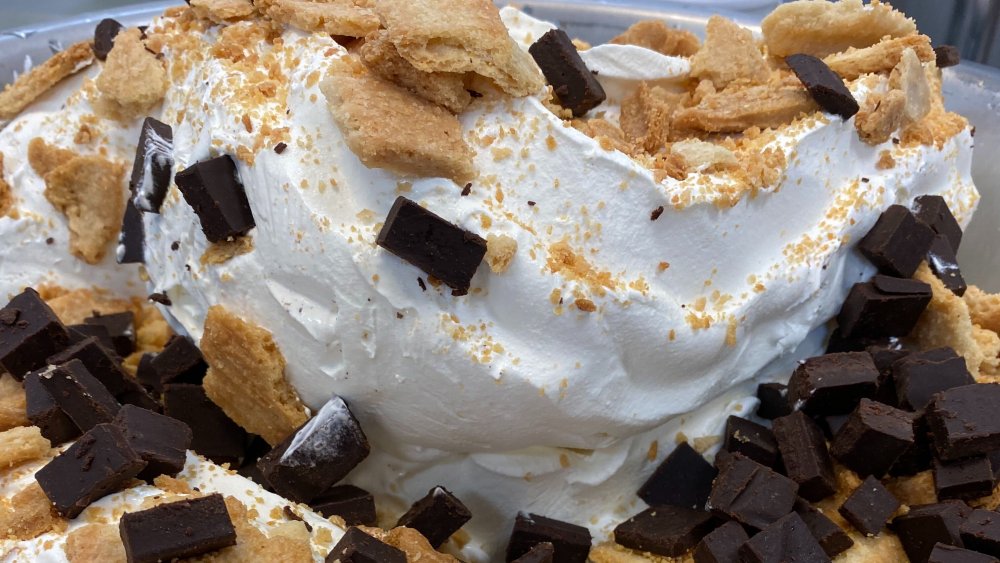 High Road Craft Ice Cream
Even though there are tons of chains with great offers this holiday, it's important to remember your favorite locally-owned and operated stores as well. They might have promotions you're not aware of or could be producing special flavors for the weekend.
One shop, High Road Craft Ice Cream, in Marietta, Georgia, is offering 32 new and different limited-edition flavors. That's a flavor for every day of July. And they sound delicious too with options so far this month ranging from baklava and salt and pepper to cannoli and roasted strawberry. The two flavors for the 19th will be sundae themed. There'll be a classic version with vanilla ice cream, jammy cherries, fudge caramel, and praline peanuts. The other is a brownie version with milk chocolate chip ice cream, chocolate chunks, and brownies. They ship too if it sounds too good to miss.
Clemson University in South Carolina might not be the first thing to come to mind when you think of ice cream, but you should consider it. The college is home to 55 Exchange Creamery, which is pretty well known for some very interesting ice cream flavors. Patrons can even customize their own ice cream flavor. If you're local, you can pick some up at the Farmer's Market, but they're also shipping across the country. Plus, if you buy five pints, you'll get one free (via Clemson).
So, don't forget to explore options in your own community, and have a very sweet National Ice Cream Day.