The Untold Truth Of Crazy Delicious
If Gordon Ramsay is the undisputed champion of foul language in the kitchen, then his contemporary, Heston Blumenthal, is king of whimsical cooking. Those of us who enjoy cooking show snippets on YouTube will recognize Blumenthal from Heston's Feast- where his most memorable creations include a Wonka Chocolate Waterfall, and a Medieval feast where guests are able to enjoy faux dinnerware for dessert. 
Blumenthal's taste for whimsy is what we get to see when we watch Crazy Delicious, Netflix's new six-episode show which, aside from Blumenthal, features fellow chefs Carla Hall and Niklas Ekstedt. Crazy Delicious first debuted on the UK's Channel 4 and is a competition between three cooks duking it out for the chance to win a golden apple from judges Blumenthal, Hall, and Ekstedt, who are also known as the "Gods of Food." While we may have seen cooking contests before, we haven't seen one which is shot on an edible set which features edible blossoms, chocolate soil, and a prosecco stream, and from where contestants are allowed to forage for some of their ingredients.
Crazy Delicious didn't start off with good reviews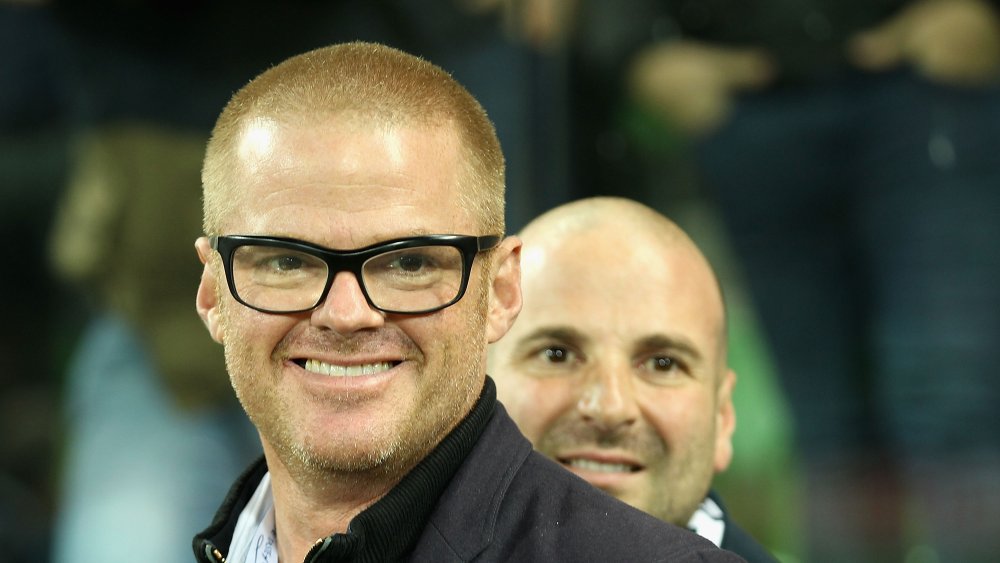 Robert Prezioso/Getty Images
The point of Crazy Delicious is for cooks to create dishes "that are a taste sensation and a feast for the eyes." As with Sugar Rush or Nailed It, Crazy Delicious has three sections with individual themes; after the first two rounds, one of the cooks is eliminated, leaving two to battle over the bragging rights that come with winning the golden apple (via Channel 4).
The presence of Blumenthal, who Esquire calls the Willy Wonka of the food world, adds what Guardian contributor Chitra Ramaswamy calls "a soupcon of crazy in the same way Mary Berry guarantees nice" to what is already a crowded field of cookery competitions. But other than that, British TV critics don't have much else to say about the show; Ramaswamy, for instance, also says it's clear that the contestants actually don't forage for ingredients within the edible set (one dish in the pilot was made with wild boar sausages). The Telegraph called the show a "Willy Wonka-esque" contest with that caters to foodies who seek Instagram approval.
While British media aren't enthused about Crazy Delicious — it's certainly worth catching on Netflix — if only to see how inventive and creative home cooks can actually be if given the right circumstances.