This Is What Padma Lakshmi Eats For Breakfast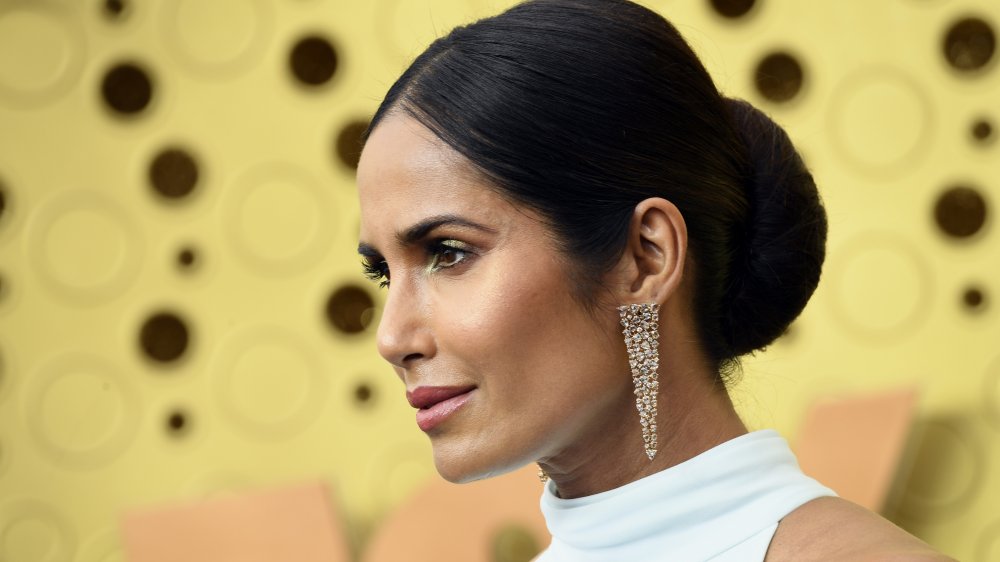 Frazer Harrison/Getty Images
As the host of Bravo's Emmy-award-winning show Top Chef, Padma Lakshmi gets to sample a lot of different foods. Within a single episode, Lakshmi can judge over 30 different plates (via Page Six). The foods form an eclectic array that ranges from traditional to exotic.
Also a cookbook author, Lakshmi has a love of food that that is informed by attentiveness to her health. She has a family history of diabetes and has physicians evaluate her before a season of Top Chef starts and after it concludes. Lakshmi  also watches what she eats and drinks. She usually starts her morning with a cup of tea, preferring Easy Exotic's Earl Grey with French vanilla and French lavender because. "Two cups of that are worth more than a cup of coffee," she said in an interview with Bon Appetit. The chef also revealed she takes her tea with milk and honey. 
But what does the food show host eat for breakfast? We've all heard this meal touted as the most important of the day. A nutritionist from the 1960's said of the morning meal, "Eat breakfast like a king, lunch like a prince and dinner like a pauper." According to a recent study, energy consumption at breakfast should comprise 15 to 25 percent of our daily calories which is roughly between 300 and 500 calories for women and 375 and 625 for men (via Science Direct).
Egg and grapefruit equal a classic breakfast combo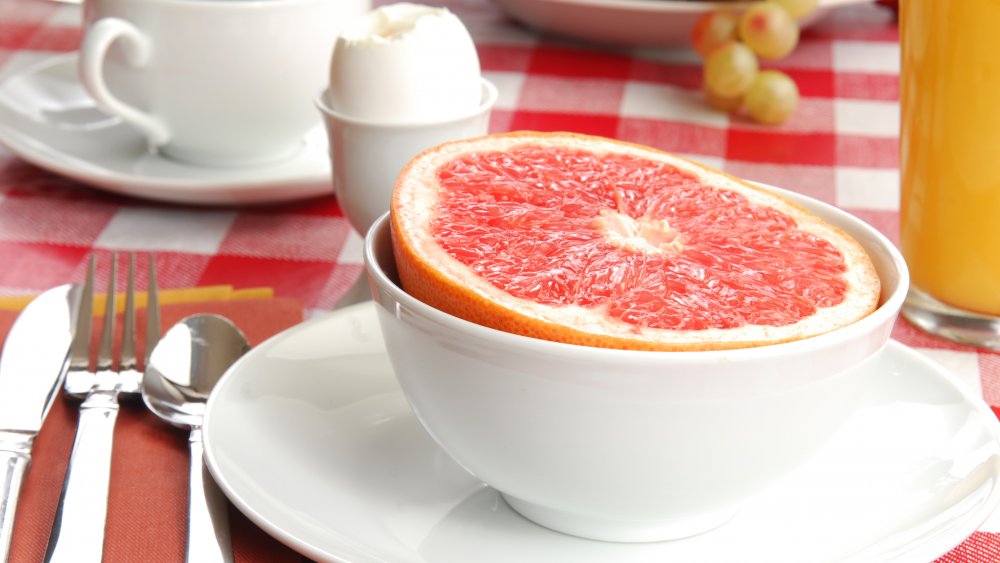 Shutterstock
Lakshmi says on a typical day, in addition to her tea, she will have "one boiled egg, a single piece of sourdough toast, and one grapefruit." The one thing that changes is the hot sauce she uses on her egg. Her hot sauce options include Lingham's, mango chutney, and Tapatio. Lakshmi went on in the Bon Appetit interview to express her "obsession" for eggs and the seemingly limitless ways to prepare them. However, she added, "I don't really do scrambled unless I do it myself." Why? If the eggs are overcooked, "it just takes the pleasure out of them for me," she explained.
Lakshmi's morning meal is a smart choice for a couple of reasons. One study found that starting your meal with a grapefruit could help keep the belly fat at bay while lowering cholesterol. In fact, those who took part in the study saw their waistlines reduced by an inch in just six weeks (via Eat This, Not That). Healthline describes the protein-rich egg as the "perfect food" because it's loaded with most essential nutrients. Toss in the sourdough for some carbs, and you could even call it a breakfast fit for a king or queen.