The Real Reason Champagne Producers May Start Throwing Out Grapes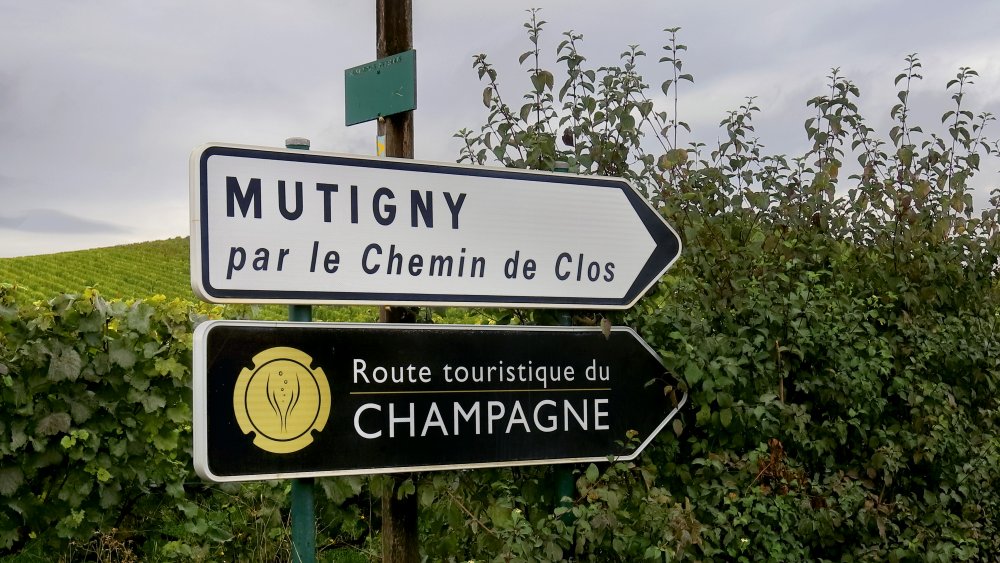 David Silverman/Getty Images
Nothing says "celebration" quite like Champagne. And nothing says "cancel the wedding" or night of club-hopping or first-class airline ticket more than COVID-19. No wonder, then, that sales of the bubbly wine from northeast France are, well, more than flat – although that would be a tempting pun to use. They're going down the drain.
Champagne sales declined by an estimated one third, or $2 billion, this year (via the Associated Press). While it's often thought that people are drinking more during the pandemic, overall sales figures for alcoholic beverages show the opposite is true (via Bloomberg). Certain categories are doing well, particularly the trendy hard seltzer and cheap domestic beers that can be purchased in bulk (via CNN). But booze sales are down overall because sporting events have been canceled or played in empty arenas, and bars and restaurants have been closed. Champagne is not the beverage people reach for during family board-game night in quarantine or while binge-watching OZARK.
The Champagne Committee, a trade group representing 16,000 producers, will meet later in August to figure out how to address this problem. Members are likely to drastically curb production, which means a record number of grapes will be destroyed or sold off cheaply to distilleries, the AP reports. Some Champagne grapes might meet the same unglamorous fate as those from other wine-producing regions. They may be turned into an alcohol-based product in much higher demand: hand sanitizer.
Champagne producers want to remake their image for the COVID era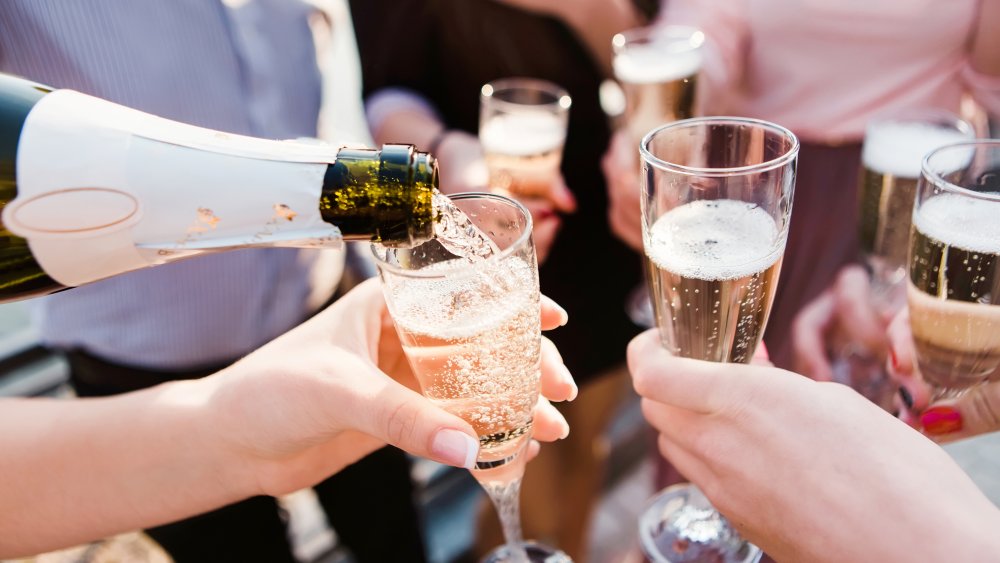 Shutterstock
We all want this disruption to normal life to be over as soon as possible so we can resume our Champagne dreams. In reality, however, "normal" isn't coming back anytime soon. Global alcohol sales won't return to pre-pandemic levels until 2024, according to Bloomberg, and even later than that in the U.S. This poses a long-term crisis for Champagne. The venerable institution is looking to change up its image with a new marketing approach, according to the AP. What that'll look like, under current circumstances, is hard to picture. Since budget beers are doing so well, and Miller is "the Champagne of Beers," maybe sparkling wine's trade group could go with "It's Champagne time!"
Does the Miller Brewing Company (now Molson Coors) have some sort of trademark protection on that phrase? Because it sounds like the Champagne industry is going in a different direction. "There will be a very big change to our marketing that highlights the grandeur of our wines," one Champagne producer told AP. This is the era when pajamas became popular work attire, so it remains to be seen if "grandeur" still plays.