Arby's Just Added Two New Sandwiches That Aren't What You'd Expect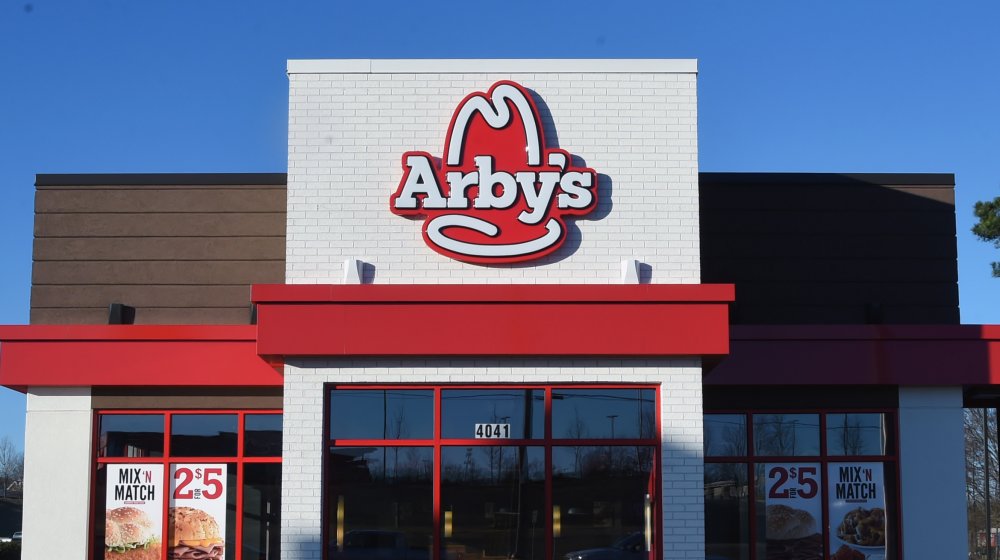 Rick Diamond/Getty Images
If Arby's isn't the first restaurant you think of when you hear the word "prime rib," the folks at the 3,400-unit chain want to change your mind with two new cheesesteak sandwiches that use this top-grade cut of beef.
Prime rib is as good as it gets, often reserved for holiday dinners and special occasions, so to use it in a humble fast food cheesesteak sandwich is a little surprising. Often, cheesesteaks are made with the cheaper skit steak or sirloin, fried with onions and sometimes peppers, tossed with some American cheese, provolone, or, in the case of the classic original Geno's in Philadelphia, Cheez Whiz, then slid from the pan into the roll.
Arby's cheesesteaks are starting with cooked, shaved prime rib however, then adding the peppers and onions and provolone. While the preparation strays from the traditional, the upgrade in meat is an interesting one. Prime rib is an excellent cut of meat and well worth the price when you buy it at your local grocer, according to Cook's Illustrated, so adding it to an Arby's offering certainly boosts its allure.
Prime rib takes cheesesteak up a level at Arby's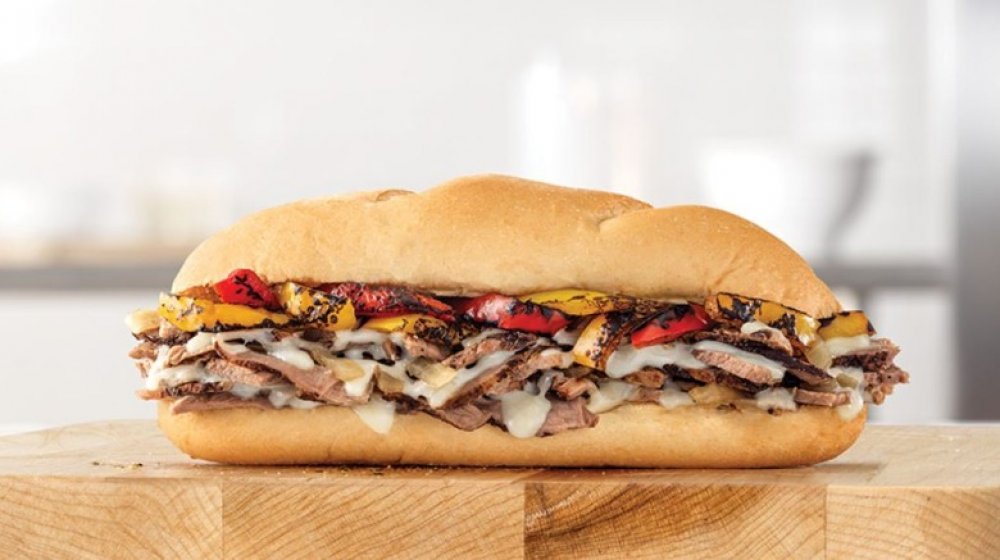 Arby's
Previous cheesesteak offerings from Arby's, the "We Have The Meats" restaurant, including the Fire Roasted Philly that debuted back in 2016, used the chain's traditional roast beef. The Fire Roasted Philly, which is still on the menu, adds Italian seasonings, Swiss cheese, red and yellow peppers, and roasted garlic aioli on a sub roll.
This time around, the new menu items include the Spicy Prime Rib Cheesesteak, with sliced prime rib, sautéed red and yellow peppers, onions shredded provolone cheese, and a spicy sauce in a toasted sub roll. It has 640 calories. The Classic Prime Rib Cheesesteak also features the sliced prime rib, red and yellow peppers, onions, and melted provolone. No spicy sauce on the classic, and it comes in at 600 calories (via Guilty Eats).
Are these the real deal, such that one would find in Philadelphia? No, but give Arby's credit for an upscale and creative twist on a classic, and get 'em while you can, because they're on the limited time menu.