Who Is Giada De Laurentiis' Ex-Husband?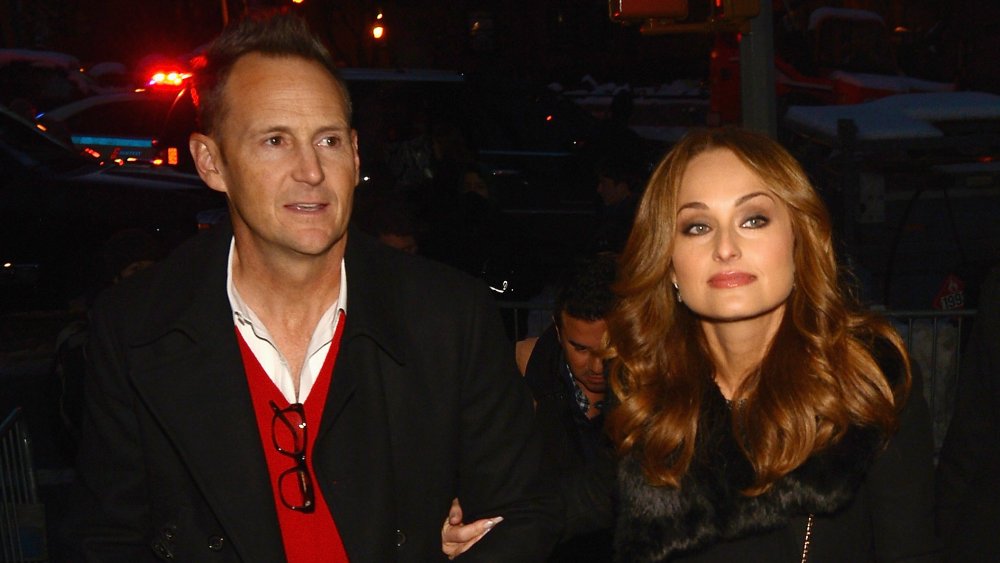 Gustavo Caballero/Getty Images
When Giada DeLaurentiis entered the spotlight on Food Network, her then-husband Todd Thompson was right by her side. According to E!, the two met when Giada was 19, which, if our math is correct, would have made Todd 26. The couple got married in May of 2003 and Giada's first Food Network show Everyday Italian premiered in 2005, setting her on a trajectory towards being one of the longest-running chefs (alongside Alton Brown and Bobby Flay) to appear on the network.
Often, viewers might have seen husband Todd, a fashion designer for Anthropologie, appear on the show, popping into the kitchen to steal a bite of food. And the two would smile, looking completely in love. More Food Network shows and cookbooks followed that first series and in 2008 De Laurentiis and Thompson welcomed their daughter, Jade, into the world. This all sounds like a pretty delicious life so far but change loomed ahead for Thompson. A divorce from De Laurentiis, retirement, and perhaps a new love were in his future. Through it all, Thompson remained relatively private. But, we did a little digging and found the truth about Giada De Laurentiis' ex.
Giada De Laurentiis and Todd Thompson divorced following rumors about affairs
Marriages end for all sorts of reasons and it's entirely possible that Giada DeLaurentiis and Todd Thompson simply grew apart or wanted different things after so many years together. But, as Giada's star continued to burn brighter, fame made her a target for some vicious rumors. Reports of De Laurentiis being unfaithful to Thompson began circulating, including alleged affairs with chef Bobby Flay, Today anchor Matt Lauer, and superstar John Mayer (via Cheat Sheet). Although the rumors aren't backed up by any real proof, perhaps the drama took its toll on the couple.
De Laurentiis spoke to Redbook in 2011 about her supposed involvement with John Mayer, saying she was shocked by the allegations. She added, "Todd was embarrassed that his family in Michigan would see it and think, What is going on over there in Hollywood?" Whether the infidelity rumors stung a bit too hard or their lives just went in opposite directions, the couple announced their separation in 2014 on Facebook, saying, "[Our] overwhelming desire for our family's happiness has given us the strength to move forward on separate, yet always connected paths." Thompson filed for divorce in December 2014, (via E!) and the two parted ways with a hefty settlement landing in Todd's favor, including a house, $300K in artwork, and advances from Giada's cookbooks (via TMZ). We're sure the dissolution of an 11-year marriage was heartbreaking, but Thompson seems to have landed on his feet.
New life and new love for Todd Thompson
Today, Todd Thompson continues to do just fine for himself, it seems. Throughout his high-profile marriage to the queen of Italian cuisine, Todd Thompson worked as a designer for the brand Anthropologie. He even designed the chefs' coats for De Laurentiis' Las Vegas restaurant, Giada (via Page Six). Although many sources still refer to him in his designer role, Twitter suggests he's left his working life behind. His profile reads, "Dad, retired Clothing Designer/Manufacturer, Foodie, Sports, Car and music enthusiast." So how does he spend his days now?
Todd is clearly a devoted dad to Jade, as evidenced by the many photos of the smiling tween populating his social media feed. He also seems to have found love! It appears Todd Thompson has coupled up with Heather Lacombe, a former Elite fashion model who now works as an interior designer (via LinkedIn). Lacombe's Instagram reveals a sweet moment dating way back to October 2017. She captioned a smiley photo of her and Thompson with a quote: "Love cures people, both the ones who give it, and the ones who receive it." She added, "I love you so much". Not all love was lost between De Laurentiis and Thompson, it seems. They appeared together at daughter Jade's graduation last June looking every bit the strong, co-parenting family unit. For now, it seems the story of Giada DeLaurentis' ex-husband has quite a happy ending.