Little Debbie Has Amazing News For Fans Who Want To Eat Oatmeal Creme Pies For Breakfast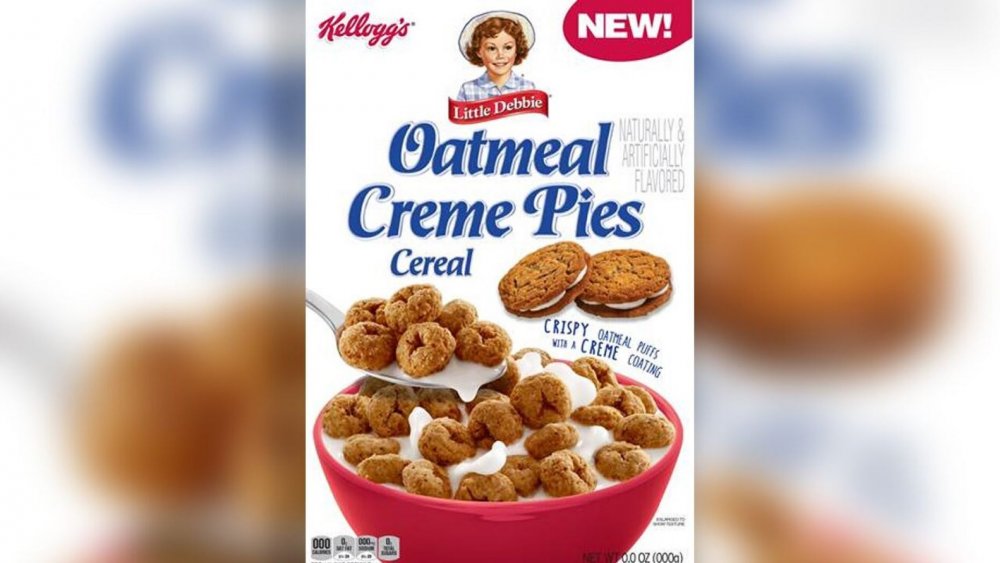 Little Debbie
For people with a serious sweet tooth, it's not always feasible to wait until after dinner for something sugary, and luckily there's a brand new addition coming to the most socially acceptable way to have dessert for breakfast: sugary cereal. Joining the likes of Captain Crunch and Fruit Loops is a new cereal version of everyone's favorite snack, the Little Debbie's Oatmeal Creme Pies (via Fox News). This new product is celebrating its 60th anniversary of the classic childhood treat (via Delish).
The box describes the cereal as "crispy oatmeal puffs with a creme coating," but, according to Fox, the product is probably a little more clever (and tasty) than that due to this Instagram post from user @candyhunting announcing the product — it has almost 10,000 likes. Comments were mostly enthusiastic from their followers and included, "What a time to be alive" and "OMG! I almost licked my phone."
When and where you can find Little Debbie's new cereal
There's good news and bad news for all those ready and raring to try this new breakfast cereal. First off, you're going to have to wait a few months. According to CandyHunting, it won't hit shelves until December. In the good news column, this treat won't break the bank; a 9.1oz box will retail for $3.99, and a 14.5oz box will retail for $5.69.
Finally, while you wait, there are plenty of dessert-turned-breakfast cereals available on the market in the meantime, like Cookie Crisp, Reese's Puffs, and even Kellogg's Smorz, which is exactly what it sounds like: "Crunchy graham cereal wrapped in rich chocolate coating with marshmallows." Just don't let the lettering across the top of the box, boldly claiming that "Smorz" are a "good source of vitamin D," or the fact that it's in the breakfast aisle, cause you to forget that it's really a dessert, as it is made up of 43.3 percent sugar (via CBS News).