The Tragic Death Of Top Chef Contestant Aaron Grissom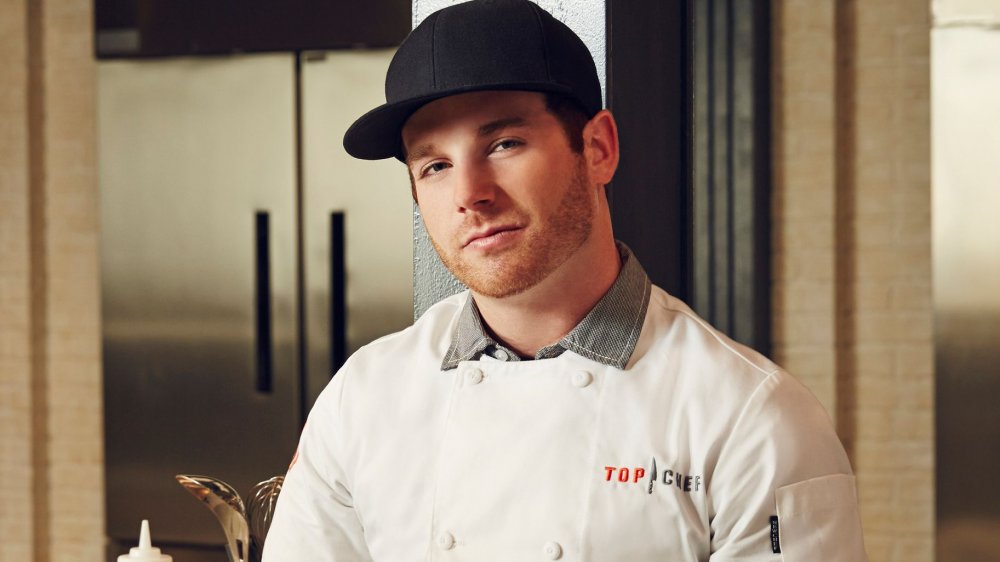 Bravo TV
The world has lost another kitchen talent this year. Aaron Grissom, who competed on season 12 of Top Chef, died in a traffic accident in Washington state. His cause of death was listed as multiple blunt force injuries (per CNN). He was just 34 years old. Grissom had been driving a motorcycle when he died, and appeared to have lost control of it when he hit a roundabout, law enforcement sources told TMZ. He had been wearing a helmet. Paramedics reportedly performed chest compressions on Grissom, as had motorists, before the ambulance arrived. "Bravo and the Top Chef family are saddened to learn about the passing of Chef Aaron Grissom from Season 12: Boston," Bravo said in a statement to USA Today. "Our deepest sympathy goes out to his family and friends."
Prior to competing on Top Chef, Grissom had been on Diners, Drive-Ins and Dives, when the show covered Dirty Oscar's Annex in Tacoma, according to Pop Culture.
Aaron Grissom's life was a rollercoaster of ups and downs
Before his untimely death, Grissom had experienced some high highs and low lows. Most recently, before the pandemic put live events on pause, the Washington native had been cooking for Billie Eilish and other A-list performers when they toured through his state, according to TMZ. This had been a bright spot following a dark spell after his Top Chef appearance in 2014; Grissom was arrested that year, and it took some time after that to revive his career.
Grissom will be missed deeply by some members of the Tacoma food scene. Yu Nanakornphanom, who owns Indo Street Asian Eatery in Tacoma's Stadium District and worked with Grissom on his neighboring ramen bar Moshi Moshi, told The News Tribune that the young chef had donated a kidney to him. "After we opened [Moshi Moshi], we talked about it. 'I have this condition,' I don't know how much I can take with the business," Nanakornphanom recounted, and Grissom promptly volunteered to be a kidney donor. "He had a lot going on," Nanakornphanom added. "I think he had a good future ahead of him. He's always learning to do something. He was driven. He lived his life fully."
Grissom's death is not the only loss the Top Chef family has suffered this year. Top Chef Masters winner and Indian celebrity chef Floyd Cardoz died in March, at age 59, shortly after testing positive for COVID-19 (per GrubStreet).