This New Sam's Club Chicken Sandwich Is Being Compared To Chick-Fil-A
Much to the delight of fried chicken sandwich fans everywhere, Sam's Club recently introduced a new Southern Style Spicy Chicken Sandwich, and it's creating some delicious buzz online. According to Fox News, you can find these fully-cooked, individually wrapped sandwiches in the freezer aisle in a 10-count box. Sam's website says, "Each sandwich is made with a juicy chicken breast fillet and is breaded with a Southern Style dill pickle-flavored batter with just a kick of cayenne added for a savory, mildly spicy flavor we know you'll love." Sounds familiar, right?
Naturally, social media weighed in and some users noted the spice and the strong dill pickle flavor are indeed reminiscent of a cult classic: the Chick-fil-A chicken sandwich. We know Chick-fil-A is pretty much the gold standard when it comes to chicken sandwiches. Other brands have tried to replicate the chain's success by producing similar-looking and tasting, pickle-flavored fried chicken sandwiches on soft buns. Popeyes' very familiar-looking attempt prompted the "chicken wars" of 2019 (via Esquire) and McDonald's eventually joined in as well with, yes, a near-mirror image of Chick-fil-A's fried chicken filet on a buttery bun with pickles. But, the internet appears to be split on how much Sam's Club's sandwich tastes like the classic.
The internet is divided over Sam's Club's sandwich flavor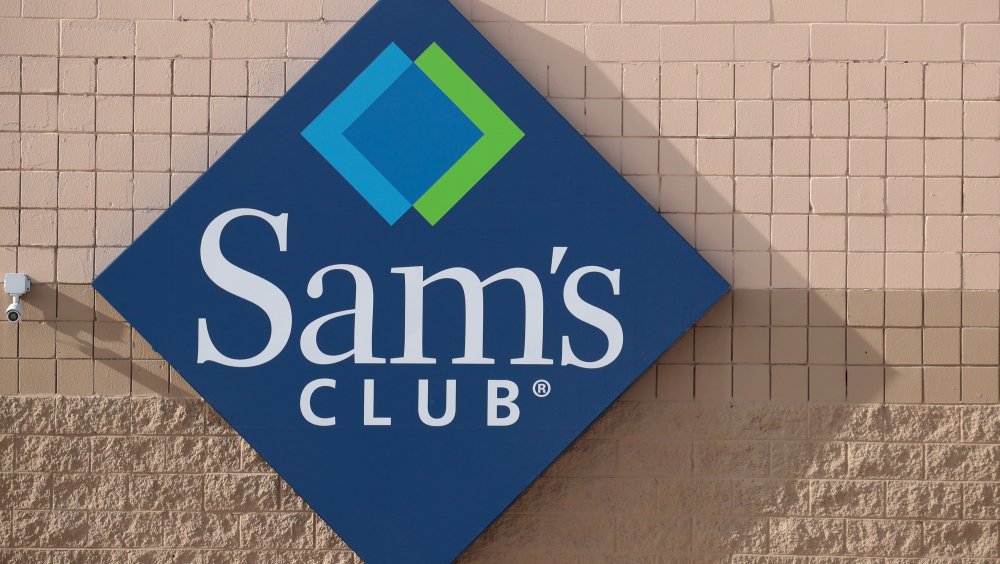 Scott Olson/Getty Images
An at-home version of the famous Chick-fil-A sandwich would be an amazing thing to have come out of 2020 but is it a reality yet? Instagrammer @frankieluckett cast his vote by saying, "RUN! Don't walk to your @samsclub and buy these! I honestly think it's better than Chic-filet. I give them a 10/10! Blown away at how good these are." Some commenters disagree, though.
One user noted, "I have to disagree with you, just a bit. If you take the chicken off the frozen bun, heat it, and put it on a fresh bun, then it is VERY similar to CFA but still not better." A more dismayed taster added, "This is nothing like Chick-fil-A. Not sure what meat is being used but it doesn't taste like chicken." A spicy, pickle-flavored fried chicken sandwich sure seems like it would taste like Chick-fil-A's but you'll have to try it for yourself to find out. Just don't be fooled into thinking a store-bought version of a fried chicken sandwich is any healthier than the drive-thru.
Sam's Club's chicken sandwiches are slightly worse for you than Chick-fil-A's
Having 24-7 access to spicy fried chicken sandwiches may be a dream come true but only if you can look past the fat and calories. The fat, carbs, and calories in Sam's Club's fried chicken sandwiches are nearly identical to, albeit slightly worse than, those in Chick-Fil-A's Spicy Chicken Sandwich. According to their website, Sam's Club's sandwich has 18 grams of fat, 54 carbs, and 490 calories compared to Chick-Fil-A's 19 grams of fat, 45 carbs, and 460 calories. The price, on the other hand, is better. 
Assuming you have a Sam's Club membership, these Southern-Style Spicy Chicken Sandwiches will cost $15.89 for 10, which means they're $1.58 apiece and about half the price of Chick-Fil-A's $3.99 offering. In moderation, a Sam's Club chicken sandwich may be a fine way to crush your fried chicken sandwich craving. Whether or not it's truly comparable to Chick-fil-A, though, remains to be seen.