The Truth About McDonald's New Chicken Sandwich
McDonald's
Another shot has been fired in the so-called "chicken wars" that saw the rollout of a new Popeye's chicken sandwich that could give Chick-fil-A's classic offering a run for its money this past August and — for some reason — a fried filet between two donuts, courtesy of KFC.
This time, though, the biggest of the big-name fast food giants has decided to roll the dice, and not for the first time, according to Eater, in a piece that reminds readers that the chain has offered tons of chicken sandwiches over the years. Time will tell if this is the chicken sandwich that puts McDonald's on the map. Until then, here's the truth about McDonald's new chicken sandwich.
McDonald's entry into the chicken wars looks pretty familiar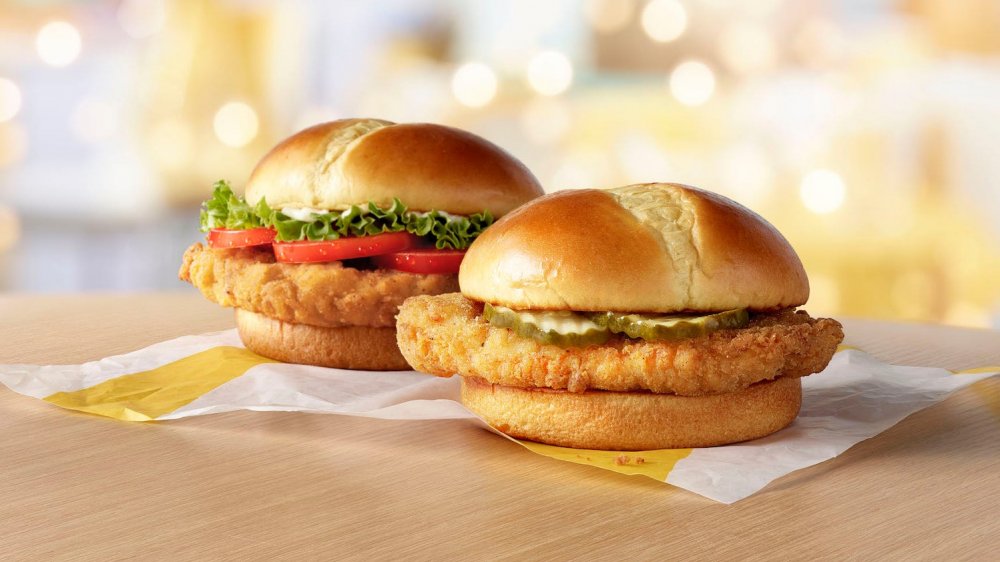 McDonald's
When Popeye's presented an eerily-familiar-in-its-simplicity combination of fried chicken filet on a brioche bun with your choice of two kinds of mayonnaise, Chick-fil-A immediately threw shade on Twitter. It's not a stretch to say they felt, well, copied. There's nothing new this time around, either. Is McDonald's going for a copycat version of Chick-fil-A's famous sandwich? 
Let's look at what's in McDonald's new chicken sandwich, and you be the judge: 
According to Business Insider, consumers in test markets can expect two offerings: crispy chicken sandwich and deluxe crispy chicken sandwich. The former is simply described as a fried chicken filet on a "buttery potato bun." It's topped with butter and pickles. The "deluxe" version throws tomato and lettuce into the mix.
Hey, we get it. There are lots of ways to make a sandwich. And maybe a "southern" chicken sandwich just is a combination of chicken, buttery bread, and pickles. But did we mention the bag? 
McDonald's new chicken sandwich won't be available everywhere
As you may have surmised from the packaging, announced via Twitter, McDonald's new crispy chicken sandwiches will only be served — tucked away into those familiar foil bags — in two test markets for now: Houston and Knoxville. They were launched December 2, and are slated to run until January 26. After that, there's no word yet on whether everyone else gets a taste or they'll be relegated to searching for the perfect copycat recipe for their favorite fast food chicken.