Burger King Just Made A Big Change To Its Whopper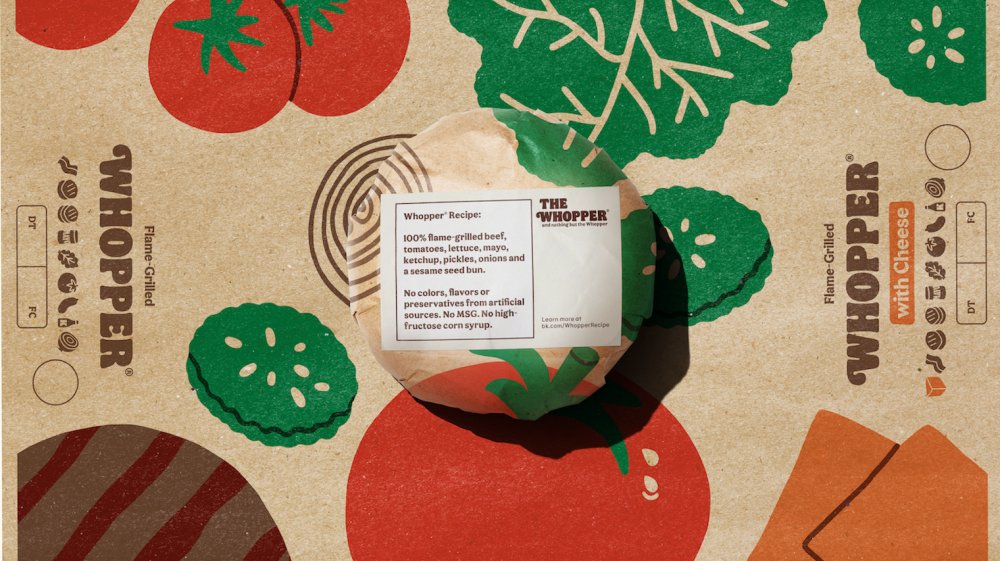 Burger King
Today, Burger King's Whopper joins a growing list of fast-food items that are losing their artificial ingredients. The chain's signature burger is now sold without artificial colors, flavors, or preservatives in all of its U.S. markets, BK announced in a press release sent to Mashed.
Customers won't notice the difference, at least not by taste, Burger King President Chris Finazzo said in the press release. "This announcement further highlights our commitment to serve delicious, affordable meals our guests can feel good about," Finazzo added.
BK originally announced the news back in February, saying the new Whopper would be available by the end of this year (via CNBC). Burger King had been selling the new Whopper at more than 400 of its 7,000-plus U.S. locations, CNBC reported. The Whopper is already free of artificial ingredients in several European countries. To help make the point that the U.S. Whopper has gone all-natural, Burger King will print the ingredients prominently on the burger's wrapping for a limited time, the press release said.
The new Whopper is part of a menu-wide transition happening at Burger King. In America, Burger King hopes to remove artificial ingredients from its full menu by early next year. It's already 85 percent of the way there.
Burger King follows McDonald's move to dump artificial ingredients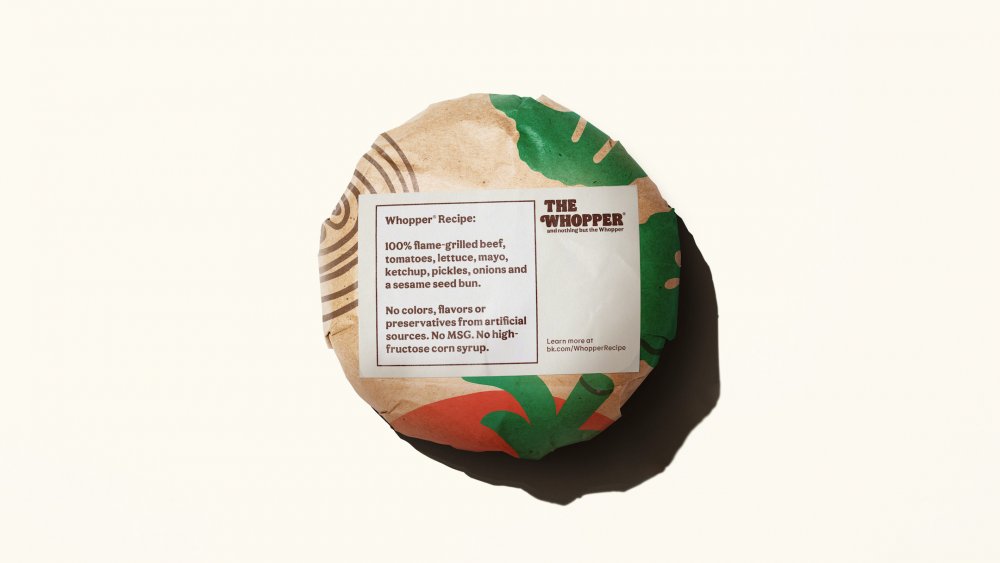 Burger King
Some of the nation's biggest fast-food establishments are trending healthier. One of the leaders of this movement is Taco Bell, which according to its website has already removed artificial colors and flavors from its entire menu. But Burger King, the world's second biggest fast-food burger chain, is probably more intent on following its even bigger rival. McDonald's removed artificial ingredients from seven of its hamburgers in 2018, according to CNBC. McDonald's also followed Wendy's lead that year by making its Quarter Pounders with fresh beef rather than frozen. The changes worked for McDonald's, which saw improved market share versus its fast-food competitors, CNBC said.
To help spread the news of the all-natural Whopper, Burger King has a new TV commercial in which people on the street describe the Whopper "by heart." This ends up being a clever way of listing the sandwich's ingredients: beef, lettuce, pickles, and the rest. There's no need to know the chemical names of artificial preservatives.
The new ad might replace one that came out when Burger King first announced the news that the Whopper was shedding its artificial ingredients. In the old commercial, the preservative-free Whopper is filmed in a 34-day time lapse that shows it growing a whole lot of mold — and a whole lot less appetizing. Some who saw the ad were actively turned off to the idea of buying a Whopper, according to Marketing Dive, but the ad definitely got viewers' attention.