Target Desserts That Should Be In Your Kitchen Right Now
Joe Raedle/Getty Images
We've all been there. It's late afternoon and you just dropped off kids one and two at soccer and ballet practice, respectively. Suddenly, you realize as you are sitting at a stop light and gazing over at the Target parking lot that it's your turn to bring dessert to book club and you have no time to make anything, let alone get across town to your favorite (and expensive) bakery. Quelle horreur! What to do?
While Target is mostly known for shabby chic homeware, household supplies, and affordable prices, you may not have heard about their gourmet desserts. But rest assured, this retail giant has you covered with plenty of sweet treats you might want to consider stocking up on for all your last minute needs. In fact, it may surprise you to learn that three quarters of customers shopping at the chain toss at least one food item in their cart to purchase (via CNBC). Why not make that one item dessert? So, what might Target have lining its shelves and refrigerators that could pass as a special dessert for gatherings or simply a treat for the family after dinner?
Archer Farms Ultimate Cheescake Collection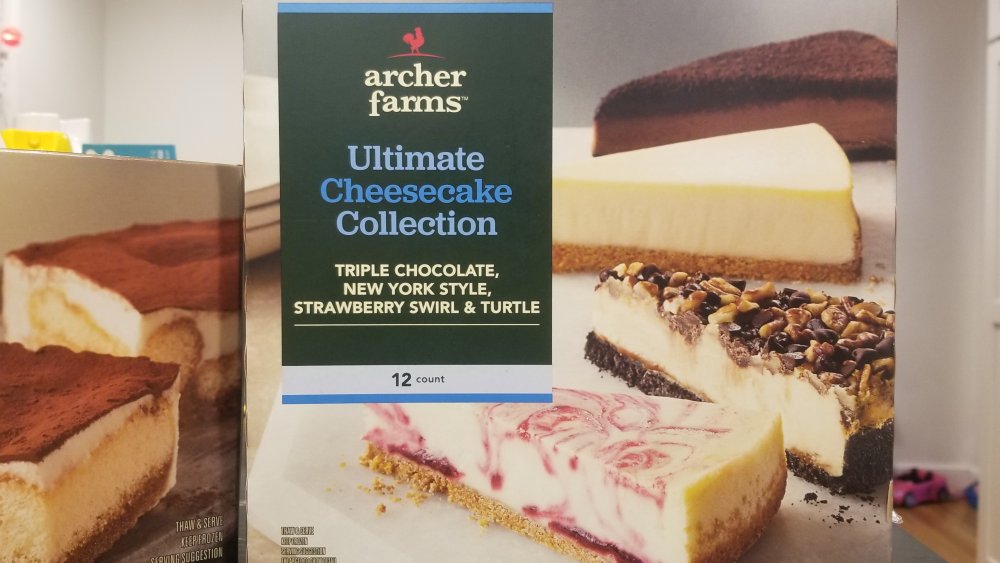 Karen Hart
Cruising through the frozen foods aisle, you might stumble upon Target brand Archer Farms and their Ultimate Cheesecake Collection. This sampler contains four different kinds of perfectly sliced cheesecake and includes a total of 12 slices of the following flavors: triple chocolate, traditional New York style, turtle, and strawberry swirl. The sweet product is described as "rich" and "indulgent" on the Target website, and with one forkful we think you will agree. The box says it takes two to three hours for the entire cheesecake to defrost. This dessert can easily be dressed up with a little whipped cream, which conveniently can be found in the refrigerated section of the store.
One reviewer of the Archer Farms Ultimate Cheesecake Collection, who gave the product five stars, wrote on the Target website "I am a cheesecake connoisseur... I love a great cheesecake! Have tried many frozen brands and stopped purchasing them. I found Archer Farms frozen cheesecake at Target and bought it, expecting a lower quality product, because of my past experiences with those other brands... This Archer Farms brand of cheesecake had the most amazing texture and was delicious (so delicious that I went back to purchase another box, 1 week later). ...Even in its frozen state, I loved it (nice treat on a hot day)".
Crème brûlée for two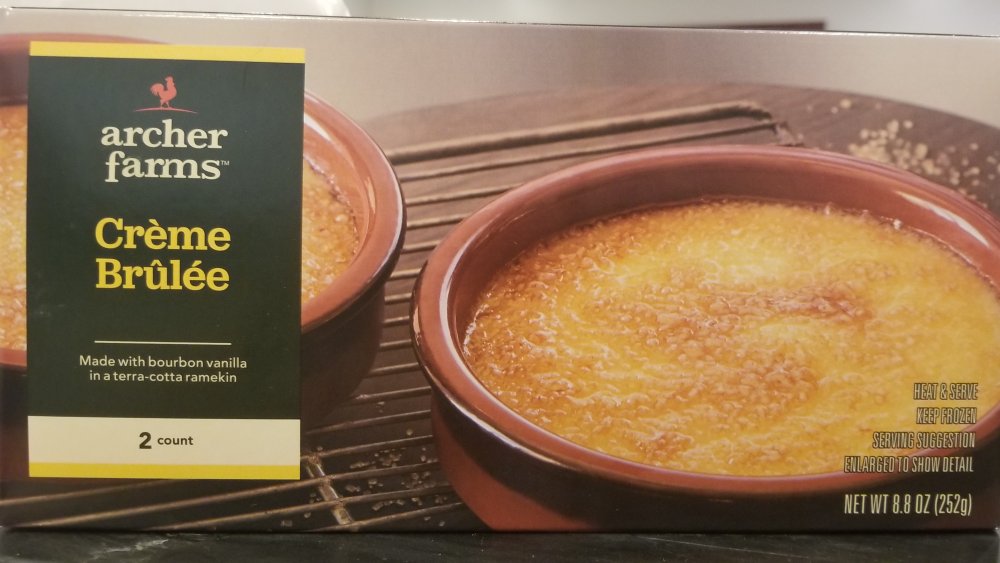 Karen Hart
While you're in Target's frozen section drooling over the cheesecake, you may want to grab a couple boxes of Archer Farms frozen Crème Brûlée. This creamy, silky custard dessert ranks as one of the brand's most popular, best selling items (via the Kitchn). Each box contains two terracotta ramekins filled with what the company describes as a bourbon vanilla flavored creme, topped with a layer of crisp, caramelized sugar. One five star reviewer noted, "The sugar has a nice crunch just like at a restaurant." while another called it "perfection". Not to mention, 95 percent of Target customers posting reviews of this dessert said they would recommend it to other buyers, providing the ultimate seal of approval. Additionally, the makers of this delicate and classic treat are so certain you will like it, they advertise a 100 percent satisfaction guarantee, or your money back.
Try this crunchy, seasonal treat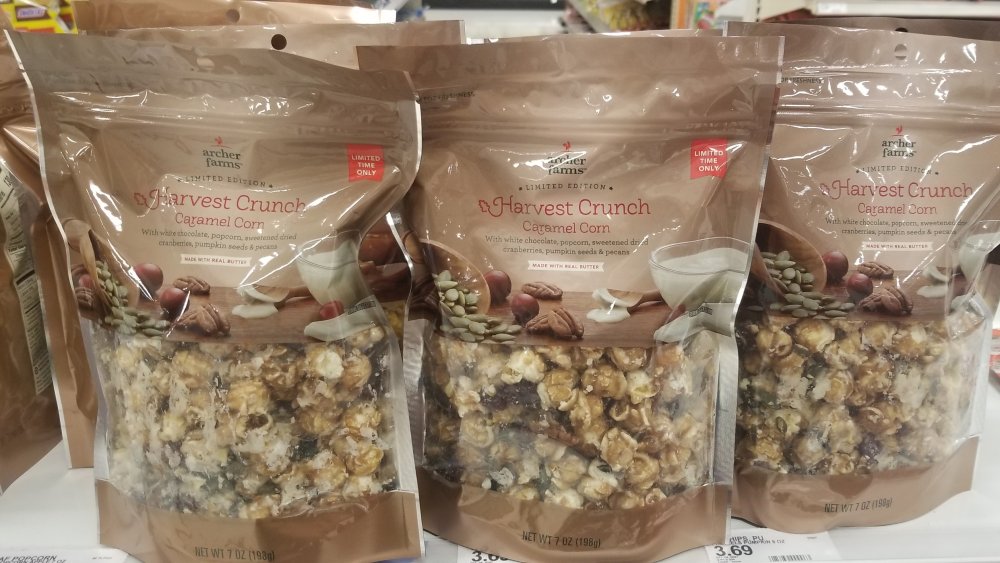 Karen Hart
If you're looking for something super delicious that doesn't require you to turn on an oven or fuss with defrosting, try Target brand Archer Farms limited edition Harvest Crunch Caramel Corn or their limited edition Caramel Apple Corn with Apple Slices. Both flavors are very tasty, and after a couple of crunchy bites you may even decide you don't want to share. The Harvest Crunch Caramel Corn is made of caramel popcorn covered in white chocolate and mixed with cranberries, pecans, and pumpkin seeds. It is the perfect blend of savory and sweet, and will have you and your guests eating it by the handful. Be aware, you may need to buy more than one package as each bag only contains seven ounces. The Caramel Apple Corn with Apple Slices is also a seasonal favorite definitely worth stocking up on, as one reviewer wrote they wish Target would have this flavor year round. We are with them!
Stock up on this sweet beverage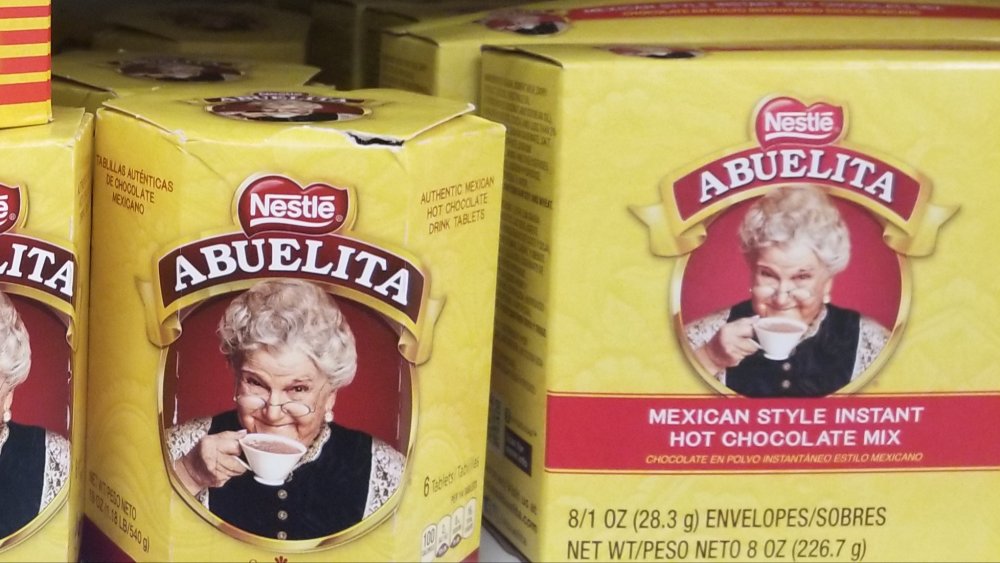 Karen Hart
Dessert can also come in the form of a hot beverage, and as the nights begin to get cooler Nestle's Abuelita Mexican Hot Chocolate mix at Target provides the perfect answer to warm you up while satiating your sweet tooth. Abuelita Mexican Hot Chocolate has a subtle flavor of cinnamon and froths up well as you mix the round chocolate disc into steaming milk. It's the perfect drink to whip up for just about any occasion. Each 19 ounce box contains six individually wrapped tablets. Add one chocolate tablet to four cups of warm milk, sweeten to taste with a little sugar, and you are in business (via Chocolate Abuelita). One reviewer on Google Shopping wrote of this crowd pleaser, "Compared to regular instant hot coco this wins by a long shot. It has a hint of cinnamon that gives it a little spice that warms up your belly. I make mine with whole milk which really changes the taste. I feel adding a little baileys in there makes it tasty also." Don't forget to grab some marshmallows and whipped cream to top off your Abuelita Mexican Hot Chocolate and make it truly festive. 
Keep it fruity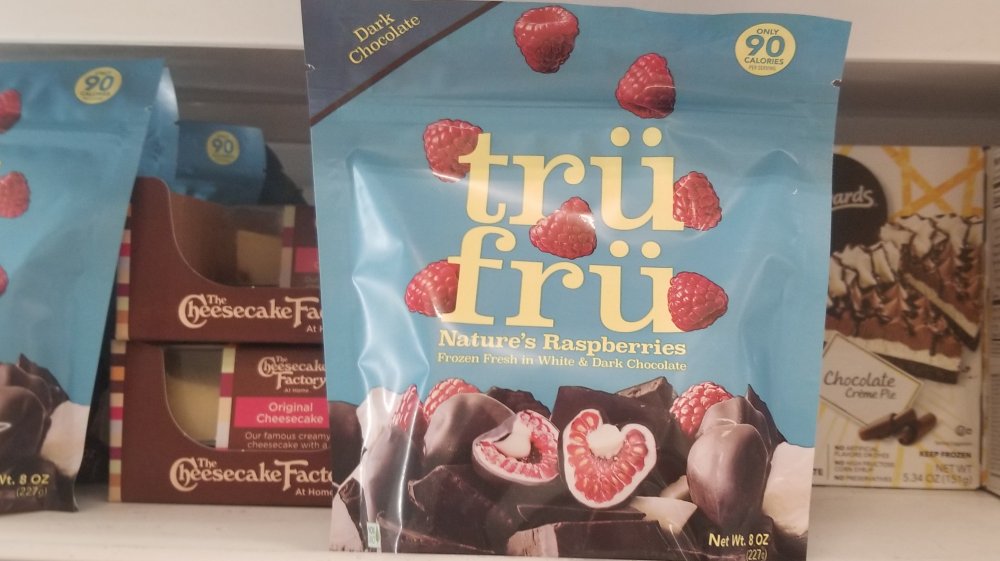 Karen Hart
Tru Fru Nature's Raspberries have developed an almost cult-like following at Target. Found in the frozen food section of the retail chain, these frozen fruits are dipped in both white and dark chocolate, making for a quick snack or delicate topping for your ice cream, depending how decadent you're feeling. The Tru Fru website notes that they use simple and clean ingredients with no additives or preservatives. At just 90 calories per serving, you can have the pleasure without the guilt. The proof is in the reviews. One Target customer called this dessert their "go to for a sweets pick me up" while another wrote, "I flipping LOVE these things!!! Got them last summer and couldn't find them for the longest time until last week. Went through three bags fast!!!! Now they are sold out again" (via Target). Apparently they do tend to sell out, so if you happen to see them you may want to get a bag or two.