The Barbecue Reality Show That's Crushing It On Netflix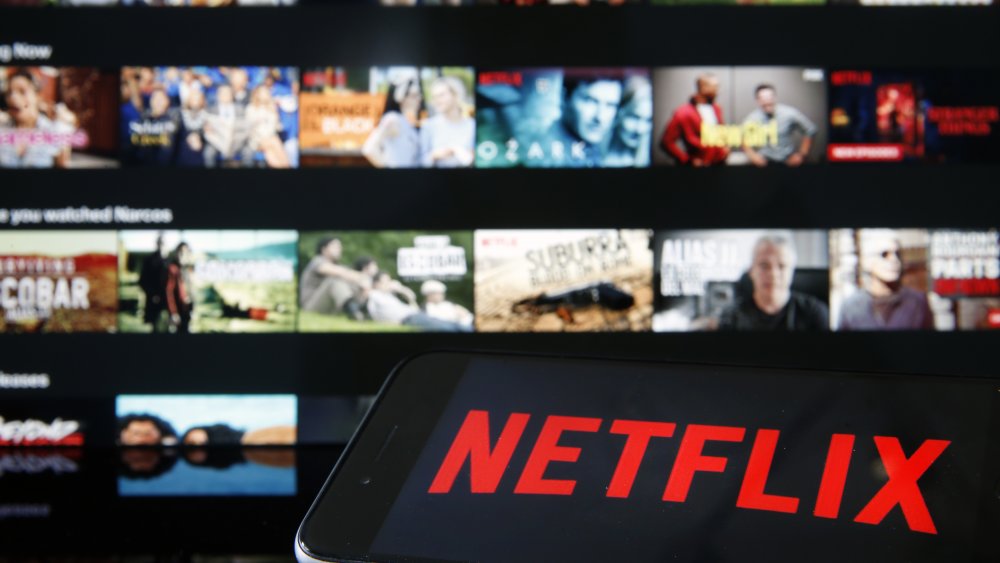 Chesnot/Getty Images
Cooking shows have been popular for as long as TVs have been fixtures in American living rooms (via Taste of Home). In this century, the emphasis on cooking shows shifted away from how to prepare dishes to formulaic cooking competitions — from Iron Chef and Chopped all the way to Worst Cooks in America. But the latest hit cooking competition won't be found with these other shows, on the Food Network. This week on Netflix, the home of serious movies and TV dramas, a cooking show has cracked the Top 10. And this one is refreshing if only because you're not likely to hear the word "chef" spoken. Eight pitmasters compete for the title of America's Barbecue Champion on the new show, The American Barbecue Showdown. Right now, the smoke-off is the eighth most popular show on the streaming service.
The show's formula is familiar. In episode 1, eight pitmasters meet judges Kevin Bludso and Melissa Cookston, who will eliminate one of them each episode until the champion is crowned. Three contestants are women, and one of them, Tina from Newnan, Georgia, lets viewers know right away that she is motivated to demonstrate her superiority in what she called the "man's world" of barbecuing. "Don't underestimate me because I'm a woman because I have beat many a man out there, many times," Tina says. While some contestants on The American Barbecue Showdown are regulars on the competitive circuit, others are casual backyard smokers. 
The American Barbecue Showdown is a light, fun summer show
The reviews are in, and they are fairly unanimous: The American Barbecue Showdown is an easygoing cooking competition that doesn't serve up any surprises with its format and ends up being a pleasant way to say goodbye to summer. The show is pretty to watch, shot outdoors at a wedding venue in Covington, Georgia, about this time last year (via Reality Blurred). UPROXX strongly hints that the final-episode showdown will be a "whole hog" challenge. Nothing wrong with saving the best for last. Early on, the show promises to talk about the heart of the pitmaster as much as it does the butt of the hog. Judge Bludso tells contestants, "I want to taste the food, I want to taste the story at the same time." But the review in Ready Steady Cut says the show is light on personal motivations.
Still, the eight 40-plus-minute episodes of The American Barbecue Showdown sound like the ideal end-of-summer Netflix binge. As far as binging goes, the only thing that might be better would be a sampler platter from each week's winning dishes. 
For those wanting a more serious take on barbecue's history and role in culture, reviewers suggested another new Netflix show, Chef's Table: BBQ.