Nutrition Expert Exposes Which Taco Is The Least Healthy: Chipotle Or QDOBA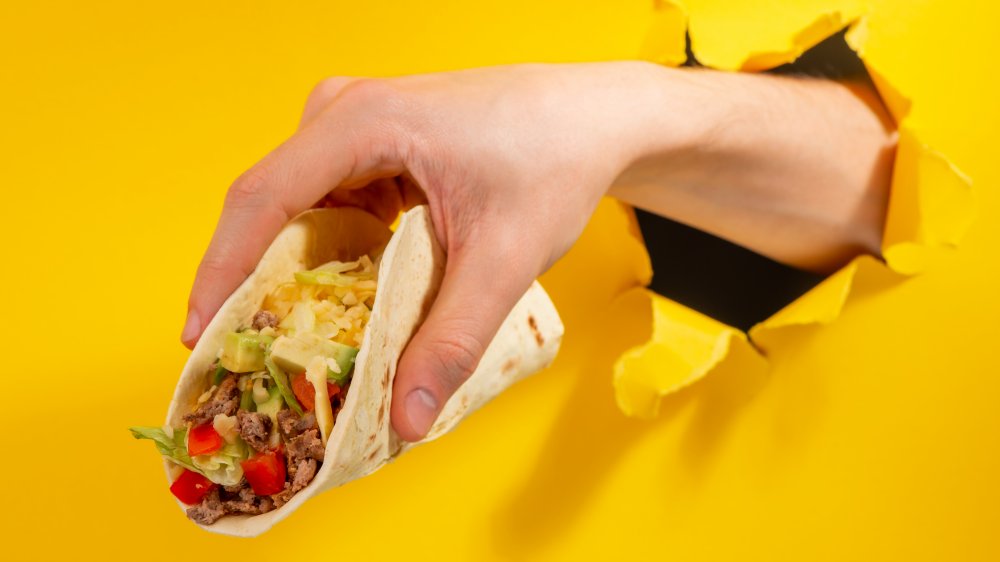 Shutterstock
It's mealtime, you're famished, and there's no denying your cravings for Mexican food. Bring on the tacos — three little wraps, AKA street tacos, barely enough to satiate, but oh so delish. With tortillas the size of drink coasters, they must be healthy-ish, right? Nutritionally speaking, perhaps a trio of street tacos is better than one large burrito, but it really depends where you dine. 
There are two shining lights on the street taco scene — QDOBA and Chipotle, and both dish up some of the country's most popular options (via Fast Food Menu Prices). At QDOBA, menu items are inspired by an award-winning chef, and feature the culinary traditions of Mexico, Latin America, and "beyond." No matter what you choose, it's hand-crafted, hand-smashed (i.e., guacamole), and delivered with a smile (via QDOBA). Across the street, at Chipotle, they're probably smiling too, but apparently, they're also changing the world (via Chipotle). Their tacos are also made to order, and made with real food; 53 real food items to be exact. 
So, we're smiling and changing the world, but are we eating nutritious food?
The shocking truth about QDOBA's flour tortillas
Let's start with QDOBA, where "QDOBA stands for flavor." Grab three Street Style Chicken Tacos with "grilled adobo chicken in a soft corn tortilla topped with hand-smashed guac, salsa verde, red onion, and cotija cheese" and you'll scarf down 470 calories, 22 grams of fat, and a jaw-dropping 1,340 milligrams of sodium (via QDOBA). The calories themselves aren't horrific, but almost 200 of them come from fat. And 1,340 milligrams of sodium is more than half of your daily allotment. Sure, you'll be super thirsty after noshing, but the worst part is, you'll also increase your risk for high blood pressure, which puts excess strain on your heart. Order a tall glass of water on the side, so you can flush some of that sodium out.
More of a flour tortilla fan? The same meal jumps to 520 calories, 25 grams of fat, and 1,540 milligrams of sodium. Switch from corn to flour tortillas and the extra 200 milligrams of sodium you consume is the equivalent of 19 Lay's Potato Chips (via Lay's). Seems QDOBA stands for sodium too. Better make that a pitcher of water.
Three Chipotle street tacos and you've reached your salt max for the day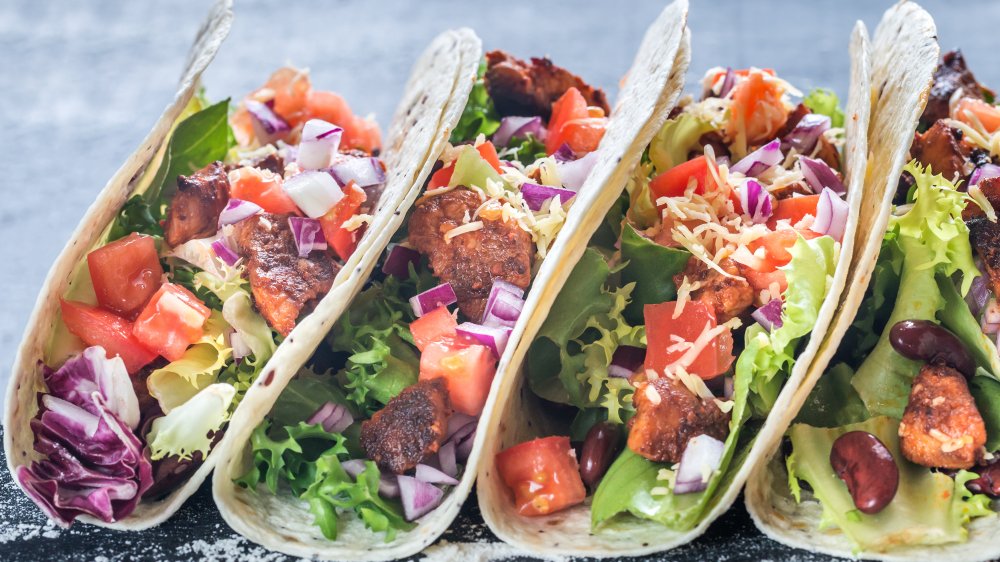 Shutterstock
But wait, don't jump off the QDOBA bandwagon yet. Let's head on over to Chipotle. Walk the line and create three tacos similar to the QDOBA triad, with chicken, salsa, guac, and cheese and, brace yourself, you'll gorge on 795 calories, 45 grams of fat, and an ENTIRE day's worth of salt (1,900 milligrams). That's if you compare apples-to-apples (or tacos-to-tacos). Skip the guac and shave off 230 calories and 22 grams of fat. Dodge the cheese and avoid another 110 calories and 8 grams of fat. But what are you left with? A flour tortilla with chicken and salsa, and a hankering for more food.
One would think Chipotle's "crispy corn tortillas" would fare worse since the deep-fried shells are basically tortilla chips transformed into a vessel for food. Yet, surprisingly, you'll kibosh 140 calories, 3 grams of fat, and 635 milligrams of sodium (via Chipotle). What's with flour tortillas and all that salt? Forget the pitcher of water at this joint — you'll need an IV drip. 
The bottom line: If a trinity of tacos is part of your regular routine, choose wisely. Skip the extra toppings, drink lots of water, and take a nice long walk around the block. The threesome is still better than one burrito with the same fillings (QDOBA burrito: 1080 cals, 41 grams fat, 2,550 milligrams sodium; Chipotle burrito: 1,115 cals, 48 grams fat, 2,425 milligrams sodium).
Robin Miller is a nutritionist, chef and food writer.