Why Everyone's Talking About Aldi's New Everything Bagel Seasoning Flavors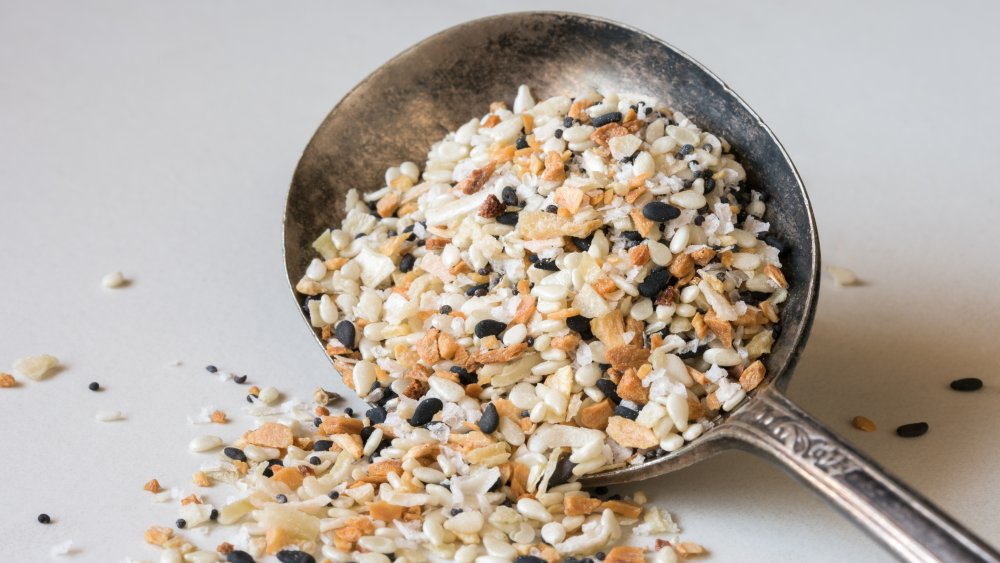 Shutterstock
If you don't remember when Trader Joe's first introduced their Everything But the Bagel Seasoning, it was practically an event people were so excited. Bustle says that the product is so popular with shoppers that it had been hashtagged nearly 30,000 times on Instagram by January of this year, so it isn't exactly surprising that discount grocery competitor Aldi had chosen to roll out their own version of the product as well. People love everything bagel seasonings because they are an incredibly versatile bottle to have on hand, packing a ton of flavor in every sprinkle.
The Kitchn actually compared Aldi's Everything Bagel Seasoning with the Trader Joe's version to find out how they stack up. According to the outlet, both bottles have the same amount of seasoning inside and include the exact same list of ingredients in the same order. At first glance, the only differences are that the Aldi bottle is 4 cents cheaper and has 15 milligrams more of sodium. However, The Kitchn says that the Trader Joe's version is toasted more than Aldi's blend, which makes it slightly more flavorful. Even so, that shouldn't be an issue anymore thanks to the new added everything bagel seasoning flavors that should soon be arriving at your local Aldi. 
Here's what you need to know about Aldi's new Everything Bagel Seasonings
On top of the regular Everything Bagel Seasoning at Aldi, the budget-friendly grocer is planning to release the blend in three new flavors: Jalapeno, Asiago Cheese, and Himalayan Pink Salt. According to an Instagram post by Aldi sleuth account @adventuresinaldi, fans couldn't be more excited to try these new flavors of one of their favorite seasonings. Hopefully, the products will taste like Aldi's regular Everything Bagel Seasoning, but on a jalapeno bagel, asiago bagel, or a salt bagel. These new flavors won't be released until December, so we'll unfortunately have to wait a while to try them out.
The options for ways to use these seasonings should be just as endless as the ways we already use the Everything Bagel Seasoning. When it comes to amping up you morning routine, you could sprinkle some on top of a bagel to add even more of the everything taste you love so much, mix it into regular cream cheese to shake up the flavor, or even make a cream cheese dip to eat with crisp bagel chips. These seasonings could also be used in other dishes, like topping avocado toast or pizza, mixed into savory waffles, or even added to a Bloody Mary (via Eating Well). So get ready to add these to your shopping list come December, you know you'll want to try them all.