The Truth About Trader Joe's Everything But The Bagel Seasoning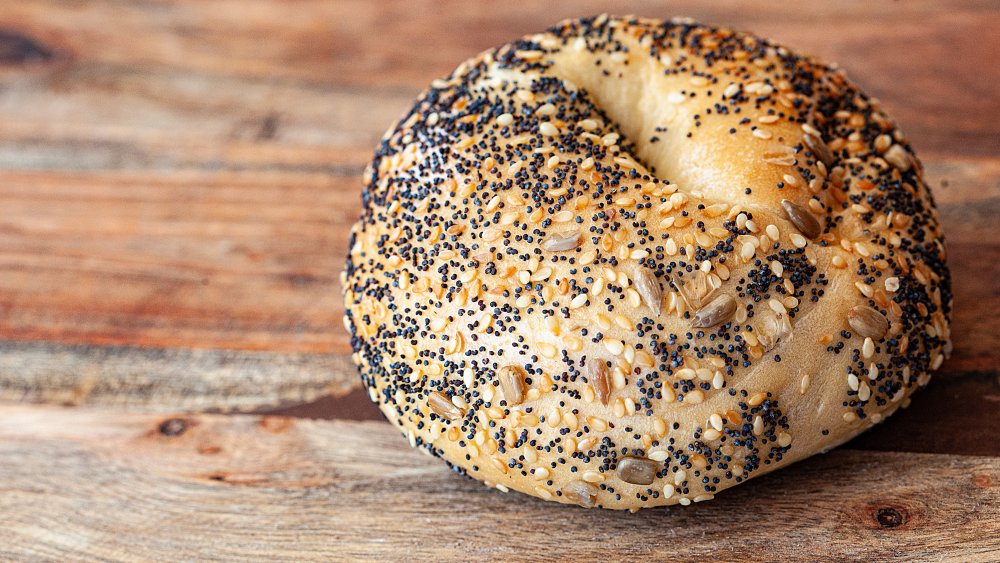 Shutterstock
We may receive a commission on purchases made from links.
As far as grocery stores are concerned, Trader Joe's has a pretty devoted fan base, and it even releases an annual list of its most popular items (via People). It comes as no surprise that one item fans of Trader Joe's can't seem to get enough of is its Everything But the Bagel seasoning — though you can buy bagels at TJ's too. Everything bagels, of course, are a New York City staple and are known for being covered in a mixture of salt, black sesame, onion, garlic, and other seeds  (via Grub Street). 
Combining all those ingredients at home would no doubt be a tiresome process, but Trader Joe's has bagel lovers covered, and industry publications like Food & Wine pretty much say that it's a must for any spice rack. If you've yet to try this seasoning blend for yourself, here's everything you need to know about it. 
It's cheap and very versatile
At a price point of just $1.99 for a 2.3 ounce bottle, this bagel seasoning that includes sesame seeds, sea salt, garlic, onion, black sesame seeds, and poppy seeds is a pretty good deal (via The Kitchn). With a serving size only having 80 milligrams of sodium, it's not something that should make your doctor break out in a cold sweat either. Don't happen to live near a Trader Joe's? Not to worry, because you can buy it on Amazon — although you'll pay considerably more at $11.40 for a pack of two. If that price is too much, you may want to consider trying Aldi's knockoff version. 
While using the seasoning for bagels is an obvious choice, there's a ton of other things you can do with it. Seriously, somebody should write a jingle about all its uses, because Epicurious found 19 ways to use it and Eating Well rattled off 50 uses! Put it on your steak, put it on your avocado toast, put it on your pizza crust, in your chili, on your waffles(?) in your bloody mary... you get the idea.