You Shouldn't Order A Croissant From A French Restaurant. Here's Why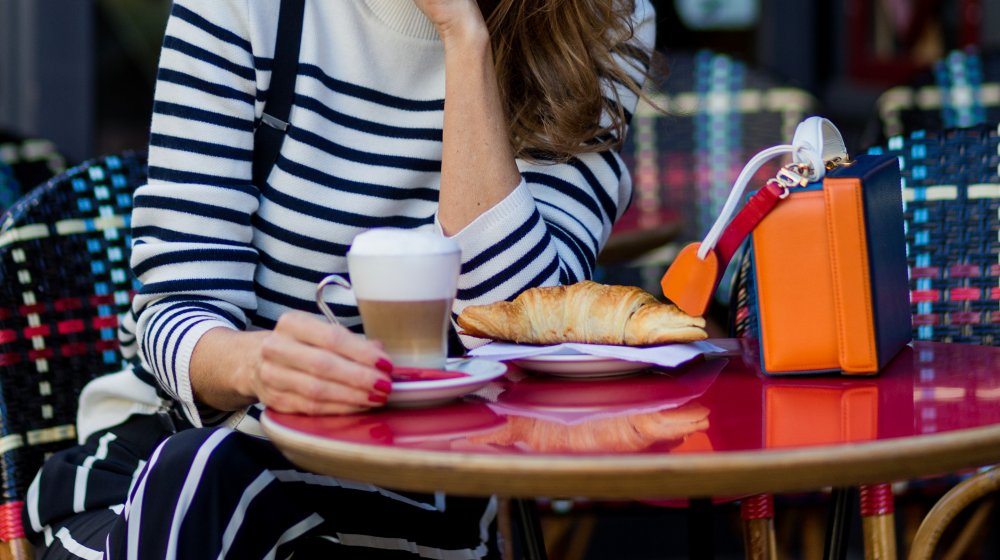 Christian Vierig/Getty Images
Picture yourself in Paris, sitting outside a little café, people watching or reading the newspaper with a classic Parisian breakfast in front of you. If you pictured the breakfast as a cup of coffee and a fresh croissant, you're definitely not alone. This seemingly simple pastry, when made properly (i.e. not from a plastic bag or cheap continental breakfast) is truly magical; simultaneously rich, buttery, and flakey, yet fluffy and full of air. However, as romantic as it sounds to stop at your local café in Paris each morning for a leisurely breakfast, it's not actually the best place to go if you're looking for a croissant.
According to Fodor's, croissants are one of the worst foods you can order at a French restaurant, since they're almost certainly not fresh. And, if you're going to indulge in a breakfast that's around a 1/4 butter, you want it to be as fresh as possible (via Reuters). Luckily, there's a much more reliable way to get your morning croissant fix and ensure it's still warm from the oven every time: go straight to the boulangerie. 
Why you should only buy croissants at a boulangerie
Just one whiff of the air outside and you'll understand why the French usually buy their pastries directly from the bakers. After all, to be called a boulangerie, Frenchly asserts each bakery must bake their wares on-site, meaning you'll get the very freshest pastries available. While you usually won't find much seating at the boulangerie itself (they're stores after all, not restaurants), the difference between a freshly-baked croissant and one that's been sitting on a café counter since opening should be enough to persuade you to pick up your pastry and either take it to go — either to home, to work, or to a nearby park bench to enjoy.
However, for the very best croissant experience (and who has time for anything less?), there are a few more things you should know. First, there are two different types of plain croissants that could be offered: one curved and one straight. Choose the straight one, or simply ask for a "croissant au beurre," since the others are typically made with margarine (via 10 Best). It's also worth looking up which bakeries in the area truly make their croissants on-site, since between 50 to 80 percent are industrially made and delivered frozen to the store to be baked and sold. Finally, Fodor's recommends you be sure to arrive before 10 a.m. if you want a croissant that's still warm from the oven.