Aldi's Legendary Irish Butter Just Got More Convenient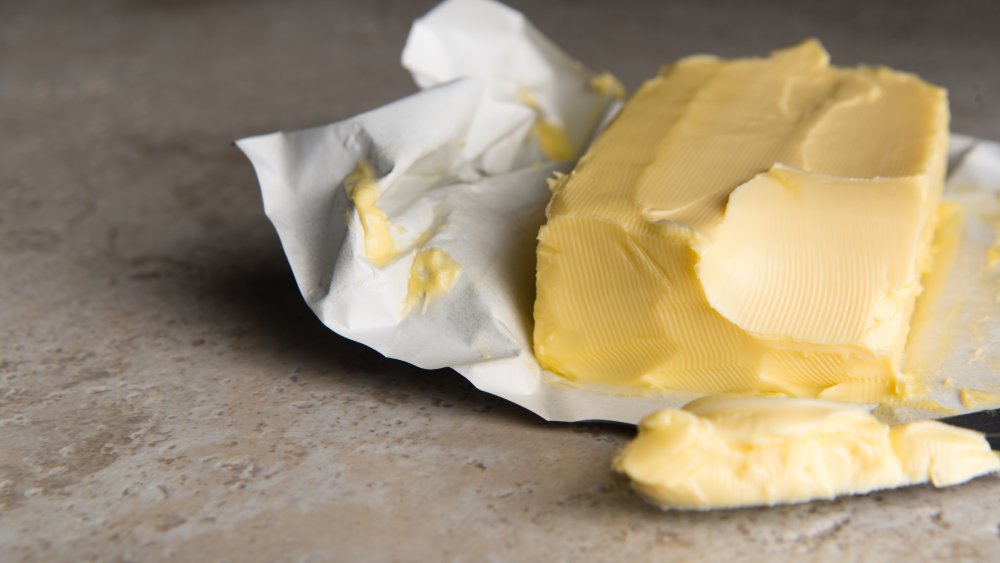 Shutterstock
If you've never had Irish butter — then wow, have you been missing out. Irish butter is just creamier and richer than ordinary butter, and it adds those qualities to whatever you cook with it or eat with it. The reason Irish butter is so much better is all about the lush, green pastures the cows graze in Ireland. It ultimately leads to butter that's more yellow in color with a sweet flavor and a higher butterfat content (via Aldi Reviewer). Ultimately, people who love their Irish butter can be pretty opinionated about it, even at budget-friendly grocer Aldi.
Customers have even gone to Reddit to debate the differences between Aldi's brand of Irish butter and the more well-known brand, Kerrygold. Overall, many customers found that the Aldi brand tastes just like Kerrygold, which is great news since Aldi doesn't carry Kerrygold Irish butter anymore. While people love the Aldi version, the product just got an update that just might make it even better.
Aldi's Irish butter comes in a spreadable version now
Aldi's rich, creamy Irish butter now comes in a spreadable tub. On August 3rd, Instagram user The Amazing Aldi spotted the tubs of Irish butter at their local store. The 7.5-ounce tubs are imported from Ireland and contain butter made with milk from grass-fed cows as well as canola oil. There are no artificial colors or preservatives either. 
So far, the feedback has been pretty split on the spreadable Irish butter. One commenter said it was awesome, but others felt the addition of canola oil wasn't the greatest idea. One commenter even though it tasted nothing like the name brand and that it tasted a lot like margarine. You might have to pick a tub up for yourself to see what you think, but Irish butter enthusiasts might want to stick to the blocks of regular Irish butter. And if you find you really don't like the spreadable kind, you can always take it back thanks to Aldi's generous return policy (via Aldi).