How American Burger King Burgers Differ From Japan's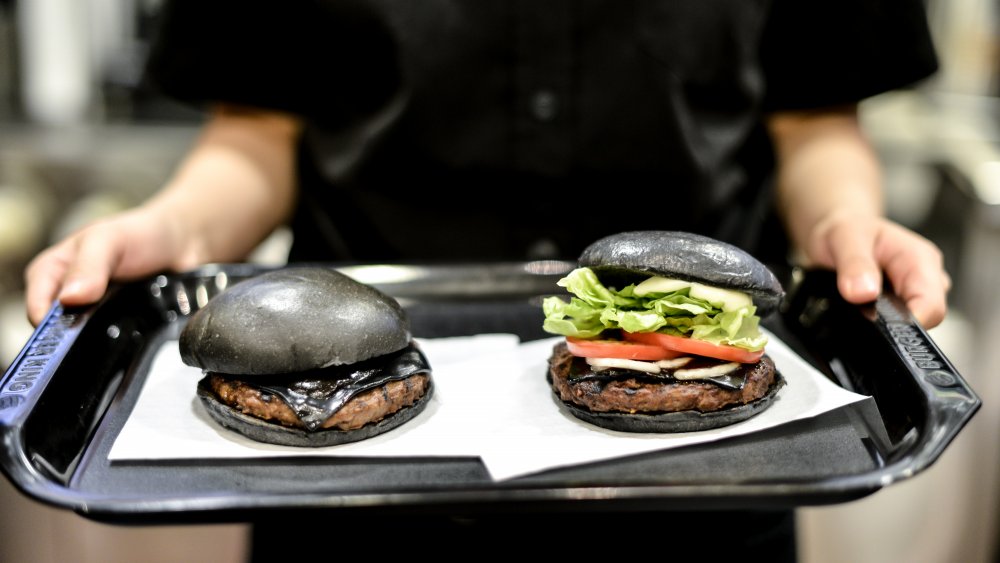 Keith Tsuji/Getty Images
Head over to Burger King's Japanese homepage and upon first glance, you'll likely see some familiar faces. Even if your Japanese reading skills aren't up to par, Burger King standards like Whoppers, fries, chicken sandwiches, and Coke products are all clearly visible. But upon further inspection, one will find all sorts of menu items not available stateside.
No. 1 on the homepage slideshow is the Ugly Beef Chili Burger. According to Sora News 24, the burger's ugliness factor comes from a bun baked with gouda, mozzarella, and cheddar as well as Egmont, a nutty New Zealand cheese named for a volcano (via NZMP). The burger comes with all of the classic Whopper accouterments plus a ladle of beef and bean chili.
Burger Kings in Japan have a tendency to blur the lines between sandwiches and sides. The Onion Ring and Cheese layers a single patty with, you guessed it — onion rings. The Hash Brown Whopper does more of the same, matching the patty with a sizable square of fried potatoes before finishing off the burger with cheese, lettuce, tomato, pickles, and onions.
Japanese Burger Kings have made headlines with over-the-top, limited-time burgers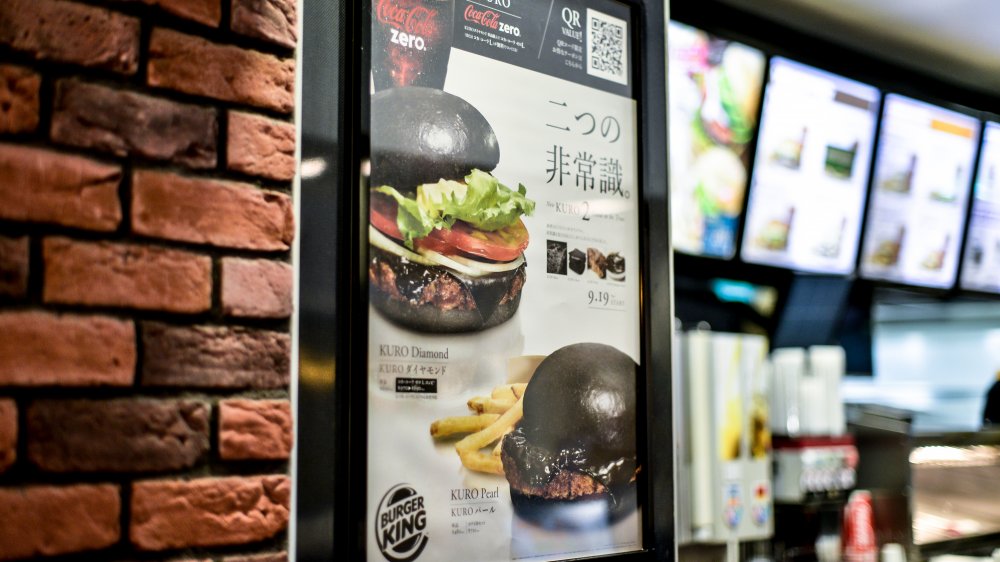 Keith Tsuji/Getty Images
Over the years, Japanese Burger Kings have made headlines with over-the-top, limited-time burgers. Some of the more memorable include the Snow Cheese Whopper. Japan Today reported that the four-cheese burger was part of the Bocchi Barrel, a limited-time Christmas Eve special rounded out with chicken nuggets, fries, a soft drink, and a Burger King Crown.
Another unforgettable addition was the Monster Baby, a sandwich that paired a spicy chicken patty and a pork patty garnished with red miso, mayo, teriyaki sauce, plus lettuce and onion (via Chew Boom).
Never afraid of mixing multiple proteins, another Japan-only Burger King exclusive is the Deluxe Chicken Whopper. This combo burger/fried chicken sandwich benefits from the addition of bacon, although the folks at Sora News 24 speculate that it lacked staying power due to its higher price point.
Burger purists might balk at the mere mention of the Shrimp Whopper, a menu item that bills itself as a "luxury dish where you can taste meat and seafood at once" (via Insider). The limited-time burger welcomed crispy shrimp and a spicy tomato sauce into the world of the Whopper.
Burger King Japan's more outlandish offerings rarely make it to the states, but there was one that made its way over. In 2015, the Kuro burger hit the U.S. market just in time for Halloween. The visually striking burger featured a black bun and black cheese, colored with bamboo charcoal and finished with a squid ink mayo (via Delish).