The Best Way To Make Trader Joe's Mandarin Orange Chicken Might Surprise You
If you already enjoy Trader Joe's Mandarin Orange Chicken, good news — you can make it even better. It turns out that most of us have been preparing this product wrong the whole time. By just following the directions on the package, we've been seriously missing out. To get the best possible TJ's Mandarin Orange Chicken experience, don't bake it in the oven, but instead cook it in your air fryer — it'll be done faster and taste better.
According to The Kitchn, "I thought this cooking method would make the chicken marginally better (I mean, it's pretty great already) but I was surprised by how much better it was — and how much faster... Air-fried Trader's Joe's Orange Chicken doesn't just taste better than the oven-baked version — it also tastes better than the deep fried takeout version of this saucy chicken dish." Better-than-takeout chicken ready to go from freezer to plate in just twenty minutes (ten minutes of preheating, ten minutes of cooking)? Sign us up! 
Alternative hacks for the Trader Joe's mandarin orange chicken if you don't have an air fryer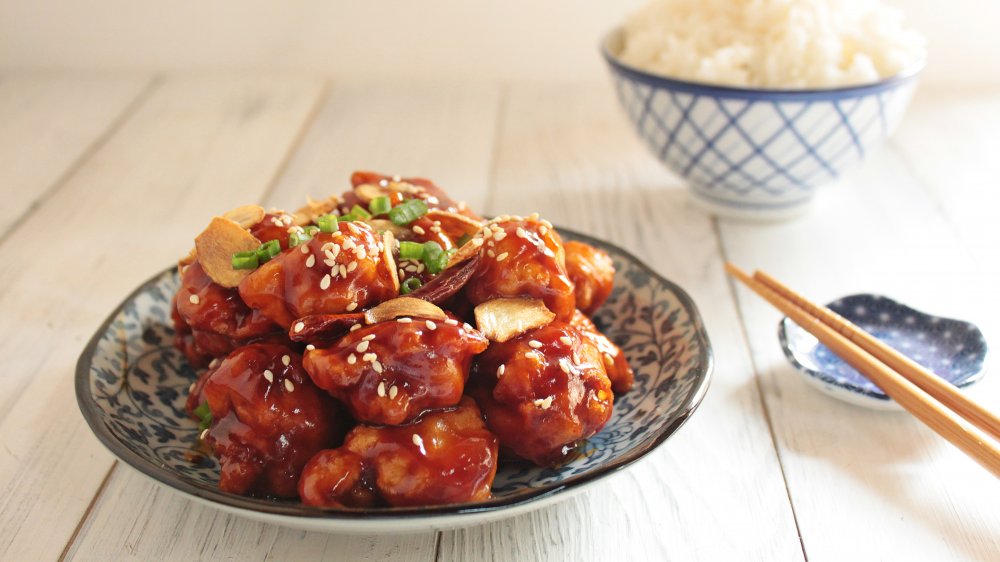 Shutterstock
If you don't have an air fryer, then sure, you may not be getting the best possible Mandarin Orange Chicken, but there are still ways to level up your mandarin chicken game. "While it's perfectly acceptable to microwave the sauce, mix it with the baked chicken and get on with your life, there's an extra step you can take that takes this chicken over the top, and makes it extra delicious," explains Trader Joe's. 
Here's the step: while you're in the last few minutes of baking the chicken according to the instructions on the package, fire up the stove. Pour the defrosted sauce into a piping hot wok or non-stick pan. When the sauce is sizzling, add the cooked chicken and stir. The sauce will caramelize perfectly on the chicken. By air frying or caramelizing your chicken, you'll be able to take your Trader Joe's Mandarin Orange Chicken from being really good for frozen food to just really good.