The Untold Truth Of Cheeseburger In Paradise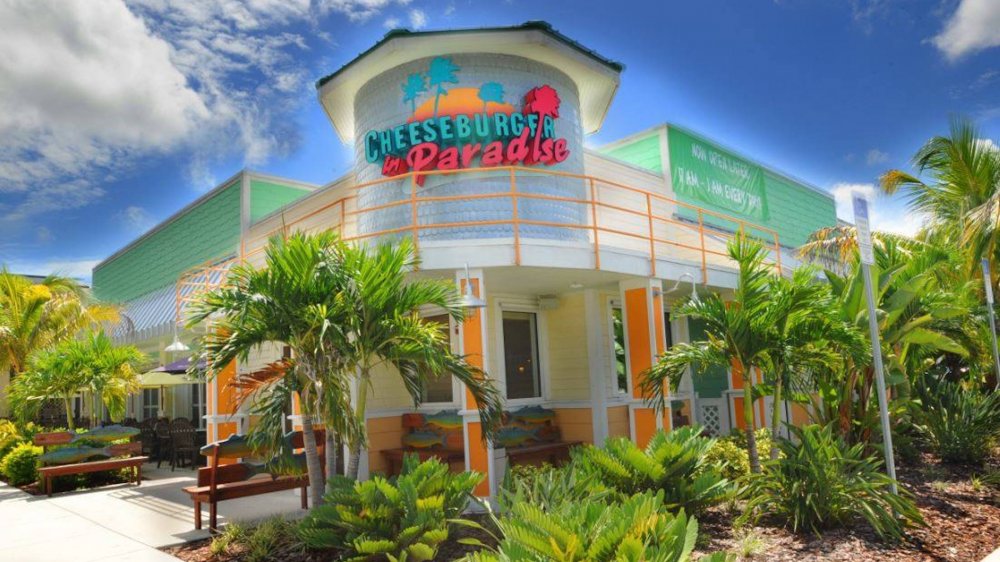 Lettuce, tomato, Heinz 57, french fried potatoes, a big kosher pickle, and a cold draft beer. That's the way that Jimmy Buffett famously prefers his burgers, as described in the 1978 single, "Cheeseburger in Paradise." Buffett made his way from musician to restaurant owner when he debuted Margaritaville in Key West in 1987 (via Buffet News).
Hedging on the success that Buffett had with the Margaritaville chain, he opened the first Cheeseburger in Paradise, a laid-back bar-restaurant concept in Indianapolis in 2002 eventually expanding to 38 locations throughout the United States (via Eat This, Not That). Cheeseburger in Paradise was a joint venture between Buffett and OSI Restaurant Partners (now known as Bloomin' Brands), the group that owns Outback Steakhouse, Bonefish Grill, and Fleming's Prime Steakhouse, amongst others.
Apparently taking a cue from the pastel hues common in Key West, the restaurant's exterior had a decidedly beachy feel (as demonstrated in the above image) with landscaping featuring palm trees and other tropical foliage, as well as waiting benches outfitted with decorative fish motifs. The interiors were meant to feel like a beach party (via Reuters).
The real draw to this burger joint was the drinks
The menu at Cheeseburger in Paradise predictably burger heavy with ribs, fajitas, and assorted bar fare (via Sirved). The real draw to this burger joint was the drinks. Cheeseburger in Paradise's multi-page menu was filled with all manner of fruity tropical cocktails like a tropical island tea, coco melon mojito, and a house special CIP cocktail with layers of frozen margarita, pina colada, and strawberry daiquiri topped with a float of blue curacao. Perhaps the best part of Cheeseburger in Paradise's cocktails were the anthropomorphic fruit garnishes that came with miniature sunglasses and parasols. Beers were available by the glass, 22-ounce mug, 100-ounce sharable tabletop tap, or in icy buckets of six.
Five years before Buffett opened his own chain, he filed a lawsuit against a pair of Maui restaurant owners for using the name of his hit burger anthem for their Hawaii restaurants (via Star-Bulletin). The court battle lasted for a grueling four years, but in the end, the owners were allowed to keep their restaurants' names intact. However, the judge ruled that future restaurants would not be allowed to carry the Cheeseburger in Paradise moniker.
Luby's gradually shuttered all its Cheeseburger in Paradise locations
In 2012 the Cheeseburger in Paradise chain was purchased by Luby's for $11 million. The Houston company already Fuddruckers, had another burger franchise under its belt as well as a beloved chain of cafeteria restaurants (via National Restaurant News). The plan was to expand the brand, but over the course of subsequent years, Luby's gradually shuttered all of its Cheeseburger in Paradise locations. 
The last location, about as far away from a tropical paradise as you can get, was in Secaucus, New Jersey. On September 29th, NJ.com reported that it was unknown when the last outpost of the island-inspired burger bar closed its doors, as the restaurant had ceased operations in March during the beginning of the pandemic. A visit to the company's website thanks guests for their support over the years and informs that all locations are now closed. Harkening back to that Cheeseburger in Paradise lawsuit, there is a small print disclaimer explaining that the restaurant in Hawaii, which is under different ownership, is still in operation.