Moroccan Chicken With Roasted Vegetable Couscous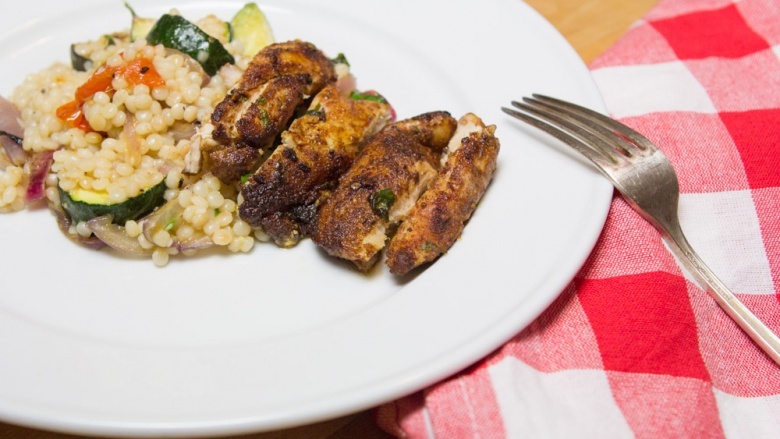 Prep time: 10 minutes. Cook time: 30 minutes. Servings: 2.
Inspired by the bold flavors, smoky aromas, and varied textures of Moroccan cuisine, this deeply satisfying dish will help you get over bland chicken PTSD. Many of this North African country's most irresistible preparations have been heavily influenced by the spices brought there by the Arabs during their seventh-century invasions. From cinnamon and coriander to cumin and paprika, the history of food in Morocco tends toward warmly spiced meats and stews.
To season poultry, meats, and seafood, a fragrant spice rub can do wonders. It certainly possesses the unique power of turning an ingredient as commonplace as chicken into a restaurant-caliber showstopper. Allowing it to marinate in the rich blend of seasonings for even ten minutes creates a flavorful crust that smells fantastic and helps keep the inside moist.
This beautiful dish brings together the eclectic and colorful ingredients that make Moroccan cuisine especially alluring. Spiced chicken is given a simple pan-seared treatment, cooked until golden on the outside and juicy on the inside. To finish? A side of tender, slightly chewy pearl couscous is tossed with sweet roasted red onion, zucchini, and cherry tomatoes to round out this vibrant dinner.
Ingredients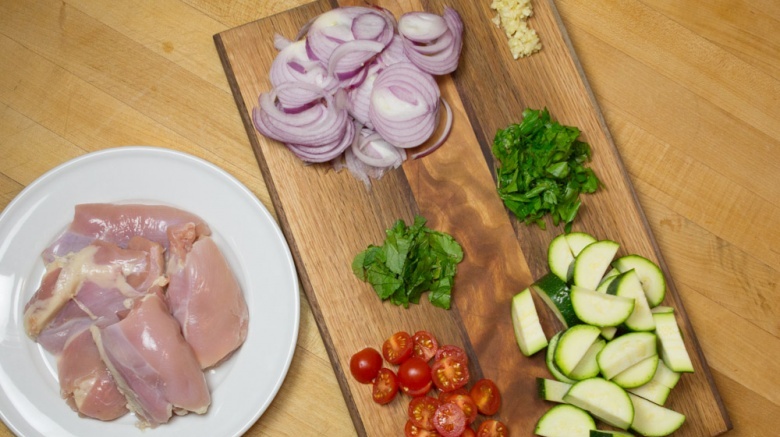 Shopping list
2 garlic cloves, peeled and minced
1 small red onion, peeled and thinly sliced
¼ cup parsley, divided (discard stems)
2 tablespoons mint, roughly chopped (discard stems)
1 small zucchini, halved lengthwise then chopped crosswise into ½-inch thick half-moons
½ cup cherry tomatoes, halved
¾ pound boneless, skinless chicken thighs, rinsed and patted dry with a paper towel
¼ teaspoon allspice
¼ teaspoon cayenne pepper
¼ teaspoon ground cinnamon
¼ teaspoon ground coriander
½ teaspoon cumin
½ teaspoon smoked paprika
1 cup Israeli couscous
3 tablespoons olive oil, divided
2 cups water
kosher salt, freshly ground black pepper
Equipment
baking sheet
medium pot with lid
large pan
Preheat the oven to 425°F.
Marinate chicken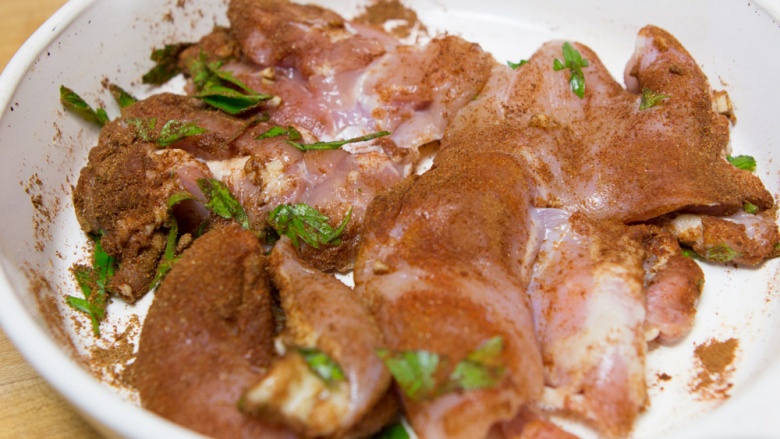 In a medium shallow bowl, combine the allspice, cayenne, cinnamon, coriander, cumin, smoked paprika, garlic, and half of the parsley. Add the chicken thighs and turn them to coat completely in the spice mixture. Set it aside to marinate at room temperature for 10-20 minutes.
Roast vegetables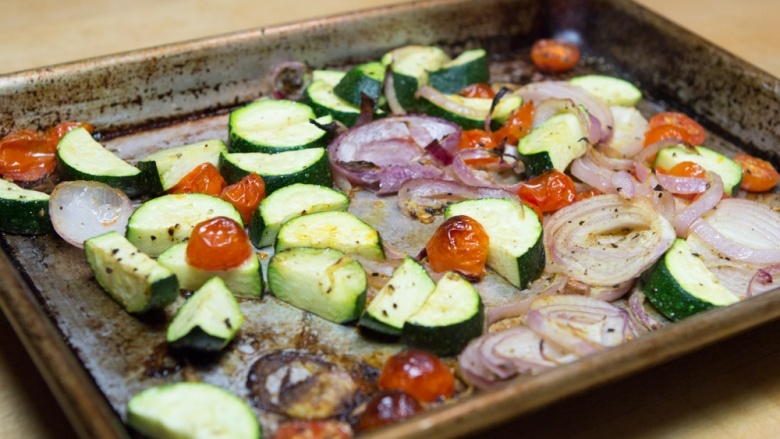 While the chicken marinates, on a baking sheet, toss the onion, zucchini, and tomatoes with 1 tablespoon of olive oil. Season with salt and black pepper as desired. Transfer the baking sheet to the middle rack of the oven and roast until the vegetables are golden and tender, 15-20 minutes.
Make couscous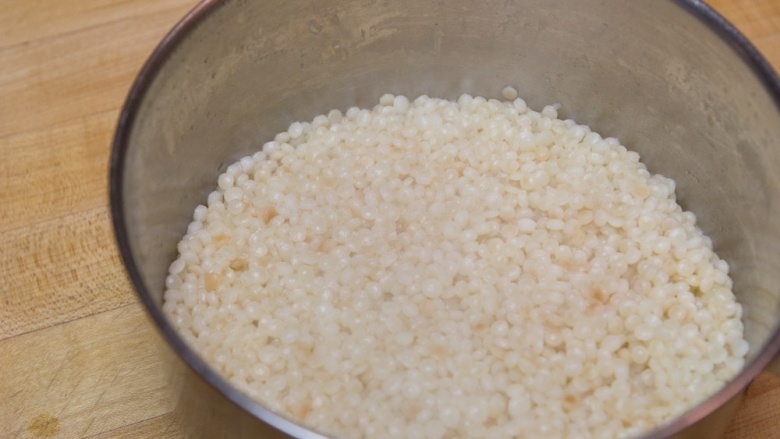 While the vegetables roast, heat 1 tablespoon of olive oil in a medium pot over medium-high heat. When the pot is hot and the oil is shimmering, add 2 cups of water and stir once. Reduce the heat to medium-low, cover the pot, and cook until the water is absorbed and the couscous is tender and chewy, 15-18 minutes. Remove the pot from the heat and leave it covered until ready to serve.
Sear chicken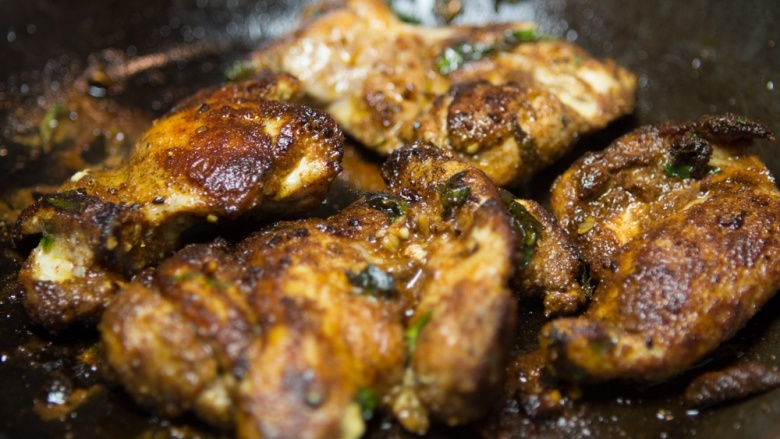 Heat 1 tablespoon of olive oil in a large pan over medium-high heat. Season the chicken all over with salt and black pepper as desired. When the pan is hot and the oil is shimmering, add the chicken and sear until it's golden on the outside and cooked through and no longer pink on the inside, 5-6 minutes per side.
Season couscous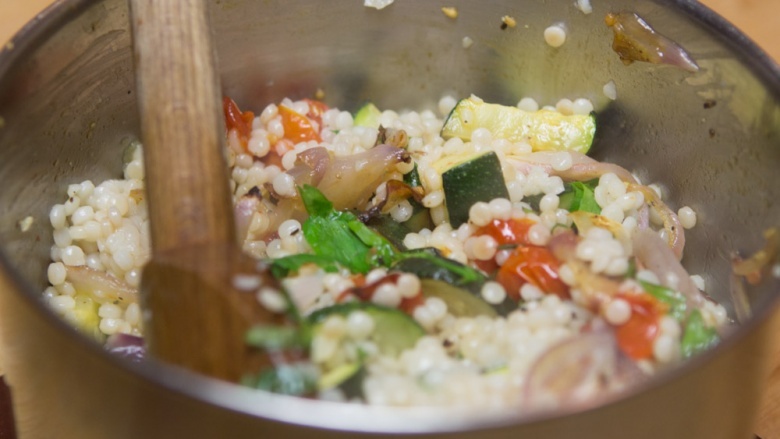 While the chicken sears, add the mint and remaining parsley to the pot with the couscous and stir to combine. Season with more salt and black pepper as desired.
Serve chicken and couscous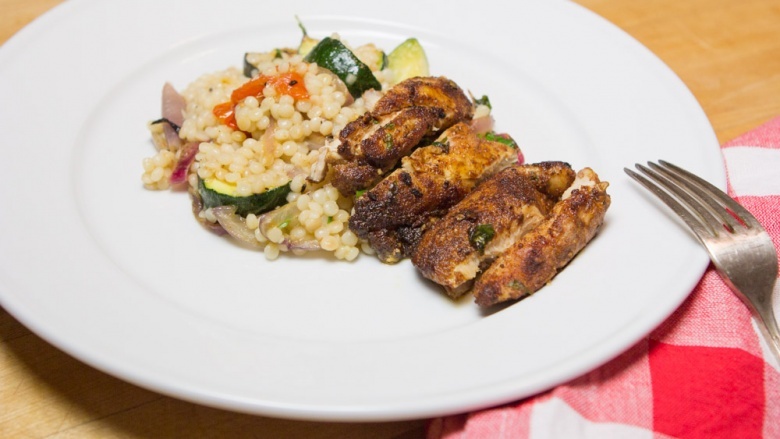 Slice the chicken into ½-inch thick slices and serve it with the couscous alongside. Happy eating!