This Is The Best Cut Of Beef For Steak Sandwiches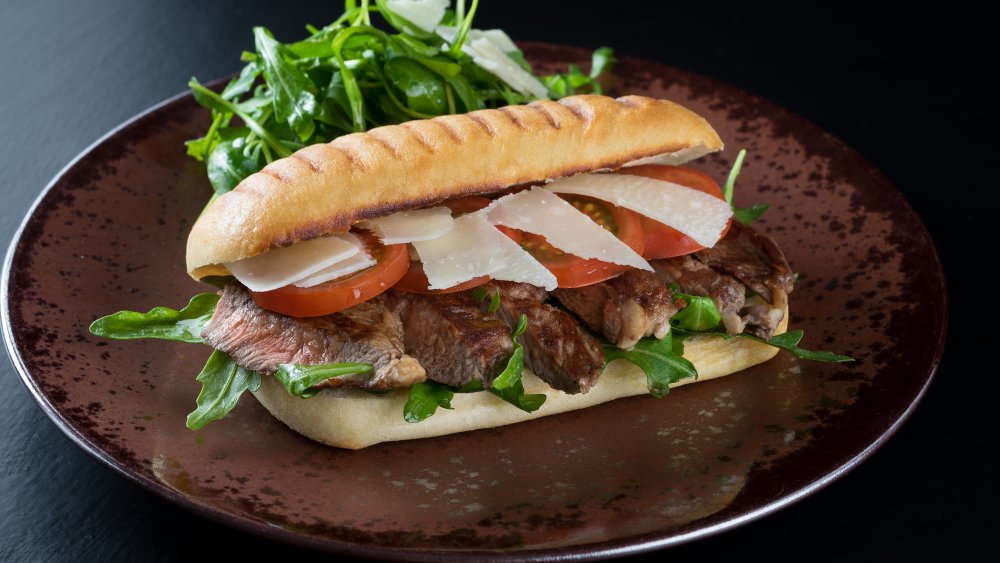 Shutterstock
The sun is hot, the sea is wet, and steak is delicious. These are all perfectly fine constants of life, but as you'll notice, only one of them can be properly enjoyed in a sandwich. Whether you're into high-end steak ciabattas, Philly cheesesteak, or long lunches at Arby's, there's always something to be said about the delicious combination of bread, beef, and whatever other toppings you feel like adding.
However, whenever you get a hankering for a steak sandwich, it's worth remembering that not all cuts are created equal. There are considerable differences between the cuts of beef out there, and the particular quality and flavor of the one you choose can – and absolutely will - have a huge impact on your dining experience. So, what can a hungry sandwich maker do to make sure they're at the absolute top of their steak sandwich game? Should they go for some of the less appreciated cuts, like skirt steak, flank steak, or even beef round? Or would it be wiser to jump in the deep end, and invest in tenderloin or ribeye, hoping that they work as a sandwich component as well as they do as steaks?
Worry not, for the answer is but mere moments away. Come, let's find out what the best cut of beef for steak sandwiches is.
When in doubt, cook some sirloin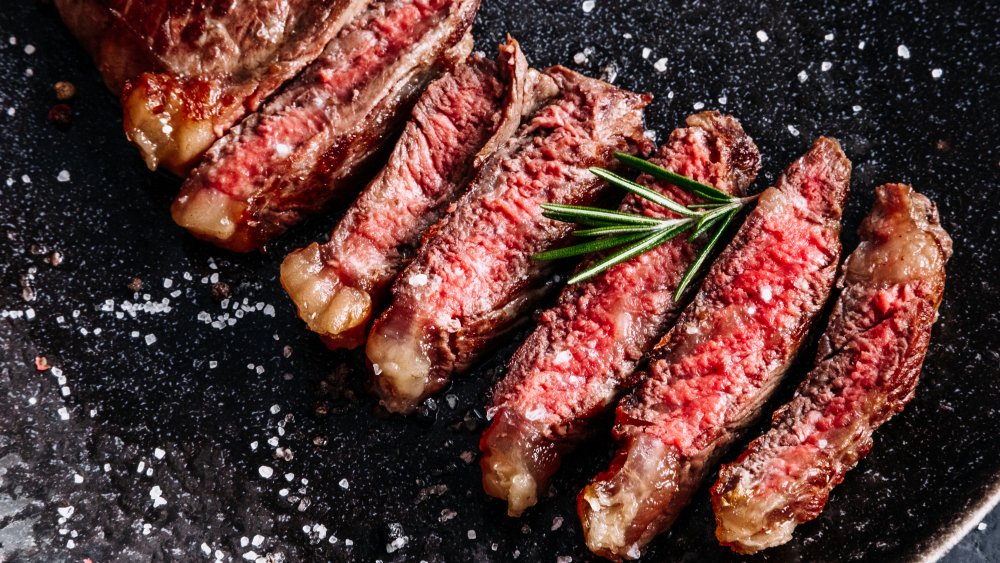 Shutterstock
It's all about that tenderness. 
Per the Flavor Bender, the absolute best thing you can use for a delicious steak sandwich is a quality sirloin steak, specifically earmarked for use as sandwich meat. The supremely flavorful and often well-marbled cut is indeed a pretty great choice, but if you don't want to spend a full steak's worth on an admittedly tasty sandwich treat, you can also achieve amazing results with leftovers from, say, prime rib. 
A steak sandwich is the kind of meal you may find yourself cobbling together from whatever delicious remnants of a past meal you happen to have in the fridge. As such, it's worth noting that pretty much any tender cut of beef will do. Some particularly sandwich-worthy cuts include tenderloin, flank steak, and a whole bunch of roasts, ranging from top sirloin and top round to tri-tip and eye of round. And really, what's stopping you from using that piece of chuck roast that you found on the cheap? It's your sandwich, after all – and a good spice mix and a proper preparation method can easily work wonders.