What Is Carne Adobada And What Does It Taste Like?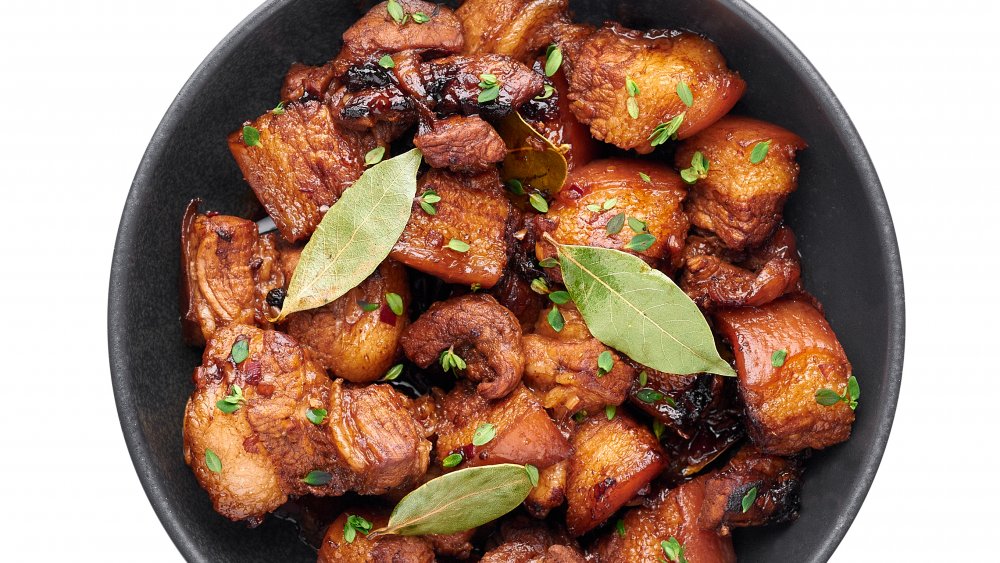 Shutterstock
Imagine buttery pieces of perfectly charred, ultra-marinated pork – with equal parts smoky heat and earthy-sweet – nestled on warm tortillas and served with onion, cilantro, and fresh lime. That's carne adobada folks, a dreamy dish from Mexico that belongs in your recipe repertoire.
Adobada means "marinated" and it's a general term for meat (often pork) that's steeped in a thick, rich, blend of dried red chilies, garlic, herbs, and spices (via MyRecipes). The meat is infused with sweet, savory, and fiery nuances and then seared in a hot pan to create a crisp, caramelized exterior, and juicy, succulent interior. Think of carne abodaba as the pork-based cousin to Texas-style chili con carne – without tomatoes and beans (via Serious Eats).
Once fall-apart tender, the meat is presented as is (for the carnivores in the crowd), spooned over rice, stuffed into burritos, or cushioned on warm tortillas and served with a variety of toppings, including onion, lime, and queso fresco (via Santa Fe School of Cooking).
You say adobada, I say adovada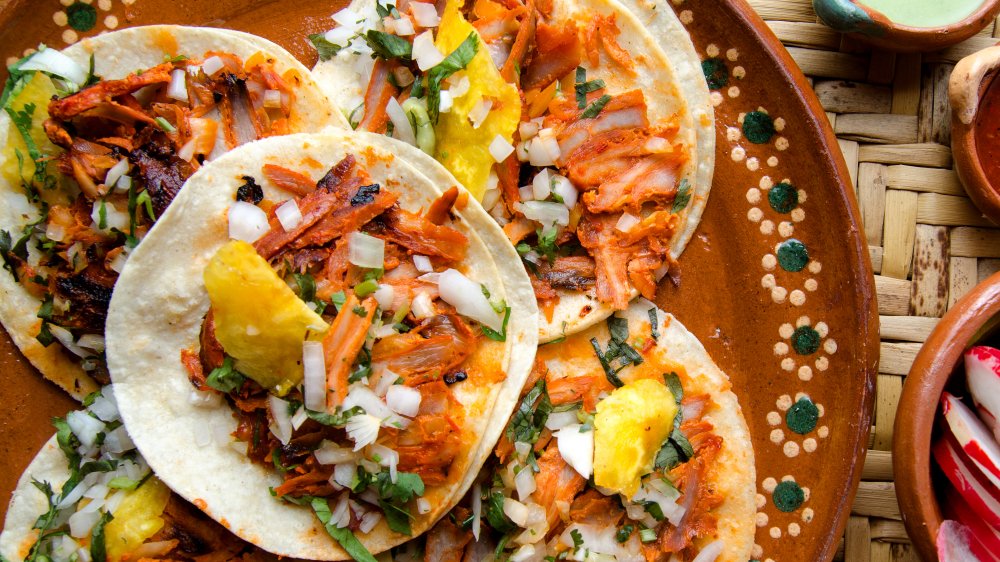 Shutterstock
According to Frugal Cooking, adobada and adovada both refer to pork marinated in a sauce made from dried red chiles and spices. The dishes are similar, but adobada originated in Mexico and contains pork simmered in an adobo sauce of chiles, aromatics, and vinegar. Adovada is a similar dish from New Mexico that features tender pork, braised in a robust sauce of dried red New Mexican chiles, garlic, herbs/spices, vinegar, and a touch of honey (via Cook's Illustrated). The names sound almost exactly the same, but no matter what you call it, the red chile-spiked pork stew is a pot of pure comfort and a staple in New Mexico (vie Saveur).
It's those chiles from the American Southwest that make the dish shine. According to Cook's Illustrated, local red chiles are an essential part of New Mexican cuisine. Fresh chiles are added to a variety of dishes (from burgers to casseroles), and dried chiles play a major role in marinades and sauces for braised meats (like adovada). New Mexican chiles are fruity (with dried cherry undertones), sweet, and slightly acidic, with "a touch of crisp, clean heat" (via Spices Inc). With all that flavor in one little pepper, it's no wonder they're used to create sultry, savory, slightly spicy stews. Call it what you want, it's divine.