The Most Unique Meats Ever Served At Arby's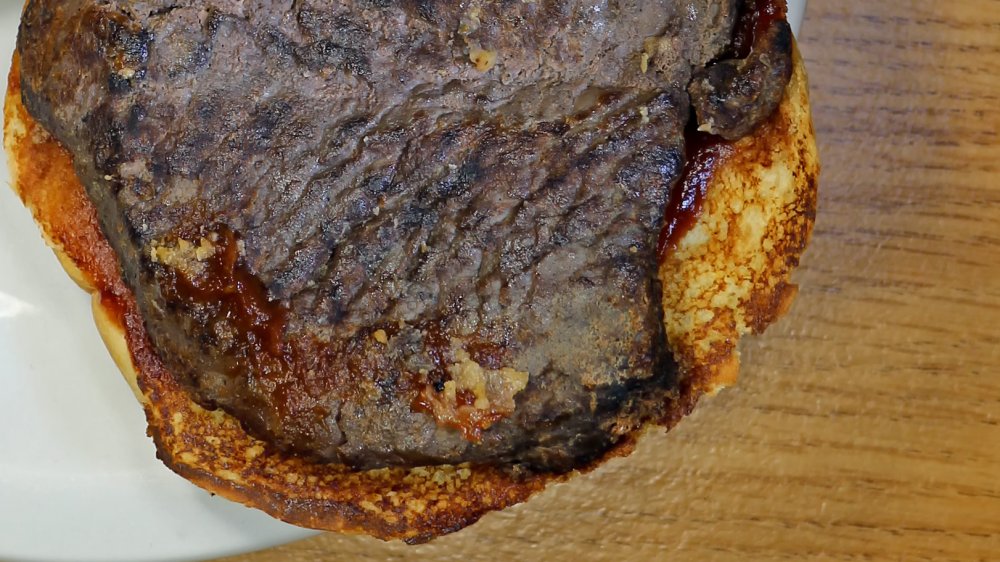 Shutterstock
It turns out the most unique meat served at Arby's is not roast beef. Yes, there were rumors that their roast beef is actually imitation meat, made from gel, and formed into meat shapes to be served up hot for your dining pleasure, but our lie detector determined that was a lie. Arby's has ventured much further into the world of meats than some of their fast-food competitors. In 2018, Arbys introduced a seared duck breast sandwich, complete with smoked cherry sauce and crispy onions, according to USA Today. The new menu option coincided with duck hunting season and was offered in 16 Arby's retsuarants throughout the U.S. It wasn't the first time the chain had an unusual meat item on its menu.
Arby's offered a venison (deer meat) sandwich in 2016 in three states. The sandwich, made with thick-cut venison steak, crispy onions, and juniper berry sauce on a toasted roll, was so popular it took all of 15 minutes to sell out in Minnesota (via Forbes). But, the buck didn't stop there. The following year the chain offered the venison at locations across the country and upped the ante in elk hunting territory by adding an elk sandwich, topped with blackberry port sauce and crispy onions, to the menu at three locations.
Arby's has the meats: in mountains, by-the-pound, and in carrots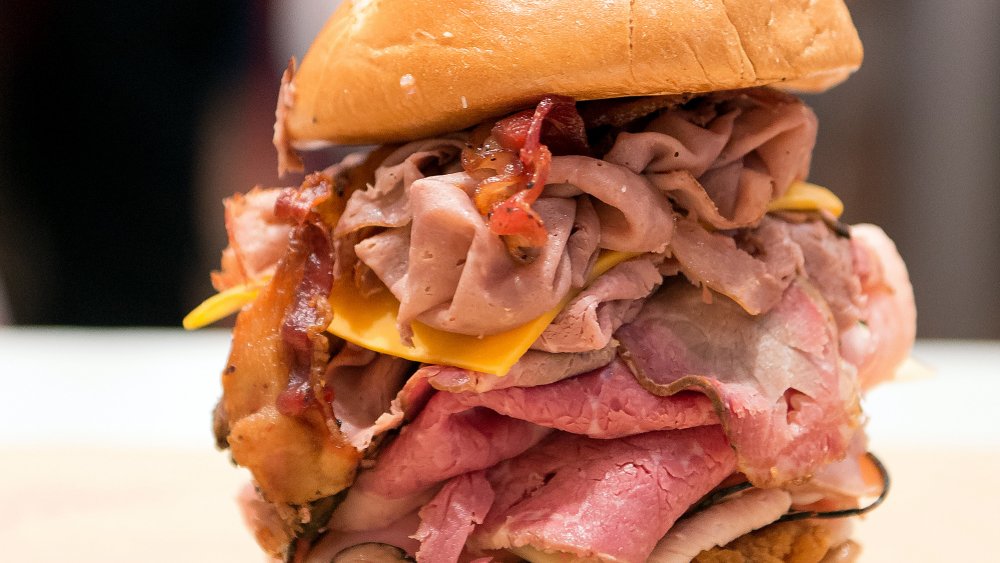 Mike Pont/Getty Images
Unofficially added to the menu in 2014, Arby's Meat Mountain Sandwich is a mouthful in more than just its namesake. This under-the-radar sandwich is available at participating locations, according to Arby's website, and combines "two chicken tenders, slices of roast turkey, pit-smoked ham, corned beef, 13-hour smoked brisket, USDA-choice Angus steak, roast beef, and pepper bacon. There's also cheddar and swiss cheese somewhere in there."
But, why waste your time with bread and cheese, when you can just buy the meat by-the-pound? This past September, CNN reported that Arby's tested out selling sliced roast turkey, ham, and corned beef by the half-pound in nine Atlanta-area locations at a comparable cost to a grocery store's in July due to the pandemic.
Not one to jump on a bandwagon (especially a plant-based one), Arby's has even gone so far as to create meat carrots. The reason? Since the current fast food trend was making plant-based burgers, Arby's CMO Jim Taylor felt it was time to make meat-based vegetables, or "megetables." Meet the "marrot," a seasoned, skinless turkey breast rolled in cheesecloth and shaped like a carrot. But, the chain didn't actually add them to any menus, and in 2019, the company's president Rob Lynch only put the odds of it ever really happening at about 50-50 — talk about dangling marrots in front of us!