Ina Garten's Game-Changing Trick To Delicious Turkey Lasagna
If you're a fan of lasagna and have wondered if it's possible to make a perfect, comforting plate of turkey lasagna at home, here's some good news. Renowned chef and television personality Ina Garten has some major tips on how to get turkey lasagna right when you're cooking the delicious meal at home. She once called lasagna the ultimate comfort food, perfect for riding out the storm after a nasty breakup when you need to cheer yourself up. "Sometimes things don't work out in a relationship, and you've got to go back to comfort food. I'd say a nice turkey lasagna will make you feel all better," the chef said (via The Daily Meal). 
We think Garten's turkey lasagna recipe, shared by the Food Network, is comfort food at its best. With plenty of cheeses (ricotta, mozzarella, goat cheese, and a generous helping of Parmesan) it's hard to say no to something as delicious as that. Here are some tips for how to get the recipe exactly right.
For Ina Garten's lasagna recipe, sausage changes everything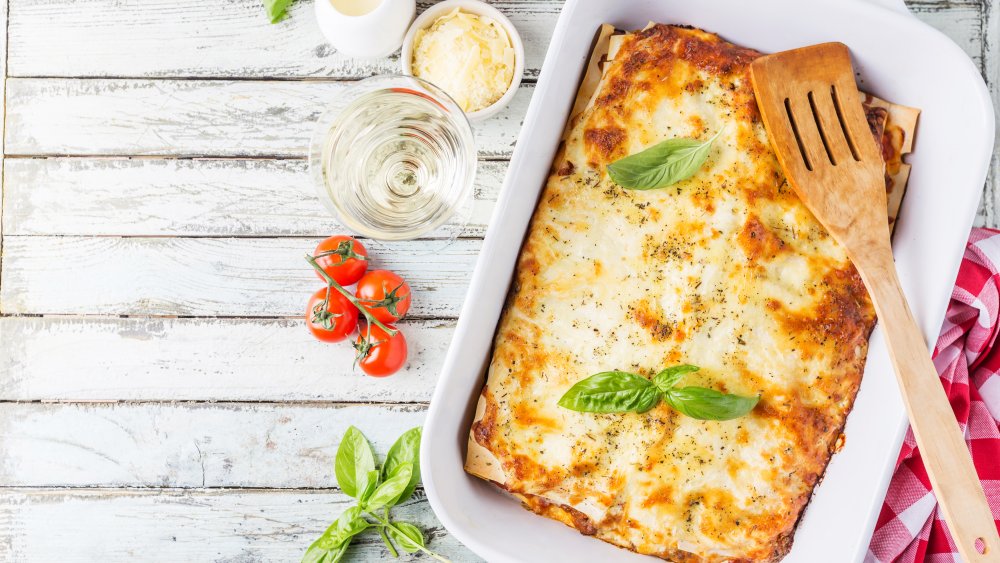 Shutterstock
According to The Kitchn, turkey dishes can be rather dry — and that's one thing no one ever wants to eat. Who knows how to avoid this common cooking issue? Ina Garten. Her recipe uses turkey sausage, which makes all the difference in the lasagna recipe. Garten advises you to use Italian turkey sausage, which adds plenty of flavor to the sauce, though The Kitchn believes you could use Italian pork or chicken sausage as well, or even sub the regular Italian turkey sausage with a spicy Italian sausage variety. The other thing Garten recommends when making this comforting lasagna is soaking the noodles in hot water to help speed up the cooking process.
For the special sauce, add onion, garlic, and turkey sausage; followed by tomato paste, crushed tomatoes, salt, pepper, parsley, and basil. According to the Food Network, the sauce should take about 20 minutes to cook. This flavor packed sauce will really improve the taste of your lasagna dish. A fan of Garten's lasagna recipe left a glowing review, writing, "...this is by far the best recipe I've ever eaten. EVER! I've been to Italy and can't say I remember eating a lasagna better than this one." The only issue? Not enough of the amazing sauce, so some fans suggest you make extra in case you're as in love with the flavor as they are.