20-Minute Lasagna Recipe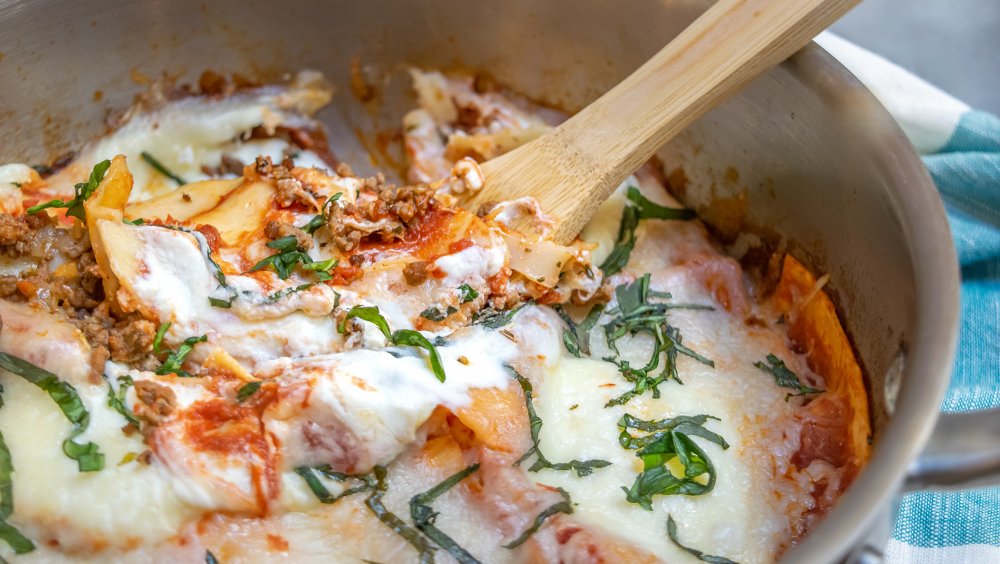 Molly Allen/Mashed
There's nothing better than homemade comfort food. And for many, lasagna is right at the top of the list. Piled high with layers of noodles, seasoned ground beef, and plenty of cheese, lasagna is a classic that every member of the family will love.
But putting together a lasagna in the oven, layered with all of the ingredients and typically left to bake for 45 minutes to an hour can be a daunting task, especially for a weeknight dinner. Luckily, we've figured out a way to combine all of the delicious flavors and textures of a typical lasagna, but this recipe will be ready in half the time.
It may be hard to believe, but you can throw together an easy, cheesy lasagna dish that only requires nine ingredients and 20 minutes of your time. And with just as much flavor and cheese as the traditional layered and baked dish, your family is sure to love this recipe and will keep asking for it time and time again. 
Gather the ingredients for this 20-minute lasagna recipe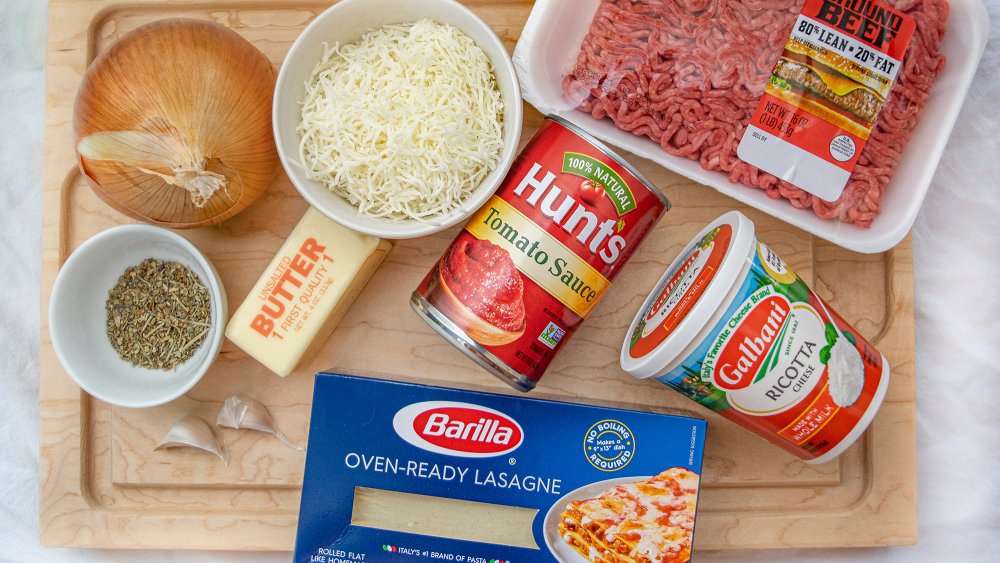 Molly Allen/Mashed
A classic lasagna typically incorporates layered noodles with ricotta cheese, tomato sauce, ground beef, and plenty of mozzarella cheese to bring it all together. And just because the method of prepping this easy lasagna recipe is a bit faster, it doesn't mean you can't incorporate those tried and true flavors.
To be sure you're prepped and ready to make your lasagna, start by gathering all of your ingredients. All you will need to pull off this quick and easy lasagna recipe is one package of oven-ready lasagna noodles, one pound of ground beef, one container of ricotta cheese, one can of tomato sauce, salted butter, one small yellow onion, two cloves of garlic, Italian seasoning, and your favorite shredded mozzarella cheese. Each of these ingredients should be simple and easy to find at any store.
If there's someone in the family who hates onion, this can certainly be omitted from the recipe. Or, if you want to add a few additional veggies into the mix such as diced green peppers, this recipe lends itself well to allow for that change.
Are oven-ready lasagna noodles necessary for this recipe?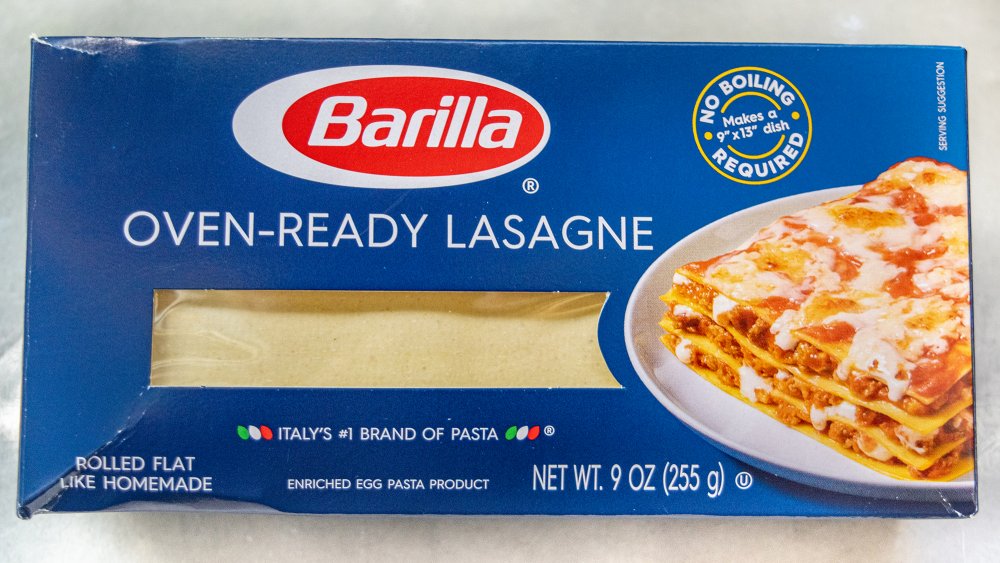 Molly Allen/Mashed
Part of the reason making a lasagna can be such an arduous process is because of all of the steps required in a traditional recipe. And let's not forget about all of the dishes you have to wash when all is said and done. Typically, making a lasagna layered in a casserole dish requires lasagna noodles to be boiled and cooked in a large pot before being used to layer with all of the other ingredients.
Because this recipe is all about being quick and tidy, oven-ready lasagna noodles allow you to skip the noodle boiling process. When oven-ready lasagna noodles are made in a food manufacturing plant, the ingredients are mixed, the lasagna noodle shape is formed, and then they get a quick bath, allowing the water to pre-cook the pasta noodles. They're dehydrated before being packaged and shipped to stores, but once liquid is reintroduced to the noodles, such as tomato sauce, they soak up the liquid like a sponge to offer that tender noodle texture we all love when it comes to lasagna. By layering the oven-ready lasagna noodles with the sauce and cooked ground beef in this recipe, it introduces enough moisture to cook the noodles in the saucepan.
Mince the garlic and dice an onion for this 20-minute lasagna recipe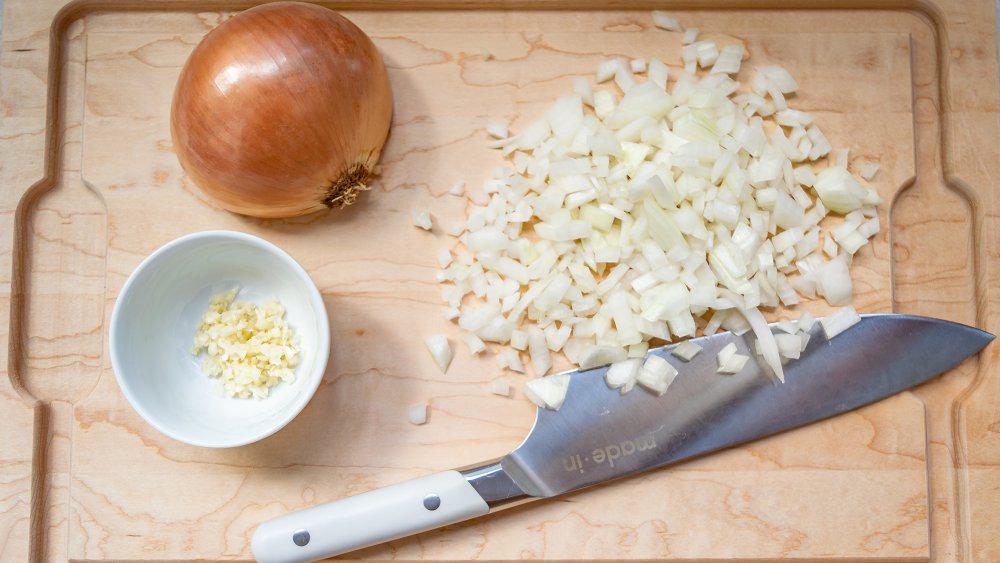 Molly Allen/Mashed
Adding garlic and onion to a dish isn't just as simple as throwing in the whole clove or the entire onion. But there are a few tricks to help with the process if dicing up garlic or onions isn't something you're an expert at just yet.
The best way to prepare garlic to be minced is to first peel the skin off the clove. Then, use the side of a large knife to gently crush the clove. Mince your garlic by running the top of the knife over it in a repetitive motion. Be sure to keep your hand on top of the blade to sustain control.
To prepare the onion, start by cutting it in half. Cutting the onion in half will allow you to easily remove the skin from the outside. Once the skin is removed, make vertical slices across the onion, and then turn it 90 degrees to cut crosswise slices. If you find that dicing onions often makes you cry, try putting the onion in the fridge to cool down before cutting it.
Brown the ground beef for this 20-minute lasagna recipe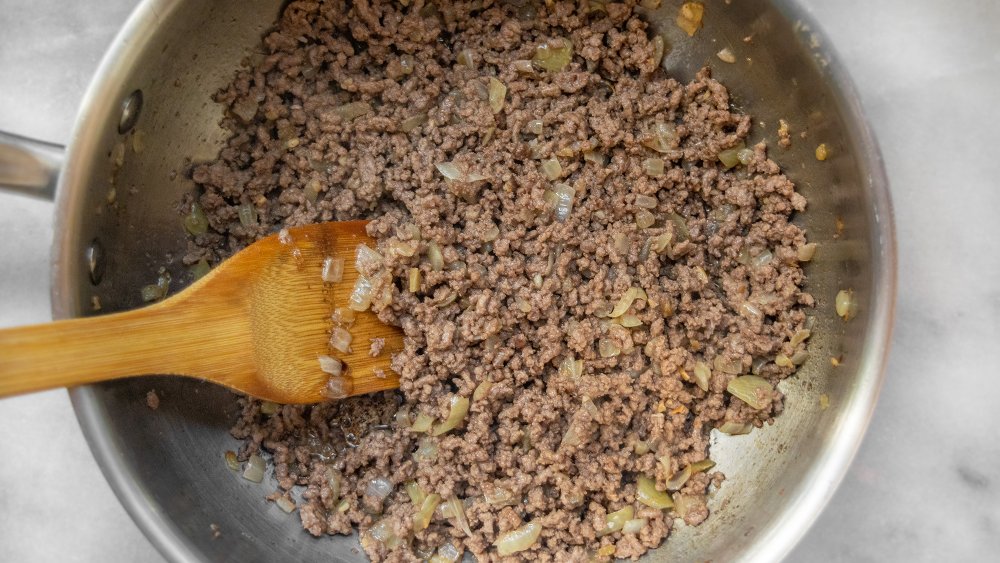 Molly Allen/Mashed
For this recipe, we used ground beef with an 80/20 lean beef to fat ratio, but any other ratio could be used. Just remember to be sure you're choosing ground beef that's as fresh as possible, with a sell-by date that's still good.
Turn your stove on to medium heat. In a high-walled saucepan, melt the butter, and then add the minced garlic and diced onions. Sautee the garlic and onions until lightly browned, and then add in the ground beef. You'll want to break up the ground beef by using a wooden spoon. Breaking it up into smaller, similarly-sized pieces will help to make the ground beef cook evenly. There's no need to stir the pan continuously but be sure to give it a few turns so the ground beef doesn't stick to the pan. Cook the ground beef for approximately five minutes, or until you don't see any more pink to be sure it's fully cooked.
Layer the noodles for this 20-minute lasagna recipe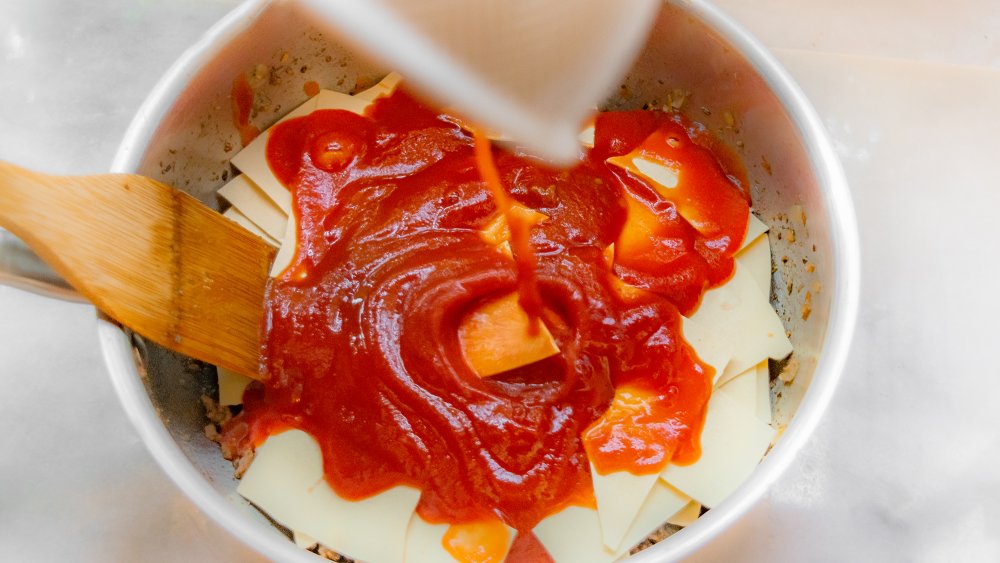 Once your ground beef is ready, it's time to add the noodles and sauce. Remove half of the ground beef mixture from your pan and set it aside in a bowl. Break up your lasagna noodles into small pieces, and add a layer of noodles on top of the ground beef mixture.
Top the noodles with the remaining ground beef mixture. If you're using a smaller pan, continue repeating the layers if needed. Once the noodles and ground beef mixture are all layered in the pan, pour the entire can of the tomato sauce over top. Cover the pan with a lid and let it sauce simmer for five minutes.
Because the noodles are oven-ready, introducing the sauce softens them in just a few minutes. Allowing the sauce to simmer with the mixture will create the slightly gooey texture around the pan that occurs when a traditional lasagna is baked in the oven.
Add the cheese for this 20-minute lasagna recipe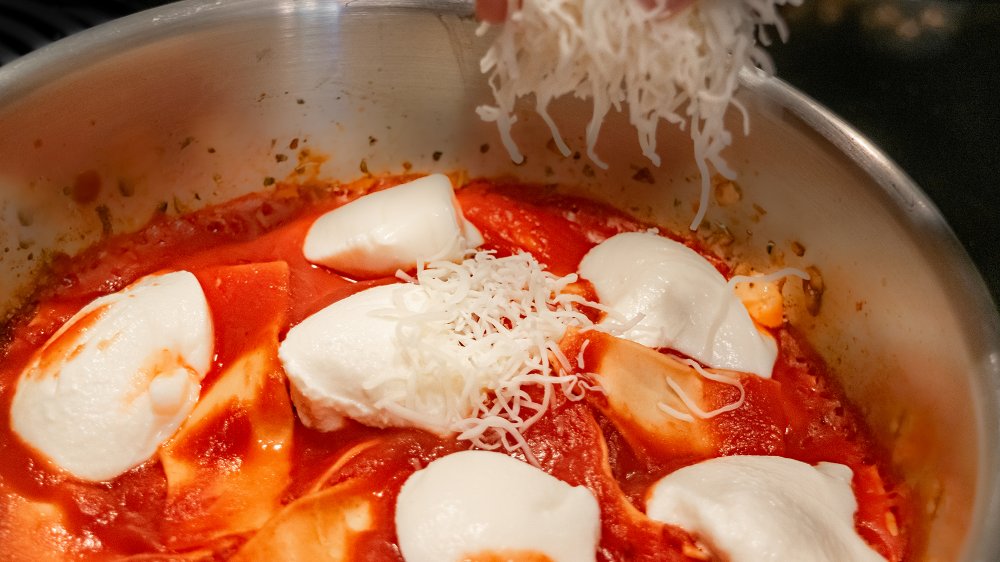 Last but certainly not least, it's time to add plenty of cheese. For this lasagna, we chose to use both ricotta cheese and mozzarella cheese.
Ricotta cheese is an easy-to-find soft cheese in most grocery stores. It's made from whole milk, which is heated to cause the milk to coagulate, and then the curds are strained from the mixture to produce a light, moist, spreadable cheese. The texture provides the ideal creaminess to pair with the other ingredients found in a lasagna. 
Once the sauce has simmered with the noodles and ground beef, and the noodles have softened, add spoonfuls of the ricotta cheese on top. You can add as much or as little as you like here. This is comfort food, after all. Lastly, sprinkle mozzarella cheese on top of the ricotta, and then put the lid back on the saucepan for approximately two minutes to allow the cheese to melt. Once the cheese is melted, your 20-minute lasagna is ready to serve. 
How does this 20-minute lasagna taste?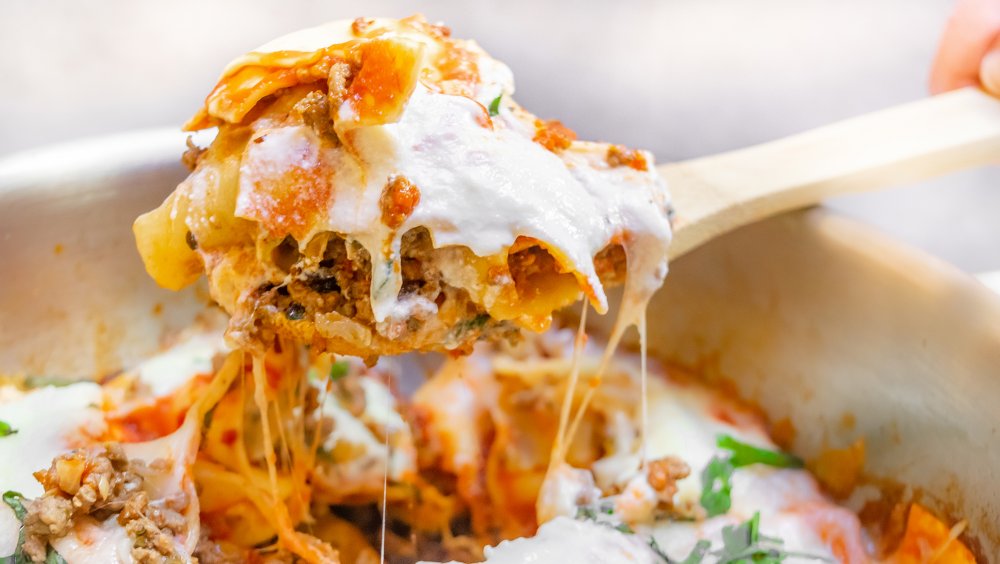 Molly Allen/Mashed
At this point, no two lasagna recipes are the same. Each family has its own secret recipe, whether adding additional vegetables, utilizing sausage, or even incorporating fancier cheeses. But if what you're looking for is a truly, as-simple-as-it-gets lasagna recipe to make for the whole family, this is definitely a winner.
This recipe is all about effortless, no-fuss cooking, starting with ingredients that can be found anywhere. The flavors are simple and delicious, without anything out-of-the-ordinary that might cause picky kids to turn their noses up.
In the pan, the lasagna is beautifully cheesy, but we will agree that a serving on a plate doesn't look as glamorously delicious. However, with a few special additions such as an extra sprinkle of cheese or a nice chiffonade of fresh basil as a garnish, a serving is taken to a whole new level. If you're really a cheese-lover, consider adding a few extra dollops of ricotta cheese on top. 
20-Minute Lasagna Recipe
You can throw together an easy, cheesy lasagna dish that only requires nine ingredients and 20 minutes of your time. Your family is going to love it.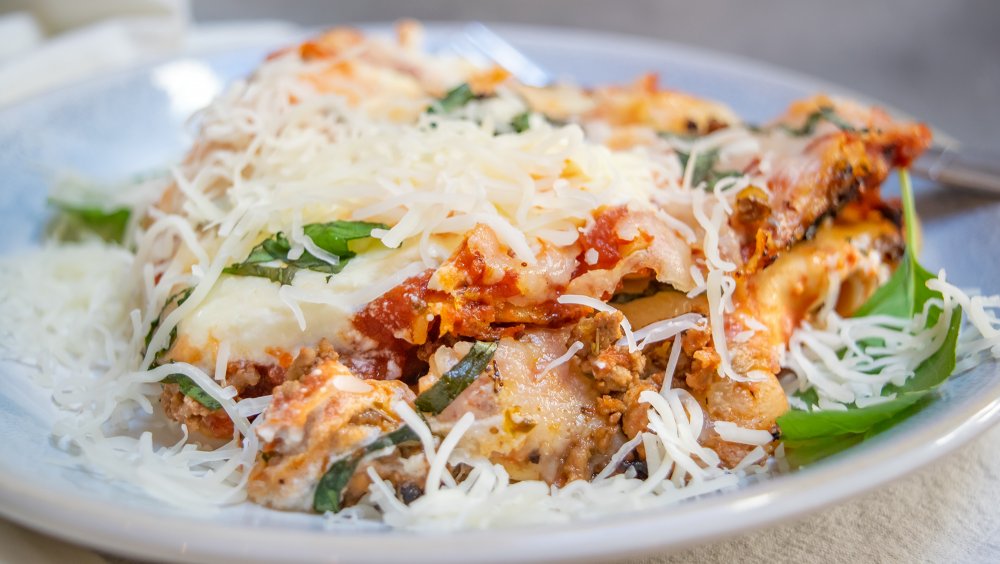 Ingredients
1 (9-ounce) package oven-ready lasagna noodles
1 pound ground beef
1 (15-ounce) container ricotta cheese
1 (15-ounce) can tomato sauce
3 tablespoons salted butter
1 small yellow onion
2 cloves garlic, minced
2 tablespoons Italian seasoning
1 ½ cups shredded mozzarella cheese
Directions
Mince the two cloves of garlic and dice the onion.
In a high-walled saucepan, melt the butter, and then add the garlic and onions. Sautee the garlic and onions on medium heat until lightly browned. Add in the ground beef.
Cook the ground beef on medium heat in the garlic and onions mixture. Once browned, stir in Italian seasoning.
Remove half of the ground beef mixture and set it aside in a bowl. Break up the lasagna noodles into pieces, and put a layer on top of the ground beef mixture in the saucepan. Top with the remaining ground beef mixture. You can alternate with multiple layers if needed.
Pour the can of tomato sauce over the ground beef and noodles. Cover with a lid and let the sauce simmer on medium heat for 5 minutes to allow noodles to soften and cook in the sauce.
Top with spoonfuls of ricotta cheese and sprinkle with mozzarella cheese. Place the lid back on the pan for 2 minutes to allow the cheese to melt.
Serve the lasagna with an additional sprinkle of mozzarella cheese or chopped fresh basil, if desired.
Nutrition
| | |
| --- | --- |
| Calories per Serving | 1,134 |
| Total Fat | 70.5 g |
| Saturated Fat | 38.3 g |
| Trans Fat | 1.7 g |
| Cholesterol | 244.4 mg |
| | |
| --- | --- |
| Total Carbohydrates | 61.9 g |
| Dietary Fiber | 4.5 g |
| Total Sugars | 7.5 g |
| Sodium | 1,434.0 mg |
| Protein | 62.6 g |