What You Need To Know About Dolly Parton And Cracker Barrel's Collaboration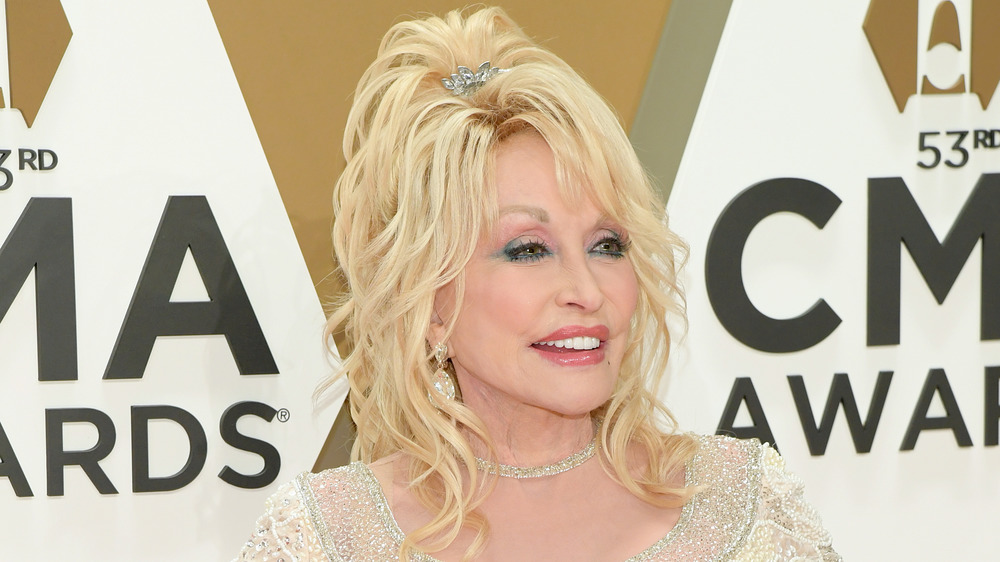 Jason Kempin/Getty Images
One thing that Cracker Barrel is known for is its homey, friendly vibes that take customers back to simpler times with its homestyle cuisine. As per the brand's official website, the restaurant aims to provide families a warm space to bond with each other over comfort food. The fact that the restaurant is wildly successful among its fans is undisputed. The nostalgia-inducing brand that aims to make all its customers feel like they're back in the comfort of their childhood has been around for a long time: since 1969, to be exact. With its rocking chairs and signature dishes like Chicken n' Dumplins, buttermilk biscuits, and hashbrown casserole, Cracker Barrel has become a go-to restaurant for many families.
With the festive season just around the corner, Cracker Barrel has decided to team up with celebrated country legend Dolly Parton to give Thanksgiving an interesting twist. Guaranteed to improve your COVID-dampened spirits, here's everything you need to know about this intriguing collaboration.
Dolly Parton is making Macy's Thanksgiving parade better in more ways than one
As reported by Delish, Cracker Barrel has teamed up with Dolly Parton to participate in this year's Macy's Thanksgiving Day Parade. (This will be the brand's second appearance at the yearly event.) What is in it for fans? Well, for starters, you can win a gift card to order lots of Cracker Barrel's signature comfort food to enjoy while watching Parton perform songs from her new album, A Holly Dolly Christmas, during the parade. Those who are lucky enough to win will get a VIP Watch Party package that comes with some really cool stuff: Dolly Parton's new Christmas album, two $100 gift cards (one for Macy's and one for Cracker Barrel), and... a limited-edition pink rocking chair from the restaurant which will be autographed by Parton! One grand prize winner will also be selected, but instead of just $100 to each store they will be sent a $250 Macy's gift card and a $650 gift card for Cracker Barrel. Whew (via Cracker Barrel).
"We all find comfort in traditions, especially during the holiday season — and America is yearning for familiar holiday traditions, like the iconic Macy's Thanksgiving Day Parade, now more than ever," Cracker Barrel Senior Vice President and Chief Marketing Officer Jennifer Tate said (via PR Newswire). Tate added that Cracker Barrel wants to make sure they give their fans a special way to soak in the magic of the holidays from home.