This Is Why Cracker Barrel Is So Successful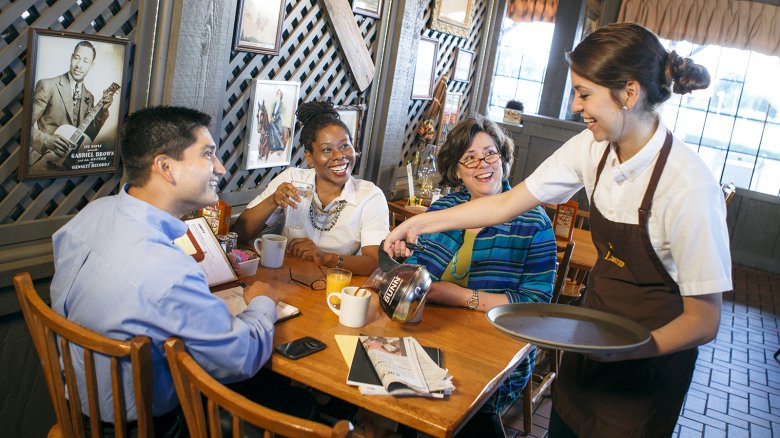 Cracker Barrel
We may receive a commission on purchases made from links.
The first Cracker Barrel opened in 1969 in Lebanon, Tennessee, complete with gas pumps, a concept founder Dan W. Evins hoped would help expand his family's oil business and better serve tourists who were traveling down the interstates and highways. Eventually, all the gas pumps were phased out and the restaurant focused on what it had become known for: down-home country cooking with a southern flair. And it's been a success ever since.
Fans are very passionate about Cracker Barrel. They've won the "Best Family Dining" restaurant award time and again, and people make comments on Yelp like, "Great home environment, outstanding daily deals! [...] First and foremost, amazing customer service. They really act and treat you like family. Everyone is always friendly, always accommodating. The food is home cooking delicious!" 
The restaurant serves up menu items that appeal to both adults and children, and even the pickiest eaters. It serves breakfast all day long, which is always a plus. It looks like the inside of your grandma's house if your grandma was some old-fashioned Southern lady who lived on a farm and when she wasn't making you biscuits she was out antiquing. They are famous for their hospitality. And that's not all... there are plenty of other reasons Cracker Barrel has been so successful for the last 50 years.
They're located in 45 states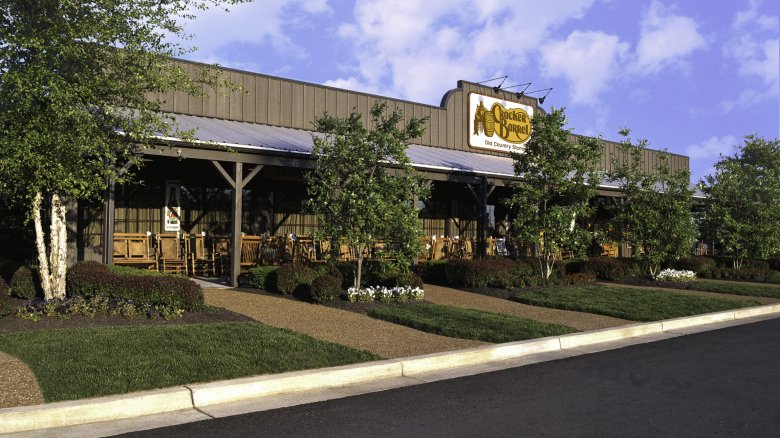 Cracker Barrel
Chances are you've driven by a Cracker Barrel restaurant while on a road trip. With their 660 restaurants in 45 states it seems like you see their front porches and rocking chairs everywhere, and those road trippers are a part of their success. In fact, the company says that travelers make up over 40 percent of their business, and Cracker Barrel is such a popular destination they even have a page on their website dedicated to welcoming tour groups and explaining how tourists can make the most of their stay.
The restaurant doesn't just attract tour groups and people looking for biscuits and gravy, though. Lovebirds have also been known to flock to the Cracker Barrel. An adorable couple in their 80s made it their mission to visit every Cracker Barrel in the United States. Another couple who had their first date at a Cracker Barrel eventually took their engagement photos there. And yet another couple who fell in love while working together at the restaurant even took their wedding photos there.
What we're saying is, with 217 million guests served each year all across the country, Cracker Barrel is a very popular destination for all kinds of people.
Their hashbrown casserole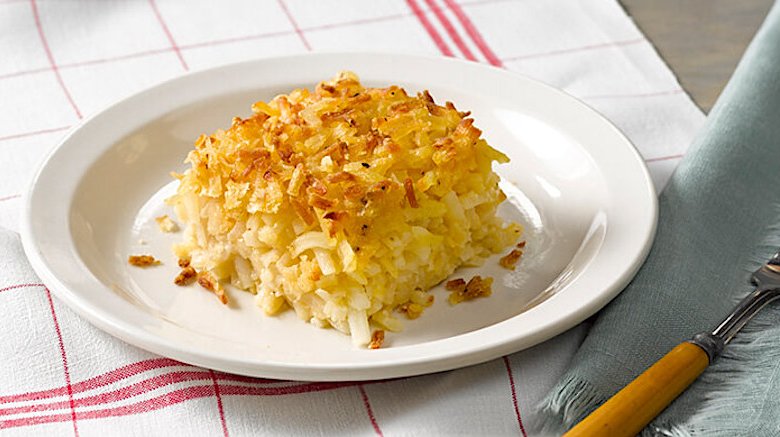 Cracker Barrel
Judging from the number of copycat recipes there are for Cracker Barrel's hashbrown casserole, it's safe to say that it's a very popular menu item. Creamy, cheesy, and made with shredded potatoes, butter, cheese, sour cream, and cream of chicken soup, it's the stuff comfort food dreams are made of. 
The chefs who have decided to recreate this dish at home always laud the restaurant's original side dish, saying things like, "There are certain things that you order at your favorite restaurants, each and every time you visit without fail. One of these for me is Cracker Barrel's Hashbrown Casserole — creamy, rich, and cheesy its the perfect comfort food." Another fan has this to say: "I have an obsession with the hashbrown casserole at Cracker Barrel that can't be normal. Whenever we take the girls out to eat and we are near a Cracker Barrel, they always want to eat there. You won't get a big argument from me because I can have my hashbrown casserole fix." Today co-signs with all of the casserole superfans, stating, "Americans evidently appreciate a good casserole because the hashbrown casserole, which comes as an entree or a side, is Cracker Barrel's top seller."
Who knew a dish as simple as hashbrown casserole had the power to keep customers coming back for more?
Their store sells everything from candles to rocking chairs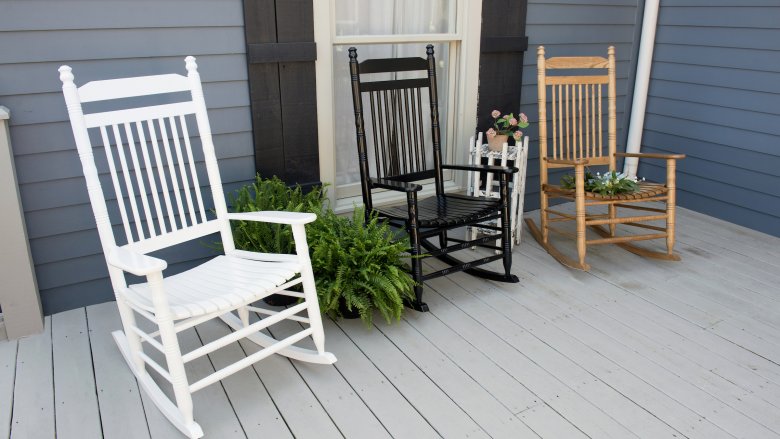 Cracker Barrel
Every Cracker Barrel restaurant has an Old Country Store attached to it where you can buy everything from cast iron cookware to apparel. One of the store's top sellers, predictably, is their rocking chairs, which are made by the family-run, five-generation Hinkle Chair Company, who cranks out 83,000 of the chairs every year for the chain. Quilts and bedspreads, snack food items, replica electronics including old-time jukeboxes, and items for our military are also on offer. 
Here's where Cracker Barrel was smart: In order to pay your check, you have to walk to the register located in the store, which means plenty of opportunities to buy those candles and country music CDs on your way to the parking lot. All of these down-home tchotchkes add up to big money, with retail stores accounting for a fifth of the chain's total revenue (as of 2014). That equals about $2.7 billion in annual revenue from its country stores, and definitely helps with Cracker Barrel's bottom line. Imagine how many hummingbird night lights and metal watering can salt and pepper shakers that translates to.
People are obsessed with the peg game
While waiting for your apple cider barbecue chicken breast meal you can challenge your dining companions to the peg game, which is located at every table in every Cracker Barrel restaurant. A fun way to pass the time, the game is played with a triangular board that has 15 holes in it. The object of the peg game is to move pegs over each other and into one of the empty holes until just one peg remains. Sounds simple, right? 
The problem is there are 6,816 ways in which to win the peg game, but it can become impossible to solve with just two bad moves. The odds just aren't in your favor. (If you can't beat the game you can buy your own for under $4 at the country store so you can practice at home — the peg games have been sold at every store since Cracker Barrel first opened.)
It's this type of seemingly simple addition to the lore of Cracker Barrel which keeps families coming back for more, because touches like the peg game encourage friendly competition and create happy memories. As one Amazon reviewer for a peg game put it, "We used to play this game with our grandmother and we always play it when we go to Cracker Barrel! Fun and sweet memories." And who knows, it may even make your kids put down their cell phone for a few minutes. 
Their famous Chicken n' Dumplins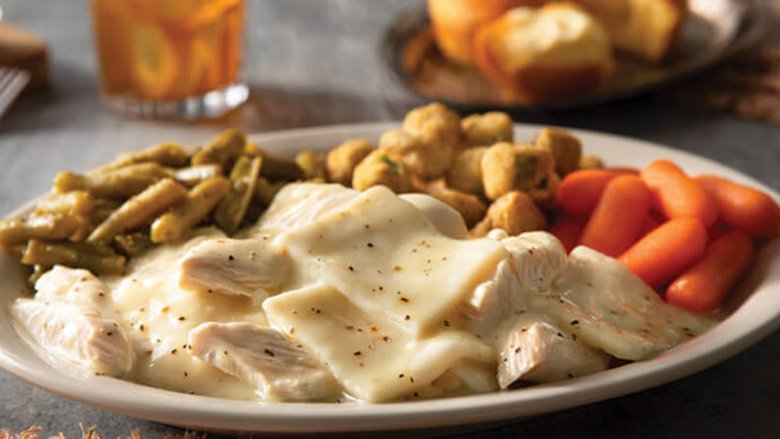 Cracker Barrel
The Cracker Barrel Chicken n' Dumplins are legendary, and the 11 million orders that get served each year prove that. Comfort foods or foods that have a sentimental value are one of the hallmarks of Cracker Barrel restaurants, and chicken breast tenderloins and fresh-made dumplings smothered in chicken stock is about as comforting as you can get. Especially when you consider you can add sides like macaroni and cheese or mashed potatoes to that. 
When taxes are due and your dishwasher is on the fritz and your kids are complaining about walking the dog yet again, sometimes you just want to tuck into food that your grandmother used to make, or a grandmother you read about in a book who slaved all day in the kitchen while wearing an embroidered apron and humming along to Patsy Cline songs on the radio did. And in a world where hipster salad joints are taking over, it's safe to say that Cracker Barrel's down-home Southern comfort food is a welcome sight for those who don't care to know what frisée lettuce tastes like.
You won't get bored waiting for a table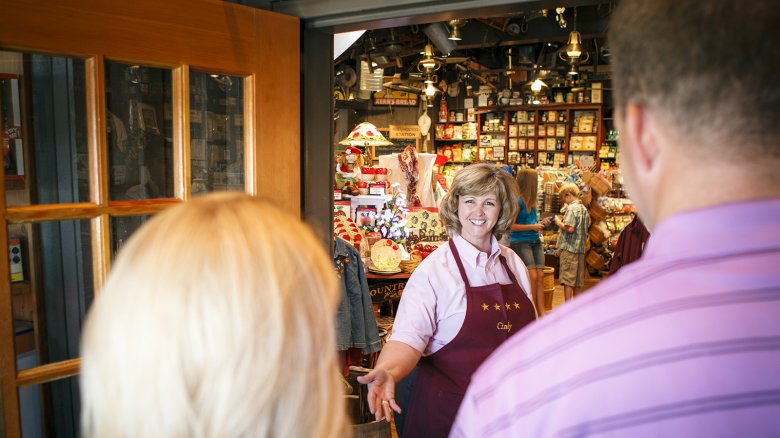 Cracker Barrel
Cracker Barrel has a pretty brilliant business model in that its set up so you have to walk through the country store to get to the restaurant. But if retail therapy while waiting for a table isn't your thing, you can make yourself comfy in a rocking chair on the front porch and settle in for a nice game of checkers instead. 
Not feeling competitive? Cracker Barrel restaurants have collections of Americana antiques to rival a museum. Although each location is decorated to reflect its region, there are a few things you will find in every Cracker Barrel location. A traffic light hangs above the bathroom doors, horseshoes are hung above every the exterior of every front door for good luck, there's a cookstove in each country store, and there's a deer head hung above the dining room fireplace. 
Whether you're shopping, rocking, or checking out the fascinating artifacts while waiting to get your country fried steak, you won't get bored, and it also makes Cracker Barrel the perfect family-friendly place to dine if you've got kids you need to keep entertained. There's definitely value in that.
The candy counter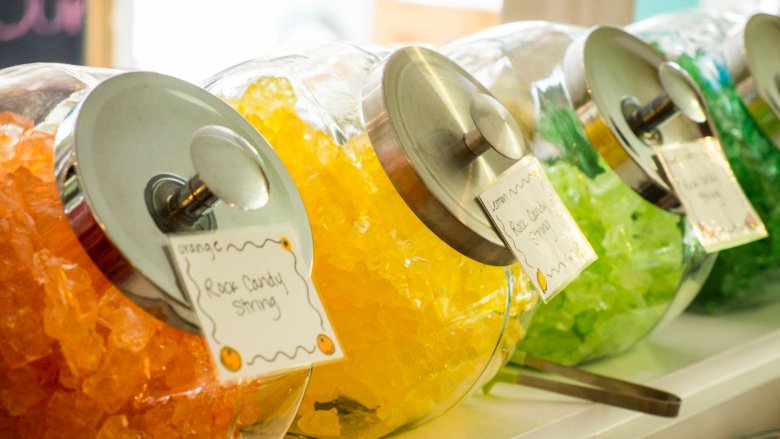 Shutterstock
Any parent on a long road trip is bound to appreciate the bribery potential of a visit to the Cracker Barrel candy counter with the promise of a pixie stick in exchange for a moratorium on the complaining. And where else can you finish off a hearty meal and leave with bags of candy that's difficult to find anywhere else? People love visiting Cracker Barrel to show off the selection of candy to their kids. As one Cracker Barrel-loving writer explained, "Is there anything as magical as walking into a Cracker Barrel when you're a kid and seeing the candy shelves stocked to the brim on your way to your table?"
Cracker Barrel sells almost every retro candy you can think of, including Pez dispensers, rock candy sticks in every color of the rainbow, Cow Tales, Chick-O-Sticks, and candy necklaces. And if you can't make it to your local Cracker Barrel, you can also shop for all sorts of candy online, which has 233 different offerings. 
Think a few pieces of candy doesn't add up? According to Cracker Barrel, the stores sell 14 million thin sticks annually. You know, those colorful, striped hard candy sticks that come in a variety of flavors? Those. And no matter what they cost, 14 million of them surely accounts for a few dollars in the plus column every year, and that's not to mention all the other candy they're selling.
The food you order is made from ingredients found in America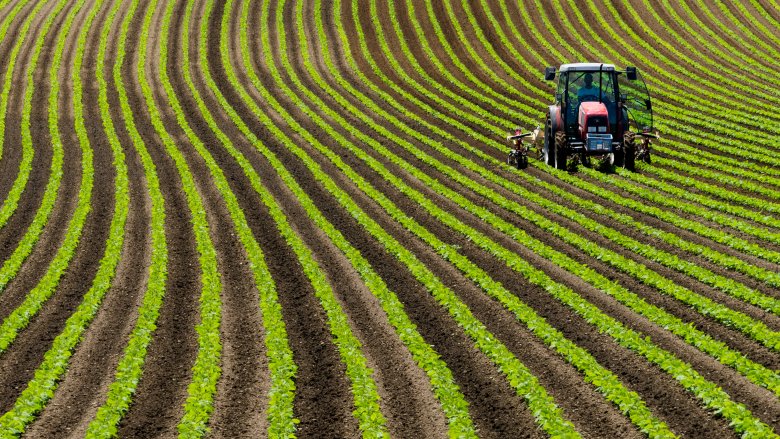 Shutterstock
Cracker Barrel gets most of the ingredients used in their kitchens from the United States. According to the Cracker Barrel website, "Homegrown food, quite simply, tastes better. With our Tennessee roots, and 660 stores in 45 states, sourcing fresh ingredients domestically is core to our beliefs. By far and away, the vast majority of our ingredients come from right here in America. Our green beans, potatoes, farm raised catfish, sweet potatoes, turnip greens, and all of our beef, pork, and poultry are domestically grown or raised." 
Not only that, but Cracker Barrel has a policy of working "with suppliers that exercise humane treatment in the raising and harvesting of animals." Ingredients like shrimp aren't sourced from the U.S. because it's not produced in large enough quantities for the restaurant's needs. So it's not 100-percent locally-sourced, but it's refreshing knowing that the majority of ingredients aren't coming from a far away country, and customers appreciate that kind of commitment from a restaurant.
It looks like your grandma's house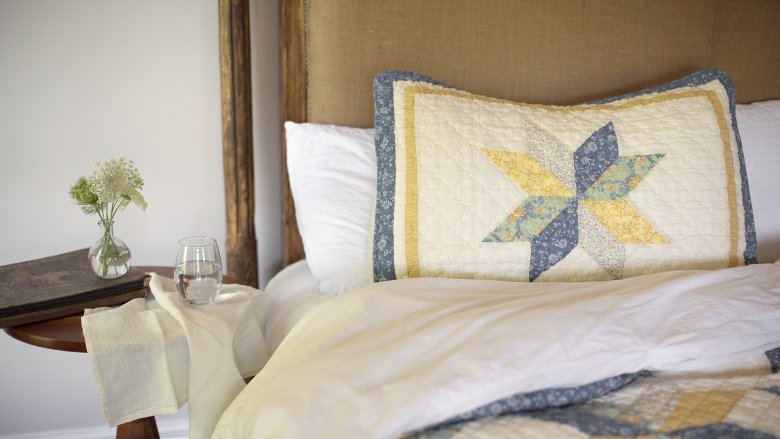 Cracker Barrel
What Cracker Barrel is selling (and what millions of Americans are consuming) is this idealized version of what many people are nostalgic for, and what many people wish they had access to — a visit to grandma's house. A warm, welcoming place filled with antiques with delicious smells wafting from the kitchen. It takes a lot of time and effort to perfect this grandma aesthetic, and Cracker Barrel works hard to make the experience as authentic as possible. 
According to Four Letter Nerd, "First of all, all of those old tools, toys, signs, and memorabilia on display are 100 percent original. They aren't buying mass reproductions of old items, they are actively seeking antiquities that have that Cracker Barrel aesthetic. In fact, the 'look' is so recognizable that a lot of antique dealers will reach out to them when they come across an item that matches their style." There is something comforting about visiting a romanticized version of your grandma's house, and Cracker Barrel seems to know that.
The warm, buttery biscuits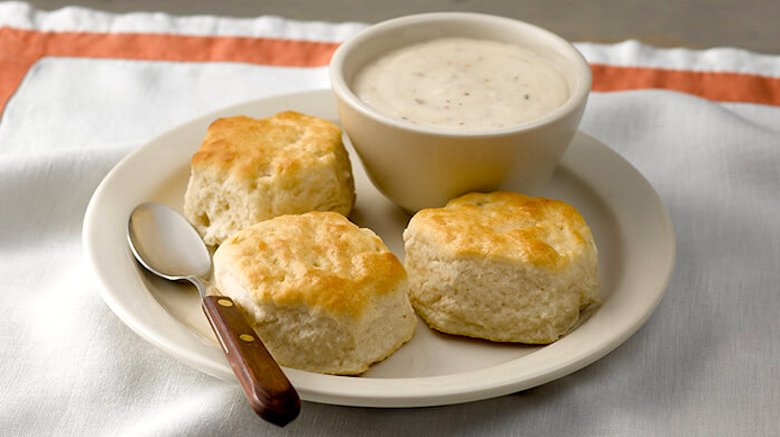 Cracker Barrel
With any entree order at Cracker Barrel you can request a basket of either corn muffins or warm biscuits for your table. These items are served with honey, apple butter and strawberry jam, and the best thing is, it's all free. That's reason enough to head to your local Cracker Barrel, and diners clearly love them. In fact, 200 million biscuits are consumed by guests annually, according to Today. 
As popular as these freebies are though, the company is smart about not wasting product, which can only help their bottom line, right? According to the Cracker Barrel FAQ page, their bread policy is as follows: 'At Cracker Barrel Old Country Store we want to make sure guests get the hottest, freshest biscuits and corn muffins we can serve up. And when possible, we want to avoid waste by only serving bread to folks who want the biscuits or corn muffins. As a result, we ask our guests what type of bread they want — biscuits or corn muffins, and we serve the bread with our guests' meals. As competitive as our business has become, every chance to reduce waste helps hold prices down."
The idea of anyone turning down free piping hot biscuits seems pretty far-fetched, so maybe the next time you visit the restaurant pay close attention to what the other diners are doing and if they refuse the basket be a good Samaritan and offer to take theirs for them. It's the right thing to do.
The price is right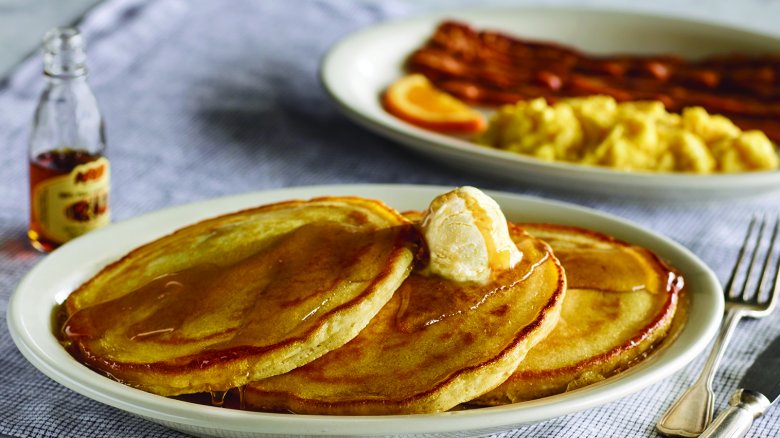 Cracker barrel
Another big reason Cracker Barrel is so popular is that it's a reasonably-priced dining experience for customers. The average meal consumed outside the home costs about $12.75. The most expensive item on the Cracker Barrel menu is the ribeye steak and even that comes in just above $15 with three sides included. Most of the items on the menu cost less than $10, and each weekday they have a different $5.99 lunch special. Many of their platter meals are served with two or three sides and the basket of (free) biscuits or corn muffins, so there's a pretty good chance you could leave with lunch leftovers for the next day as well.
Couple all this with the fact the Cracker Barrel is more of a dining experience than your local fast food joint, and it ends up being a pretty good value for your dining out dollar. 
It has something for everyone, including millennials
Cracker Barrel really does have something for everyone. Board games for the bored! Antiques for the history buff! Candy and retro toys for the kids! A generous bread basket for everyone who has excellent taste! And the company is now targeting another important audience — millennials — with a cool new fast-casual concept called Holler & Dash, which is a stripped down hipster restaurant with farmhouse pendant lighting and exposed brick. 
According to Eater, Holler & Dash came about because "Cracker Barrel is a chain that has long represented the antithesis of youth culture, with its front-porch rocking chairs and old-timey feel" and the new brand is the company's "answer to higher-end quick-service chains such as Panera Bread and Chipotle."
The menu items include things like fried chicken biscuits with goat cheese and tater tot bowls with bacon, cheddar cheese and sauce. Sadly, there are only a handful of Holler & Dash locations, but here's hoping they become as popular as Cracker Barrel's traditional restaurants and end up in 45 states.