People Can't Wait To Try This New Dunkaroos Product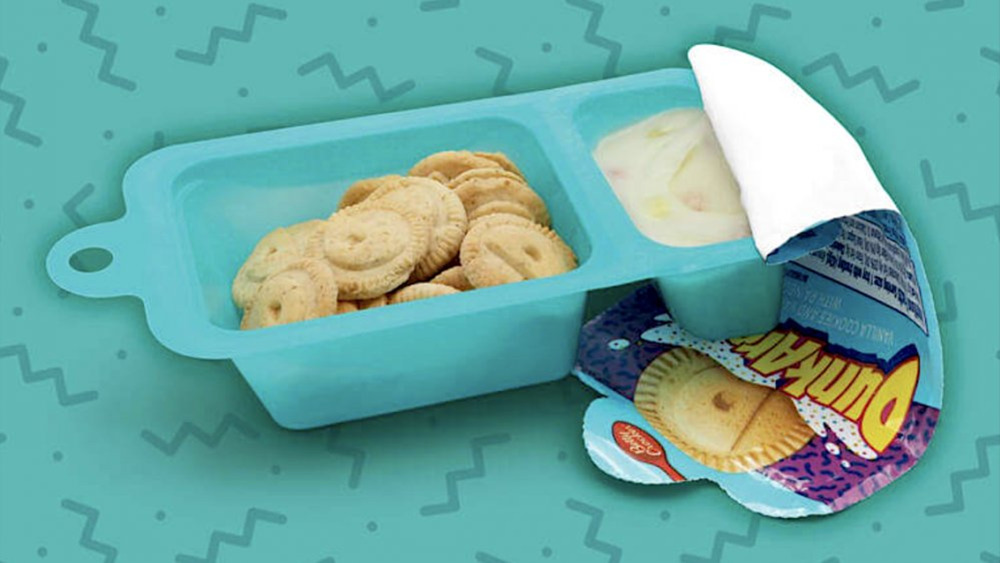 Dunkaroos
If you grew up in the 1990s, chances are you know all about Dunkaroos. The era's staple snack consisted of cool, shaped cookies that you could dunk in a frosting that was either vanilla- or chocolate-flavored. As its popularity grew, more cookie flavors entered the fray, as well. Unfortunately, like the decade itself, the snack ultimately went the way of the dodo. Dunkaroos fell out of favor and disappeared, and new treats took their place. 
However, nostalgia moves in mysterious ways, and as Cosmopolitan notes, the decade is more in vogue than ever, and this applies to more than just fanny packs, hairdos, and plaid. As you may very well know, Dunkaroos recently made a comeback in a big way. In fact, because its old target audience is now all grown up, there's even a Dunkaroos beer. 
Since we're already at the "alcoholic beverage" phase of the treat's big comeback, it's only a matter of time before more exciting Dunkaroos-themed products turn up. In fact, that time has arrived. Let's take a look at the new, exciting Dunkaroos product everyone's surely waiting to try. 
Dunkaroos cookie dough is about to change your cookie game
Cookies are always great, but there's just something extra nice about baking them yourself. Of course, that's not exactly an option with a product like Dunkaroos — or rather, it hasn't been one until now. Per Delish, Dunkaroos is launching a Dunkaroos Cookie Dough, which is available from retailers like HyVee, Kroger, Wakefern, Walmart, Wegmans, Albertsons, and Safeway on November 23. The limited-edition package will include enough cookie dough to make six huge cookies, or 24 of the tiny dunkable ones. As for the dunking experience that's so inherent to the product, the Dunkaroos Cookie Dough package naturally comes with that famous vanilla frosting, complete with rainbow sprinkles. 
Apart from the obvious allure of making Dunkaroos yourself, the cookie dough version also lets you experience the brand's signature dipping experience with fresh cookies, baked to your exact preference in order to maximize the enjoyment. Mmm, taste that delicious, delicious nostalgia.