Pringles Has Good News For Spice Lovers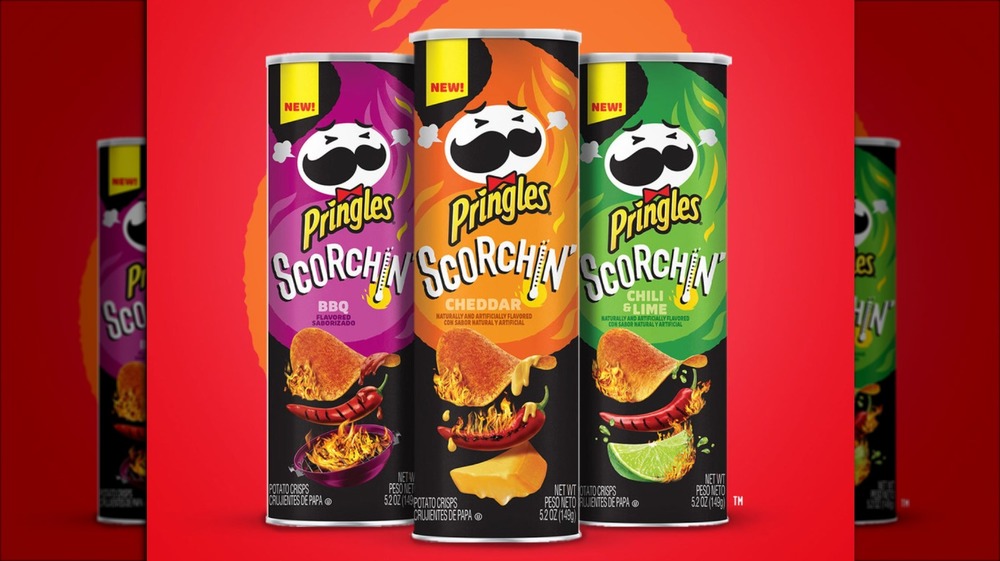 Kellogg Company
On November 9th, Pringles' Twitter account shared a series of cryptic tweets from people wishing that Pringles came in spicy flavors. The following day, the brand issued a press release, announcing that in December of this year a line of spicy Pringles will finally be launched. "As we created this collection," Gareth Maguire, senior director of marketing for Pringles, said, "we knew spice was important, but we also wanted to preserve the insanely accurate flavors our fans have come to expect from our products. I'm proud to say, we have succeeded on both fronts to offer the perfect balance of bold flavor and spicy heat that builds over time."
The flavors included in the spicy new Scorchin line are as follows: Pringles Scorchin' Cheddar, a cheddar Pringle with an "extra peppery kick"; Pringles Scorchin' BBQ, BBQ Pringles with the added heat of cayenne pepper; and Pringles Scorchin' Chili & Lime, a seemingly new flavor that offers a taste mixed between citrus and chili peppers. After a period of a month or more in which a limited number of retailers will sell the Scorchin' Pringles in 5.5-ounce cans for $1.99, the new line will expand to a full release (including the popular Grab & Go size) in 2021. This marks the first time that Pringles has introduced a full selection of spicy flavors. 
We're still holding out hope for more Pringles flavors in 2020
These spicy flavors will probably be met with warm welcome, but if we are being honest, they represent a rather conservative collective of flavors when compared to the more limited runs in which Pringles indulges. Unanswered, for example, is whether Pringles will offer a Thanksgiving flavor this year. Last year, the chain released their Roasted Turkey flavor for the holidays (via Instagram). Its 2017 Thanksgiving Dinner box featured an inventive spread of chips including Turkey, Mashed Potatoes, Stuffing, Cranberry Sauce, Creamed Corn, Green Bean Casserole, Mac & Cheese, and Pumpkin Pie Pringles flavors, as reported by People Magazine. The company also released a Turducken variety in 2019, according to USA Today. While we know Pringles is no stranger to the holiday, so far, no news about a Thanksgiving gimmick for 2020 has reached our ears.
Nor have we heard of any limited Pringles flavors for other holidays (as of November 12th). Delish announced that British shoppers will see the annual release of Pringles' Honey Glazed Ham flavor this holiday season along with a Pringles advent calendar. There is even an elusive Pringles ramen flavor that is exclusively sold at special Pringles vending machines in Japan, according to Sora News 24 who finally managed to track the crisps down. Still, with their upcoming Scorchin' BBQ, Cheddar, and Chili & Lime, Pringles has at least given us something to look forward to midst the looming winter months.