Desserkys Are The Bizarre Thanksgiving Mashup You Didn't Know You Needed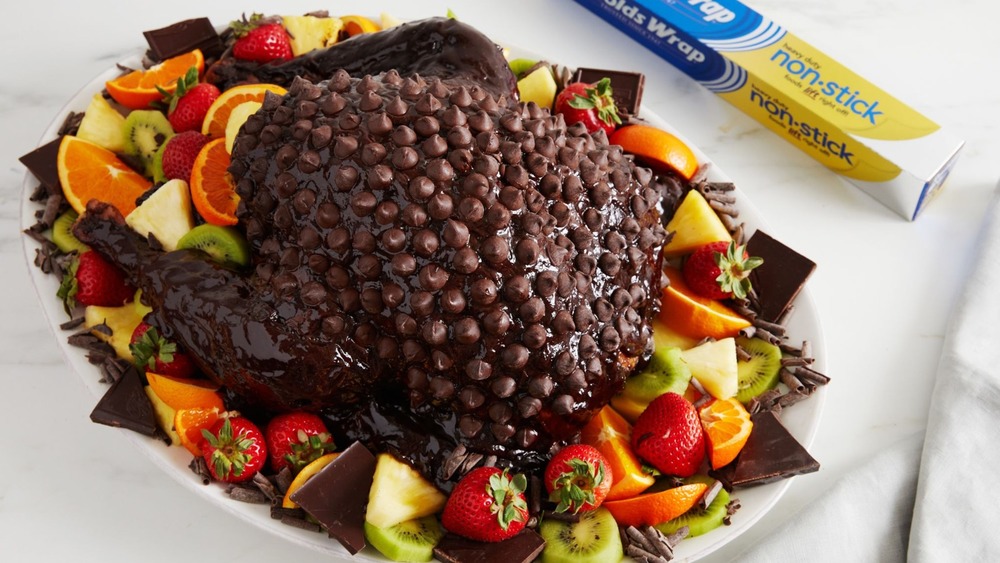 Reynolds Wrap
When you think of Reynolds Wrap, no doubt the first thing that comes to mind is aluminum rolled in thin sheets. The company responsible for these kinds of products certainly hopes you're thinking about them around Thanksgiving and have their signature product handy to help with the turkey-baking and leftover-wrapping. But Reynolds apparently has chefs on the payroll who also want to share with you some creative ways to prepare your Thanksgiving bird.
We're not talking about Buffalo-fried or bacon-wrapped turkey, either (via Food Network). Reynolds thinks way outside the box with its turkey recipes. In past years, they ruffled feathers with mac and cheese turkey, Flamin' Hot Cheetos turkey, and even an edible glitter turkey — and you can still find those recipes online if you haven't tried them yet. They might not be traditional, but they probably would be well received at the kids' table.
But this is Thanksgiving 2020. With all we've had to endure this year, Reynolds Wrap is basically saying, "Life is uncertain. Eat dessert first." So perish the thought of tofurkey. This year, make it desserky.
"America has developed quite the sweet tooth and baking love in quarantine, so Reynolds Wrap, known for crazy flavor-blasted turkeys, is bringing dessert and the main course together this Thanksgiving," Reynolds Wrap said in a statement to Mashed.
Try the chocolate, pecan pie, or gingerbread desserkys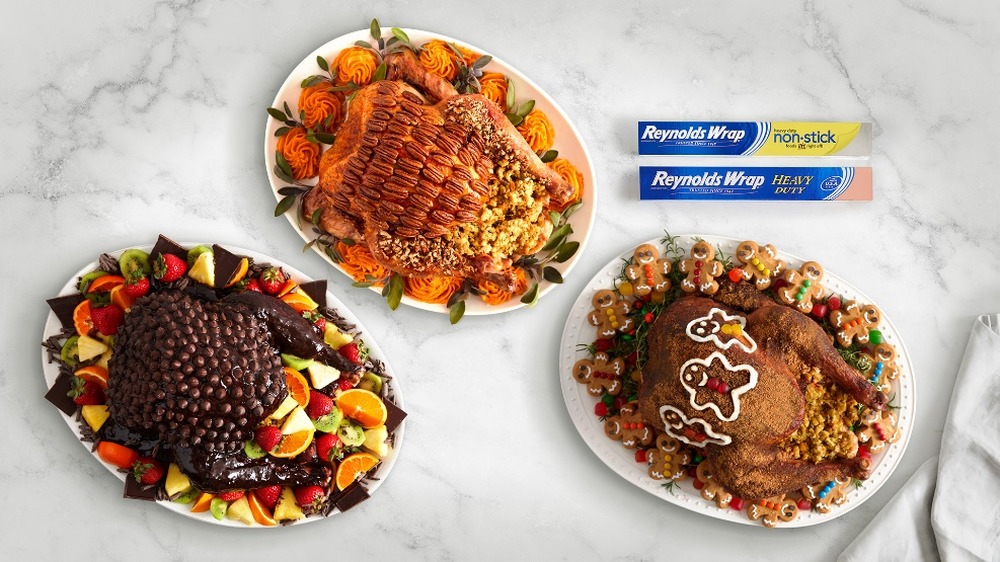 Reynolds Wrap
All three Reynolds Wrap turkey recipes are on the sweet side of the flavor spectrum, but they definitely offer variety. The chocolate turkey looks utterly decadent, but not in a chocolate Easter bunny way. The coating on this turkey is a chocolate barbecue sauce that blends sweet and savory. The recipe asks you to peel back that Reynolds Wrap you placed over the turkey in the oven, and baste the bird with the chocolate barbecue sauce while it cooks. After the turkey comes out of the oven, it gets a crown of chocolate chips.
The pecan pie turkey is more about having dessert and the main course at the same time. The glaze is butter, brown sugar, and corn syrup, and the finished turkey is topped with candied pecans.
You might wait until your favorite December holiday to serve the third desserky. The gingerbread turkey gets a gingerbread rub and is decorated like a gingerbread house, complete with mashed-potato frosting.
While you might think "dessert" while preparing Reynolds Wrap's latest turkey creations, remember you're dealing with meat underneath all that sweetness. Keep a meat thermometer handy, and make sure the inner thigh reads 165 degrees Fahrenheit before serving.