Jimmy Dean Just Released Candy In This Bizarre Holiday Flavor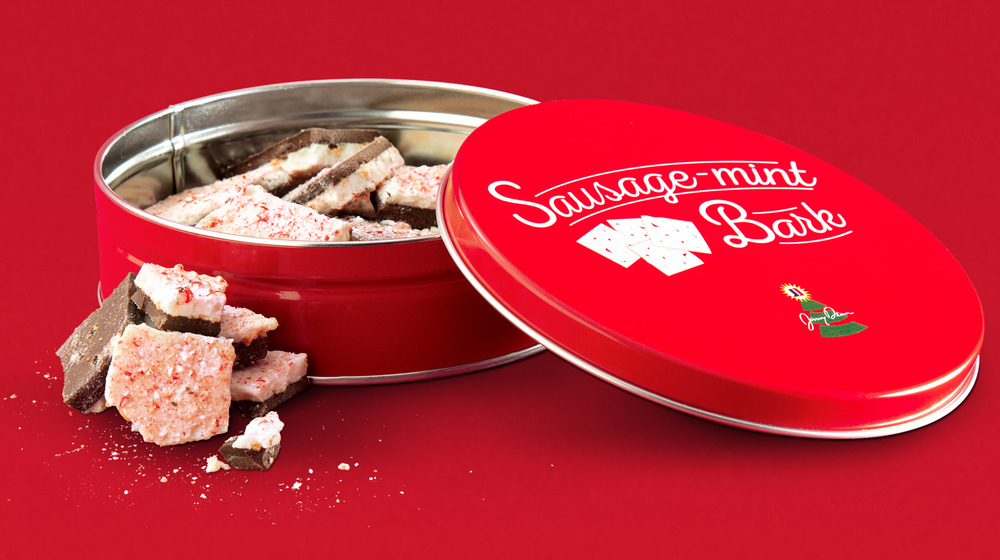 Jimmy Dean
The 2020 holiday season is having a love affair with peppermint bark. There's a new peppermint bark-flavored Rum Chata for your holiday cocktail needs (via MSN). Häagen-Dazs' new peppermint bark cookie squares will satisfy your ice cream cravings. According to their press release, Stuffed Puffs came out with a new peppermint bark-flavored candy, in case marshmallows are your thing. On the other hand, if it's beer that's caught your fancy, sip on a Rogue Peppermint Bark Milk Stout (via BevNet). And, finally, if Jimmy Dean premium pork sausages make your world go round, you need a tin of their sausage mint peppermint bark.
Says Jimmy Dean, "Delicious sausage candy sits atop this white chocolate peppermint bark with a dark chocolate base." Don't be a doubter. In 2019, Food Beast's writers tried Jimmy Dean's sausage-flavored candy canes. They didn't die. "It's still a sweet candy cane, with a strong maple flavor with hints of bacon," they wrote.
This is how to get your hands on some Jimmy Dean Sausage-mint Bark
Like last year's candy canes, you can lay your hands on a tin of Jimmy Dean's Sausage-mint Bark by participating in its Recipe Gift exchange. All you need to do is cook up your favorite holiday recipe, incorporating Jimmy Dean's premium pork sausage, photograph it and submit it to Jimmy Dean. "We know people will turn to their traditional, favorite recipes and dishes to ring in the holiday season with friends and family, whether celebrating together or apart," Scott Glenn, Jimmy Dean's senior director of marketing said in a statement shared with Mashed. "We're honored that our sausage is a holiday staple for many and are excited for the opportunity to bring a little joy to our fans with the return of the Recipe Gift Exchange and unique sausage-themed gifts."
If you like your sausages spicy, go ahead and use some Cholula sauce, out of Cholula's new touch-free dispenser with your recipe. And when you do get yourself a tin of Jimmy Dean's sausage-mint bark (because let's be real, who wouldn't?), top it with some of Cinnabon's cream cheese frosting, which Cinnabon's begun to sell by the pint in honor of the 2020 holiday season. And swallow it down with Mountain Dew's holiday-themed soda flavor, Merry Mash-Up.