Dishes To Try If You Want To Cook With Rice Noodles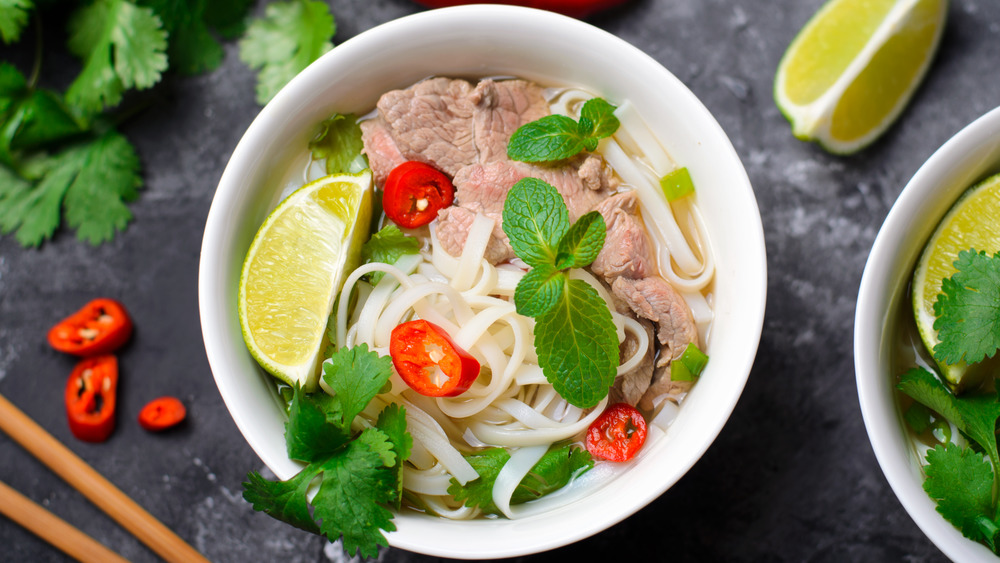 Shutterstock
Be warned, rice noodles and slurping go hand in hand. We don't care if you don't. Plus, loudly swigging your noodles might actually heighten the experience — slurping seems to enhance flavor and aroma, just like swishing wine in your mouth during a wine tasting (via Nippon.com).
Now that we have that covered, let's find recipes worth slurping. Slippery rice noodles are the ideal, gluten-free base for a gazillion recipes. The starchy strands add heft while absorbing the flavors of everything you add to the dish. Since rice noodles have a very mild flavor, they create an excellent bed for more flavorful foods, including sautéed vegetables and grilled meats (via Livestrong).
Rice noodles can be served hot, cold, or somewhere in between. They're lighter than many pastas and make a great addition to classic noodle stir-fries, cold noodle salads, and soups (via The Spruce Eats). And since rice noodles are gluten-free, they're a great option for friends and family with dietary needs.
From a crispy salad topping to a rich pad Thai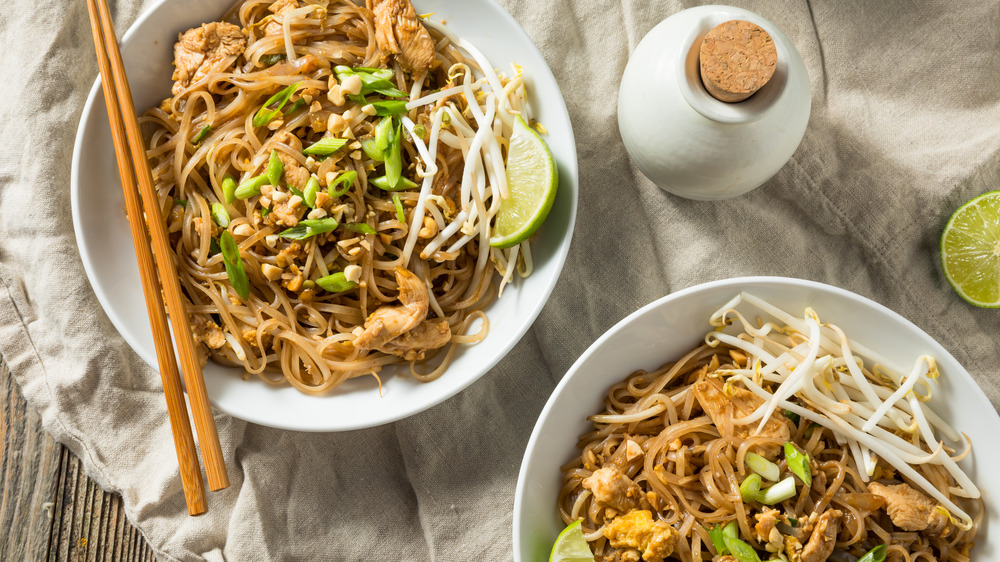 Shutterstock
Not just slick and tender, rice noodles can evolve into something airy and crisp. Imagine a noodle that bursts into the air when fried. Crunchy rice noodles make a unique and snappy topping for lettuce wraps, stir-fries, salads, and soups (via The Spruce Eats). For something more substantial, Epicurious suggests 24 interesting dishes, including rice noodles with pork, chicken, steak, shellfish, vegetables, and nuts. And there's no shortage of ways to use your noodle — stir-fried, simmered, braised, boiled, and more. From red and green curries to rich Vietnamese stews, you'll find inspiration for a month's worth of meals.
Brit + Co loves rice noodles because they're quick-cooking, gluten-free, and soak up whatever sweet and savory nuances you pair them with. Check out their selection of rice noodle-based salads and bowls. The folks at Taste of Home assert that if you substitute rice noodles for pasta, you'll become a rice noodle believer forever. Their team came up with some creative ways to use the white strands in multiple variations of pad Thai, as well as soups, spring rolls, and pork satay. Head over to Bon Appetit, and you'll find 18 recipes featuring rice noodles with a unique twist, including Italian-inspired pomodoro (with tomatoes and chili oil), cashews, coconut, braised short ribs, and clams.
No matter where you click, you'll find dishes that are colorful, refreshing, and jam-packed with flavor, from the first slurp to the last.