The Undertaker Revealed This Surprising Fact On Hot Ones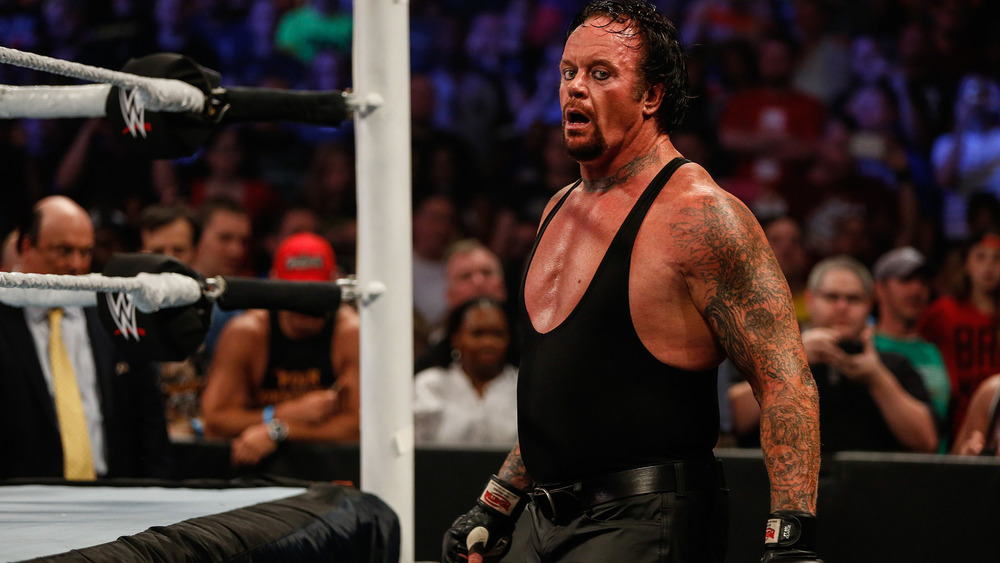 Jp Yim/Getty Images
The Undertaker, perhaps one of WWE's most popular all-time legends, is finally (maybe) coming to the end of his 30-year career, and as he does so, he's stepping outside the ring and outside his iconic persona that manages to transcend being put in either the heel or babyface box. So far, Taker's yet to shock us by appearing on Dancing With the Stars or popping up as a guest judge on The Great British Baking Show (more's the pity, since who wouldn't pay good money to see him chokeslam Paul Hollywood through the judging table?), nor have he and his ex-wrestler wife Michelle McCool done the Celebrity Wife Swap thing like former Hell in a Cellmate Mick "Mankind" Foley.
What the Deadman has done, however, is something that's not too out of character for a professional badass — he appeared on an episode of Hot Ones (via YouTube). And, spoiler alert, those wings never stood a chance. It was straight to the boneyard with all of them, with Taker barely breaking a sweat even on the Last Dab. No surprise there. What was a bit more unexpected, though, was one of the revelations that came out during his chat with Hot Ones host Sean Evans.
Taker's still not comfortable breaking kayfabe
While some say the age of kayfabe is entirely over — what with all those online super-spies and fact-checkers, some version of the truth is bound to surface, one way or another — Undertaker still feels weird coming out as plain old Mark Calaway. As he tells it (via WrestleZone): " I'm a notoriously old-school guy. Talking about the business so openly...I'm fighting that urge to clam up and still not talk about it." Taker admits that everybody's dying to hear his real-life wrestling stories and that it's actually kind of fun to share, but he says "The old-school 'wrassler' is like 'Man, you should go back, pull the curtain shut and tell everybody you're not home.'"
A less surprising revelation shared with Evans was the Deadman's aversion to doing talk shows, since once the novelty wears off, who really would enjoy a relentlessly perky grilling? Taker described an early '90s appearance on Live with Regis & Kathie Lee when he and Mrs. Gifford didn't exactly hit it off: "I remember the first time I did the show, and here she comes and starts piping off and I hated it." He sucked it up because he knew it was good for business, plus, when Vince McMahon tells you to do something, you do it, but says "for my character and me personally, I was absolutely miserable." Poor Taker. We hope his Hot Ones appearance was more enjoyable. Hey, at least he got fed.