The Real Reason You Should Never Order KFC's Potato Salad
The perfectly crispy, perfectly juicy chicken might be the real star at Kentucky Fried Chicken (KFC), but everyone knows that when it comes to the perfect fried chicken dinner, the sides are where it's at. In other words, what you pair your chicken with can make or break your meal. Fluffy mashed potatoes smothered in thick gravy, tangy coleslaw, hearty mac and cheese, sizzling-hot potato wedges, doughy biscuits — the options are endless. While all of the above (and more) can be found on KFC's menu, perhaps one of the most popular sides among customers is the potato salad.
Made with diced red potatoes, creamy mayonnaise, sweet relish, and onion, it's just like Mama would make it. However, for as delicious and drool-worthy as KFC's potato salad may be, it's one of those things you should never order at the fast food chain. After reading why, you'll likely think twice before adding it to your next drive-thru order. Spoiler alert: It's one of the least healthy things you can get.
KFC's potato salad is loaded with fat and sodium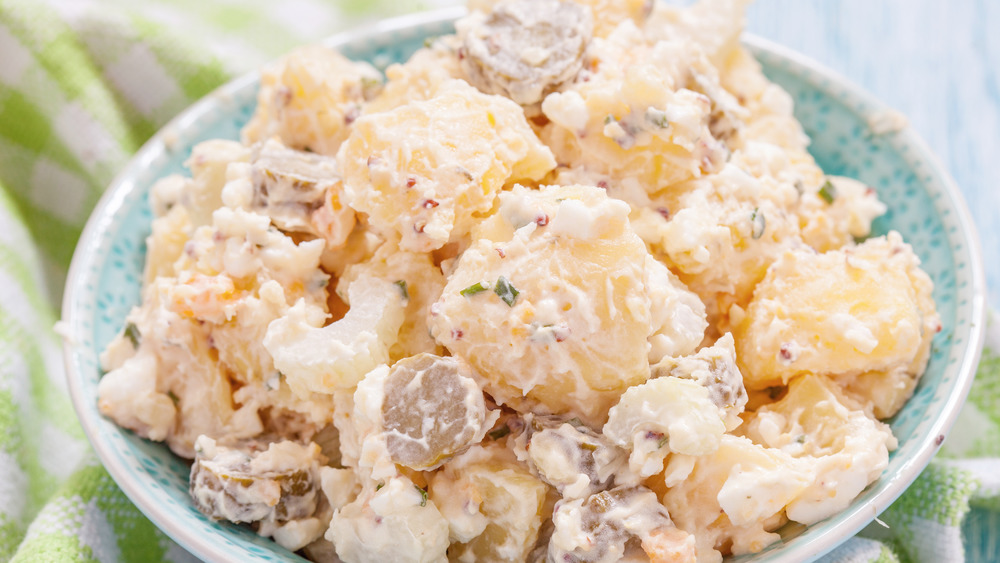 Shutterstock
Of course, nothing on KFC's menu could be deemed a "health food," but the potato salad is one of the fast food chain's worst offenders. According to KFC's nutrition calculator, one serving of the potato salad contains a whopping 340 calories, along with 28 grams of fat. To put that into perspective, the daily recommended amount of fat for a 2,000-calorie diet, per the Mayo Clinic, is 44 to 78 grams. That means that if you eat one small serving of KFC potato salad, you may have already consumed over half of your fat for the day.
The bad news doesn't stop there, either. KFC's potato salad also has a lot of sodium, with each serving containing 290 milligrams. The Centers for Disease Control and Prevention (CDC) recommends that adults consume less than 2,300 milligrams per day, so your potato salad contains about 12 percent of that daily intake. Not only does the popular side have a very high fat and sodium content, but that's not even including the fried chicken you probably ate with it. Yikes.