You Can Now Get This Massive Pumpkin Cheesecake At Costco
When you need to serve up a massive dessert, Costco has your back — the wholesale chain has become synonymous with baked goods that can feed armies. After all, one of Costco's main sweet staples was once a huge sheet cake that could feed up to 48 mouths, but sadly once the pandemic hit, the company indefinitely retired the cake to help curb social gatherings (via USA Today). While we may not have the chance to celebrate with a cake big enough to feed a crowd anytime soon, we can rejoice knowing that the big box chain has introduced a new product to their baked goods section that promises to transform our lives — Junior's Pumpkin Layer Cake Cheesecake.
According to Delish, the dessert alternates layers of pumpkin spice cake with hearty New York-style cheesecake, and the whole thing clocks in at a whopping 3-1/2 pounds. For anyone who needs to bring something substantial to a holiday gathering, look no further, as the cakes have begun hitting shelves with a neat price tag of only $15.99. From what we know about other Junior's cheesecake flavors, you know there is something special in store the moment you take your first bite.
How does the Costco version stack up to Junior's other cheesecakes?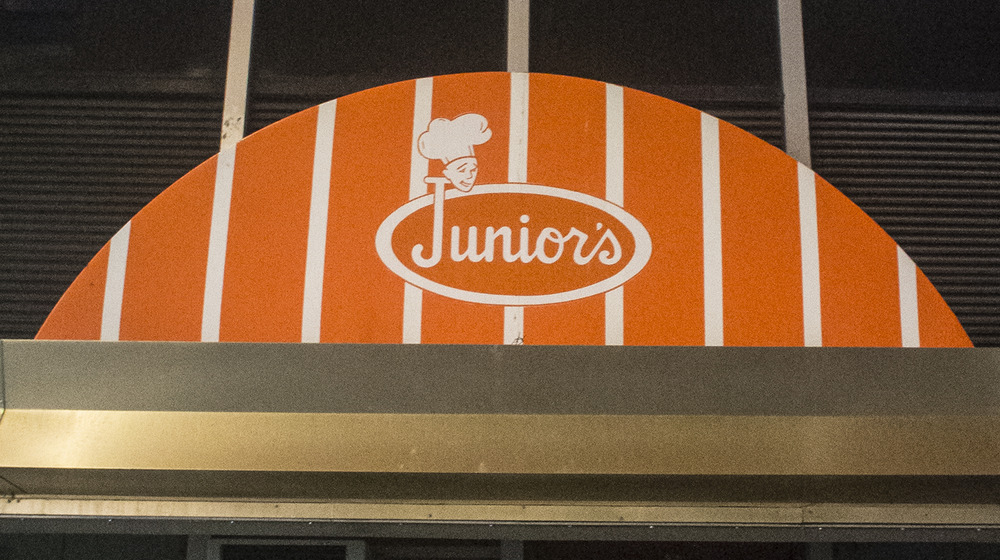 Bill Tompkins/Getty Images
Founded in Brooklyn in 1950, Junior's has remained a New York institution ever since and helped popularize the iconic New York-style cheesecake (via Junior's). While the bakery offers up several pumpkin cheesecake variations, none exactly match the layer cake version that can be found at Costco. The closest equivalent Junior's sells from their brick-and-mortar locations is their Pumpkin Pie Cheesecake, but this version lacks the layers of pumpkin spice cake found in the Costco version — and comes with the much higher price tag of $45.99.
While both cakes weigh the same, you can't go wrong with the Costco product, especially if you can't make it to Brooklyn to get an authentic New York cheesecake slice. Whether you plan to stay at home and have a solo holiday this year or spend the day with some friends and family, Junior's latest sweet addition to Costco's bakery aisle can complete any Thanksgiving feast and spread cheer all around. For a great time and great value, make sure to grab one of these iconic cheesecakes while supplies last!