The Unique Gift White Castle Is Selling To Keep You Safe During The Holidays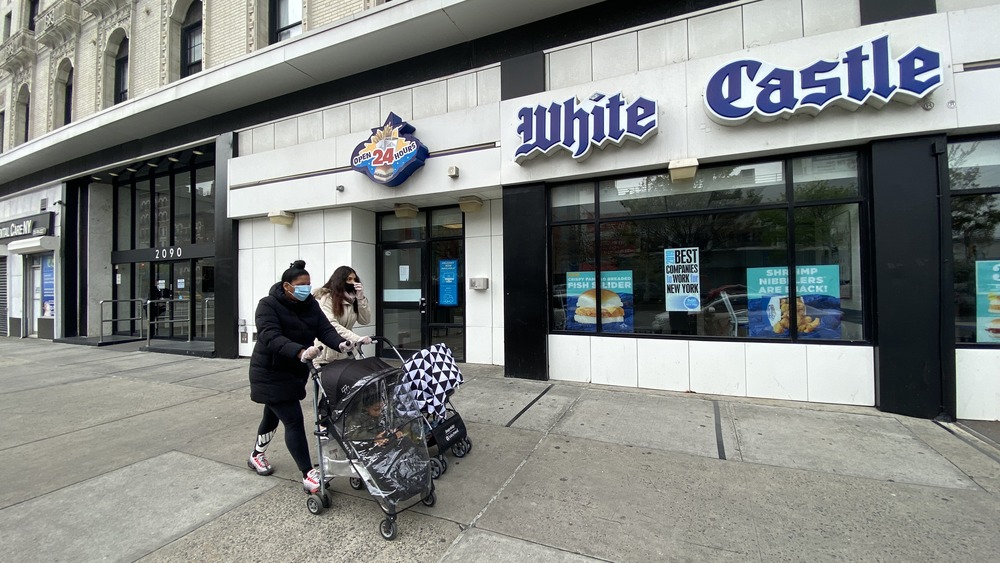 Rob Kim/Getty Images
What holiday gift should you get for the White Castle lover in your life? If you're at a loss for ideas, White Castle's online store, the House of Crave, has you covered. As White Castle vice president Jamie Richardson proclaimed in a statement shared with Mashed, "We exist to create memorable moments, and the holidays are among our favorite times to celebrate the crave and share gifts with family and friends." If your family and friends are traveling from out of the area for a holiday visit (which the CDC says they shouldn't), you might want to get them something new in 2020 from White Castle's second annual holiday gift guide: a face mask.
The White Castle face mask is made with two layers of cotton and an outer polyester layer, which is printed with an array of White Castle logos and images of sliders. While White Castle's shopping page lets you know their masks aren't for medical use, the CDC says this kind of mask is effective at protecting others in case you're sick with COVID-19, and it might even protect the wearer from catching the virus that causes the disease. In any case, you don't need to make your out-of-state guest wait until the holiday arrives to unwrap their present. You can just hand it to them as they walk in the door. One White Castle mask costs $8, so maybe you'll have some money left in your holiday shopping budget for more items.
Get the White Castle face mask, or an ugly sweater, or a slider-scented candle
White Castle sells a holiday sweater, which might be a good thing to grab if you've been invited to an ugly holiday sweater party. That said, the sweater, which sells for $45.99, looks pretty sharp for an ugly sweater. It comes in White Castle's traditional blue, adorned with white snowflakes. The sweater depicts the hamburger chain's blue, orange, and white logo inside a snow globe that lights up at the flick of a hidden switch. If you don't win the ugliest sweater contest, maybe there will be an award for most commercial entry.
Did you know White Castle will celebrate its 100th birthday in 2021? (Next year's already looking like an improvement over this one.) You or someone on your holiday shopping list can be a part of the festivities by getting a 100th birthday coffee mug for $5.99.
Yet another gift idea from the House of Crave is a $10 slider-scented candle. Before you turn your nose up at this unusual-smelling candle, know that White Castle is once again donating all of the profit from sales of the candle to Autism Speaks. In the true spirit of giving, maybe the candle is your best option. But in the true spirit of not giving – as in, not giving anyone in your holiday gathering a contagious disease – the White Castle face mask is your best bet.