Simple Ceviche Recipe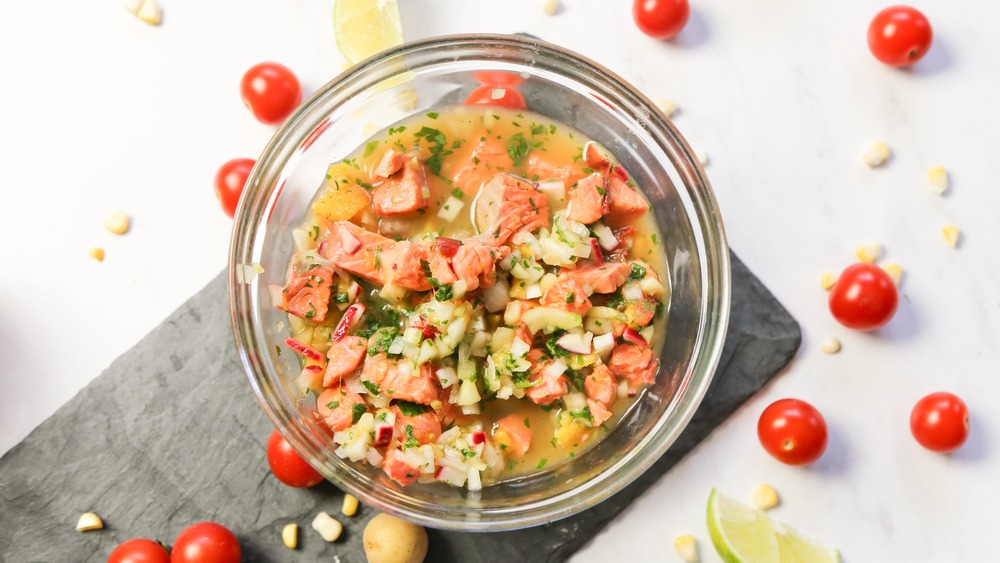 Maren Epstein/Mashed
Ceviche is a dish made with raw fish, plenty of citrus, and, depending on the style, heaps of fresh fruits and vegetables. It originally comes from either Peru or Ecuador, according to What's Cooking America, and it's become a popular choice in restaurants across the United States. But you don't have to make a restaurant reservation to enjoy all of the flavors that ceviche has to offer — you can quickly make your own ceviche with the right ingredients and a little bit of prep work.
Some of the most traditional types of fish to use for ceviche include firm fleshed white fish like bass, sole, grouper, halibut, snapper, and rockfish. Salmon deserves a place on the list of the best fish for ceviche, as well, says Maren Epstein, who created this recipe and is the certified holistic health chef behind Eating Works.
"I chose salmon because it's easy to find in the store and stays tender after it's cured by the lime," Epstein says, adding that "shrimp would also work well for this dish!"
Though this is a raw dish, don't be scared off by the idea of preparing raw fish. Simply follow this recipe and you'll have a safe and delicious salmon ceviche that every ceviche lover will enjoy.
Gather the ingredients for this simple ceviche recipe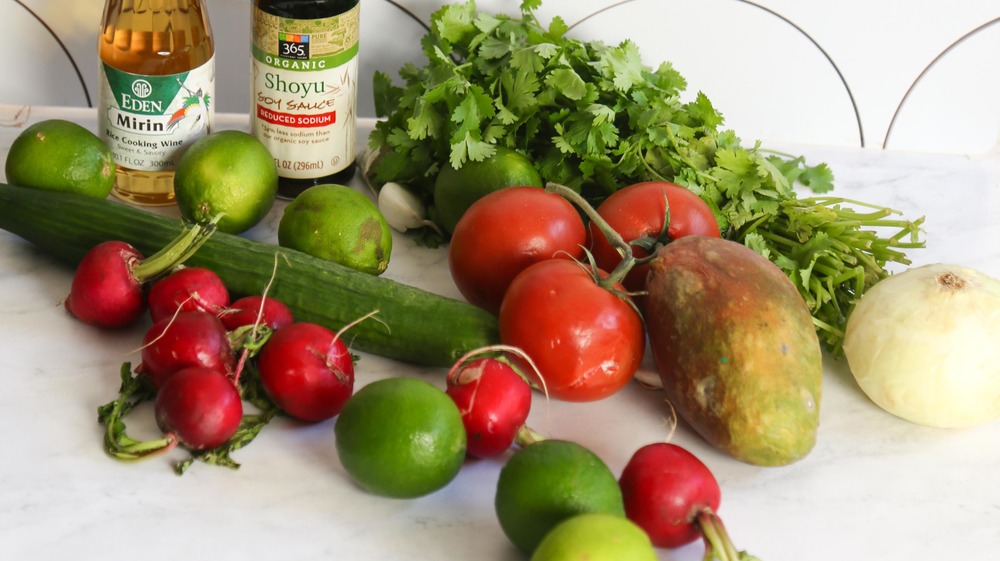 Maren Epstein/Mashed
Ceviche isn't complicated to make, but it does take quite a few ingredients to get just right. Every dish is a sum of its parts, and every part pulls their weight in this recipe. First and foremost is the salmon itself, which you want to make sure is as fresh as possible (an unfrozen cut from a good fishmonger is your best bet). The second most important ingredient is the limes, and you'll need a fair amount of them to garner around half a cup of juice, so stock up!
Other items you'll need include soy sauce, radish, cucumber, mango, onion, cilantro, and orange. You'll also need to procure some mirin, which is a Japanese rice wine that's used for cooking and has a subtle sweet flavor. If you can't find mirin, you can substitute with sherry wine.
There are other ingredients that didn't make this recipe, but would be great additions. "Tomatoes are great to add in during tomato season," Epstein says, but she warns that they need to be in good condition. "If the tomatoes are watery or mealy you're best not adding them at all. Mint is a nice ingredient to add in. If you don't have mangos you can also use apples instead."
Choose your fruits and vegetables wisely
Maren Epstein/Mashed
While we're all limited by what's available at our local grocery stores, there are better ingredient choices than others if the options are available. Spanish onions have a mild flavor that's perfect for this salmon ceviche, though white or sweet onions work as well, Epstein says. Additionally, pick a variety of orange that's easy to peel and that has a lot of juice — clementines, blood oranges, and navel oranges all work well.
When it comes to cucumbers, find what you can, just keep in mind there may be an extra step depending on which type you purchase.
"I like English cucumbers because the flesh is more delicate and the seeds are smaller," Epstein says, but you can use any type of cucumber. "The seeds should be scooped out because they will water down the ceviche and give it an unsatisfying crunch. If you use conventional cucumbers with a waxed skin make sure to peel them."
The style of soy sauce matters in this ceviche, too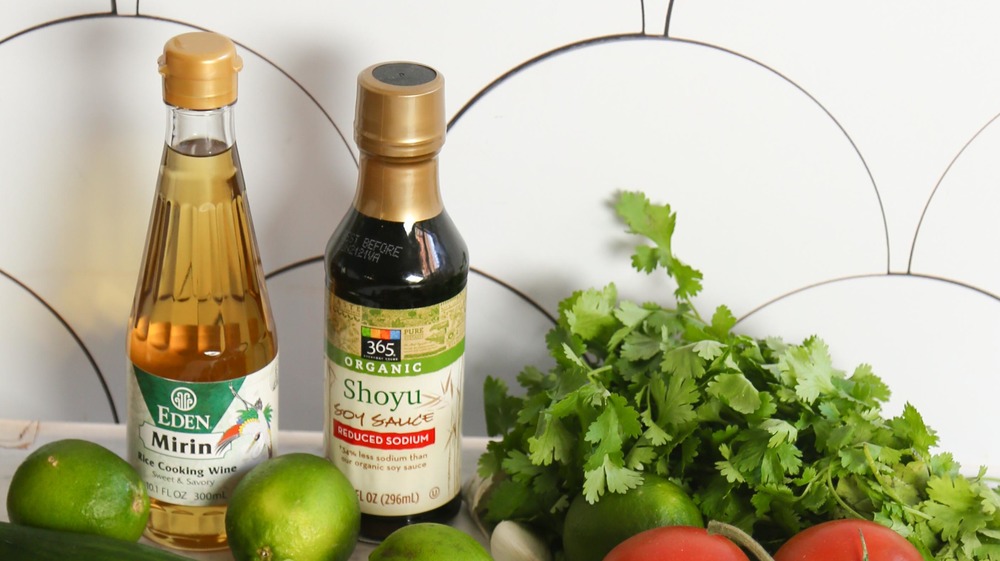 Maren Epstein/Mashed
Soy sauce — the umami-rich sauce made with fermented soybean paste — comes in many different styles and brands. Like the other ingredients for this ceviche recipe, it's possible to use the type that's already in your fridge or available at your local grocery store. At the end of the day, though, quality soy sauce leads to a higher quality final dish.
"I really like using Nama Shoyu Soy Sauce because it's wheat-free," Epstein says. "Any soy sauce will do the trick but if you can afford it splurge on a good quality soy sauce. Soy sauce is traditionally expensive because it takes a long time to make. Cheap substitutions are filled with preservatives and pale in comparison."
How to cut your salmon for ceviche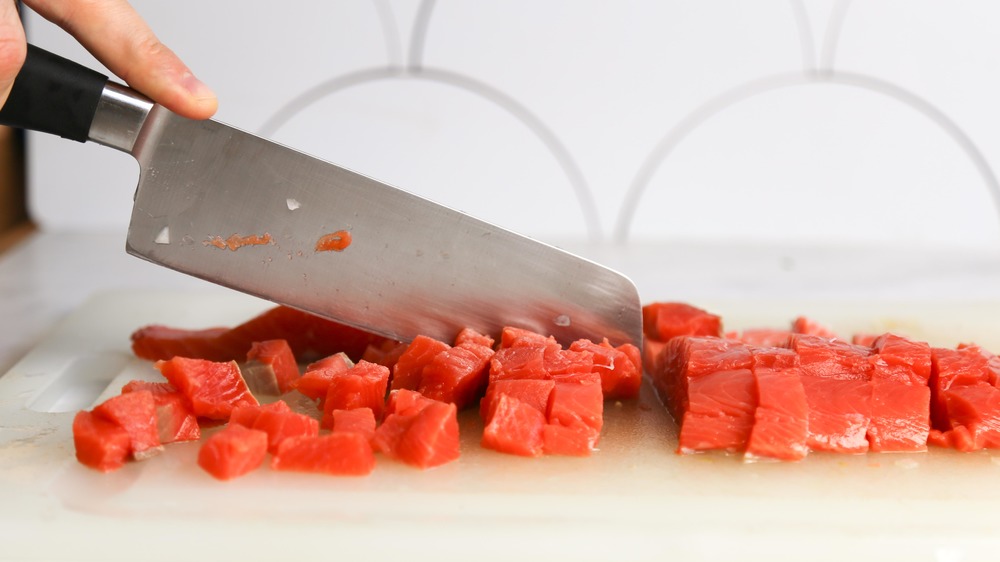 Maren Epstein/Mashed
The first thing to do with your salmon when making this ceviche is to take the skin off. Keeping the skin on works for some cooked salmon recipes, but for salmon ceviche, it's best to remove it. The next step you'll need to complete is to cut the fish into small pieces.
"You can cut the salmon however which way you want to, but the smaller you slice them the quicker they'll cure," Epstein says. "The lime juice has to penetrate all of the flesh so the smaller and more even the pieces are cut the faster they will cure."
Another thing to keep in mind when it comes to the size you cut your salmon is the bite size. You'll want to make sure the pieces are chopped into cubes (or whatever shape you wish) that can easily be eaten in one bite along with the chopped pieces of cucumber, tomato, onion, radish, and other ingredients.
How to cure the salmon for ceviche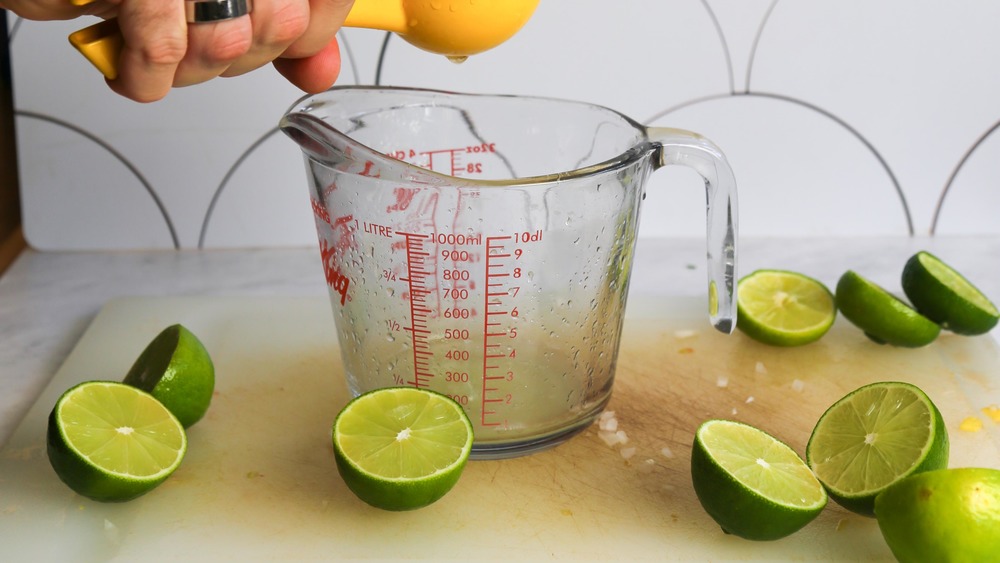 Maren Epstein/Mashed
Once you've cut the salmon, it's time to get to cooking. Well, technically, get to curing the salmon. Curing is different from cooking in that it's the chemical process between acid and meat. The low pH acid from the lime denatures the proteins in the fish — similar to what happens when it's cooked with heat, according to SBS. While not exactly the same process, you'll notice the fish becomes more opaque and firm when cured in acid just like it does when it's cooked.
To start the curing process in this recipe, put the salmon pieces into a bowl and add the half cup of lime juice, quarter cup of mirin, and three tablespoons of soy sauce. You'll want to leave the mixture alone for about two hours at room temperature — "It isn't recommended that you keep ceviche in the fridge for very long," Epstein says. 
You can tell the status of your salmon as it cures by the color. There's a quick check you can do to make sure that the raw fish is ready to eat: "The salmon will turn from the raw pink color to a lighter pink and the flesh will be opaque," Epstein says. "Tear open a piece of salmon and if it's opaque all the way through it's done."
How to serve and store your ceviche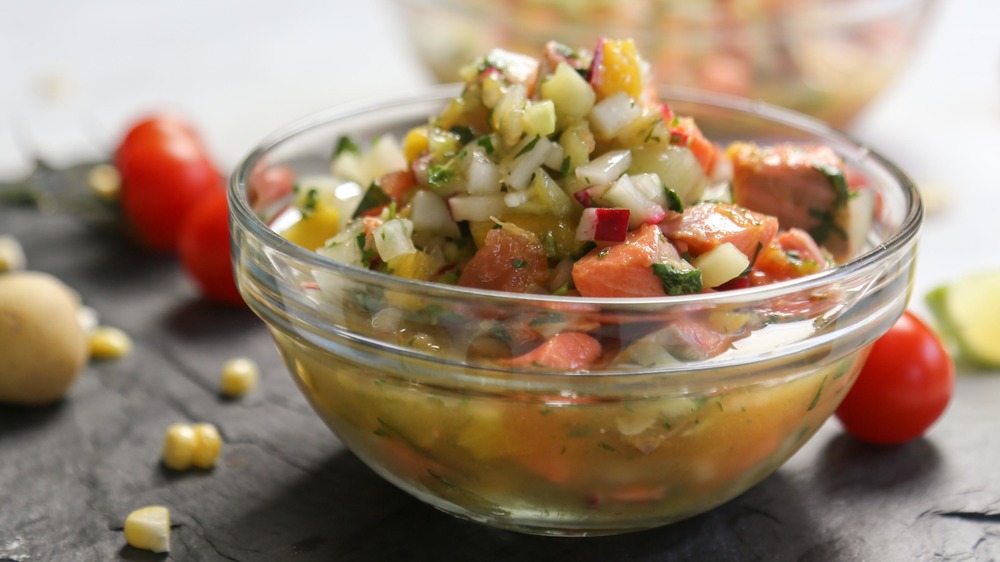 Maren Epstein/Mashed
After it's done curing, Epstein says she likes to "refrigerate the ceviche for up to 1 hour just until it's cold." You can serve the salmon ceviche as a side or as a main dish, depending on your preferences.
"I love serving this ceviche along with a side of guacamole and grilled vegetables," Epstein says. Yet if you're looking to turn the ceviche into the main dish, keep the proportions in mind. "It could be a main meal if you use a lot of salmon since the dish is mostly vegetables and fruit it's pretty light."
Like many delicious dishes out there, this salmon ceviche is at its best when it's fresh and just finished. There are ways to handle the leftovers to make sure it's good to eat in subsequent days, however.
"The best way to store salmon ceviche is in an airtight container," Epstein says. "You can keep it in the fridge for up to four days."
Simple Ceviche Recipe
You don't have to make a restaurant reservation to enjoy all of the flavors that ceviche has to offer — you can make your own simple ceviche.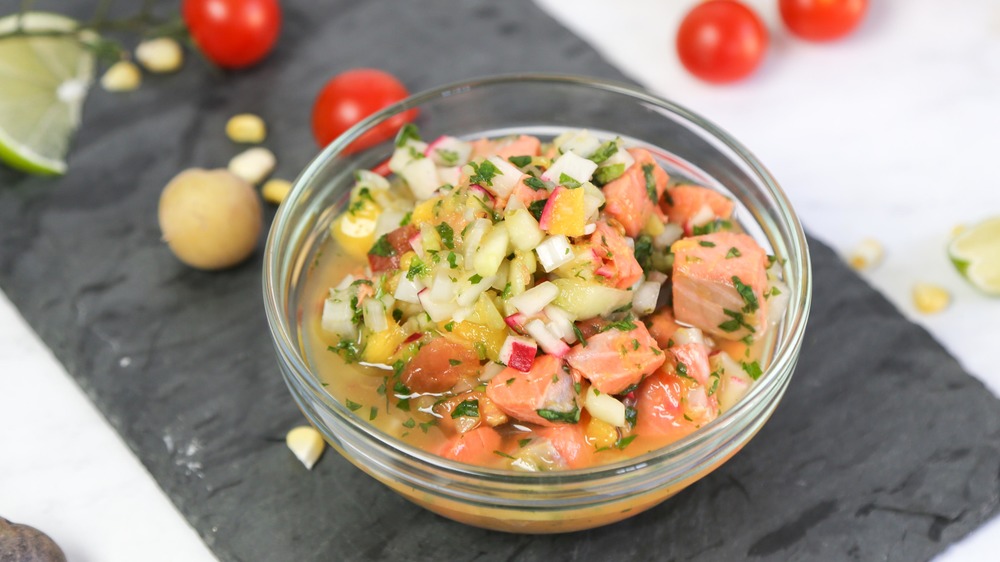 Ingredients
1 pound salmon, cubed and skin removed
10 limes, juiced (½ cup)
¼ cup mirin
3 Tablespoon soy sauce
1 bunch radishes, diced small
1 English cucumber, peeled and diced small, seeds scooped out
1 mango, diced small
1 Spanish onion, diced small
1 orange, juiced
1 bunch cilantro, chopped and stems removed
Sea salt, to taste
Directions
Combine lime juice, mirin and soy sauce into a bowl with salmon. Allow to cure for 2 hours or until each chunk is cooked through.
Combine radishes, cucumber, onion, orange juice, mango and cilantro into a bowl. Season with sea salt.
Strain the cured salmon, saving ⅓ cup of the marinade.
Mix salmon and ⅓ cup of marinade into the fruit and vegetable mixture.
Refrigerate and serve cold.
Nutrition
| | |
| --- | --- |
| Calories per Serving | 230 |
| Total Fat | 10.5 g |
| Saturated Fat | 2.4 g |
| Trans Fat | 0.0 |
| Cholesterol | 41.6 mg |
| | |
| --- | --- |
| Total Carbohydrates | 15.0 g |
| Dietary Fiber | 2.6 g |
| Total Sugars | 9.7 g |
| Sodium | 583.1 mg |
| Protein | 17.5 g |