Everything You Need To Know About The Great British Baking Show's Season 11 Finale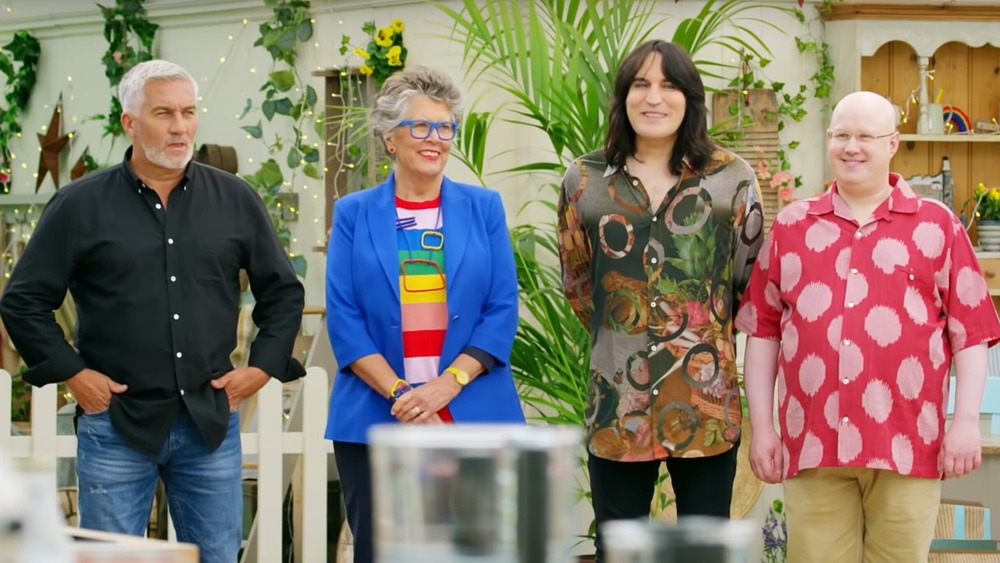 Channel 4/Netflix
Depending on where you are from — November 24th in the UK or November 27th in the US — it's the end of a seasonal favorite. Namely, the 11th season of The Great British Baking Show has come to a close. 
For those who need a summary of the very special, quarantined edition of Baking Show, here we go. For the final, contestants Peter Sawkins, Dave Friday, and Laura Adlington had to make eight custard slices for the signature challenge, walnut whirls for the technical, and a dessert tower with a cake base and three other baking disciplines for the showstopper of the series (via The Spool).
In the signature challenge, Peter's Cranachan custard wowed while Dave's caramel latte struck Paul Hollywood as a bit stodgy, but Prue Leith still found it delicious. Laura's yuzu custard slice, however, failed to set and her pastry was lacking.
Then in the technical, the three were presented with walnut whirls. These were Prue's take on the Scottish treat Walnut Whips, which were bought by Nestlé (so, the show made pains to say "whirls"). They consist of a walnut cookie with a coffee-flavored ganache covered by marshmallow, which in turn is covered in chocolate. Oh! And since this was filmed during yet another heatwave summer in which temperatures reached 34 degrees Celsius or 93.2 Fahrenheit, the bakers struggled with their desserts constantly melting in their hands (via Vulture). Ultimately, Laura came in third, Peter second, and Dave first.
Going into the next day, it seemed inevitable that it will be a baking duel between Peter and Dave.
And the winner of the Great British Baking Show is...
The demand of the showstopper was, theoretically, simple. Present any three baking disciplines with your cake as a whole. "All I want," Paul explained to the viewers at home, "is the perfect of whatever they choose to do," (via Grub Street). No pressure at all then. 
Peter titled his tower the "Bonkers Bake Off Bubble Cake," describing how it felt to be on Bake Off. Shaped as a Christmas tree, it featured tiny Christmas pudding-like friands, orange and chocolate checkerboard biscuits, and blackberry and lemon choux buns on top of a Victoria sponge.
In her "Rainbow Desert Tower," Laura deployed desserts that had won her approval in previous parts of the series, specifically a carrot-walnut cake, orange-chocolate chelsea buns, lemon macarons, and her Star Baker-winning key-lime tarts as tartlets. The judges liked each individual piece but felt the dessert as a whole needed cohesion.
Dave followed the opposite strategy with his "Tower of Redemption." That is, each baking discipline was a second attempt at challenges at which he failed earlier in the series. A fraisier base cake supported chocolate babkas, raspberry profiteroles, and brownies. The brownies are properly gooey this time, but the profiteroles were flat; the toughness of the babka disappointed, but his cake was perfect.
In the end, Laura did not shine enough to redeem herself from her previous day's efforts. In the closest final in Great British Baking Show history, Peter beat Dave by the smallest margin, thus ending our companion TV during COVID-19's autumnal season.